The Gretna Green Story Exhibition, housed within the original blacksmiths cottage and workshop is the ONLY feature on site for which there is an admission charge.
2015: £2.75 per person, group rate
Wedding re-enactment exclusive to group visitors...become part of Gretna Green's living history and have some fun.
Offer an unforgettable experience for your clients - exclusive to groups and at no extra charge your group can have fun taking part in a Gretna Green wedding re-enactment. The Blacksmith Guide takes on the role of the 'Blacksmith Priest' and with a little help from members of the group a re-enactment of the legendary event of a runaway wedding takes place. Your group choose an unsuspecting couple of run-aways and a pair of angry parents and the story begins...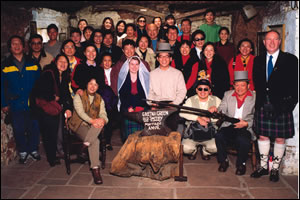 The Blacksmith Guides ensure this feature is entertaining and fun; As one commentator put it, "The laughter peals out spontaneously and constantly as everyone is now in a holiday mood". The 'ceremony' lasts 15 minutes and for a special memento a photograph of the group is offered for purchase.
We are able to operate a voucher system if you wish or accept payment in advance or on the day. Booking in advance is advised. Tel: (0044) 1461 337893.