Spoilt Salon at Smiths Hotel
Here in Gretna Green we have our very own beauty salon, Spoilt at Smiths. Situated inside our very own 4 star luxury hotel, Spoilt has a great range of beauty and hair treatments which are ideal on your wedding day.
Why don't you relax and be 'Spoilt at Smiths', the salon with day spa ethos? "First we make the world revolve around you...then we gently slow it down. The feeling of complete relaxation and escapism can now be experienced." ...the Spoilt at Smiths salon promise.
You can contact Spoilt at Smiths on 01461 336002 or enquire now>>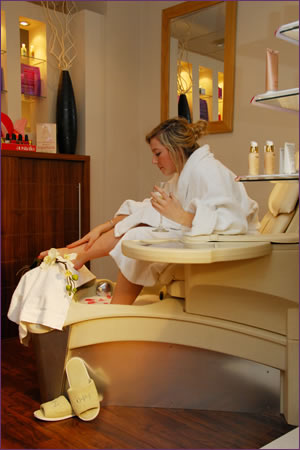 Do you want to be pampered, relaxed and revitalized? In Spoilt at Smiths beauty, relaxation and hair salon...you have the perfect opportunity to wind down in the tranquil surroundings of a candlelit room, awash with aromatic oils and soothing music.
Prepare for your Big Day (brides AND grooms)...escape into the cool and tranquil salon at Smiths Hotel and enjoy such delights as massage, mini facial, hot stone pedicure or our signature hydramemory facial.
With a first class reputation in providing quality service and innovative treatments, we strive to make each of our clients feel thoroughly spoilt so come and indulge yourself with a 'Spoilt' ritual.
Are you the Bride-to-be?
If you are the Bride, why not consider an Absolute Pearl facial or Noir di Hamman full body cleanse and exfoliation. Have your make-up and hair perfected for your wedding day and add false lashes for that extra "wow".
And what about the Groom?
We all know that it's just as important for the gGroom to look good for the photos too, so why don't you book a facial treatment? Our treatments are designed to suit all skin types that exfoliates your skin and is followed by a massage giving you a fresh, bright and renewed complexion.
Together...
Why don't you both come along for a Couple's Massage Lesson? You will learn some professional massage techniques while you both enjoy a 30 minute massage and receive a free gift to take away and use later!