Become part of living history when you reaffirm your commitment to one another in a blessing or vow renewal ceremony in this most romantic place. Organise a 30 minute ceremony, which can be combined with a stay at Smiths hotel by contacting us today.
Spontaneous Blessings?
Alternatively, in the spirit of the original Gretna Green run-aways you can, on the spur of the moment, have a shorted romantic blessing, lasting about 10 minutes, conducted by a Blacksmith Guide in the Famous Blacksmiths Shop. During the blessing ceremony you are able to reaffirm your vows to one another and rekindle the romance of your wedding day. You will receive a Gretna Green Marriage certificate as a memento of your ceremony.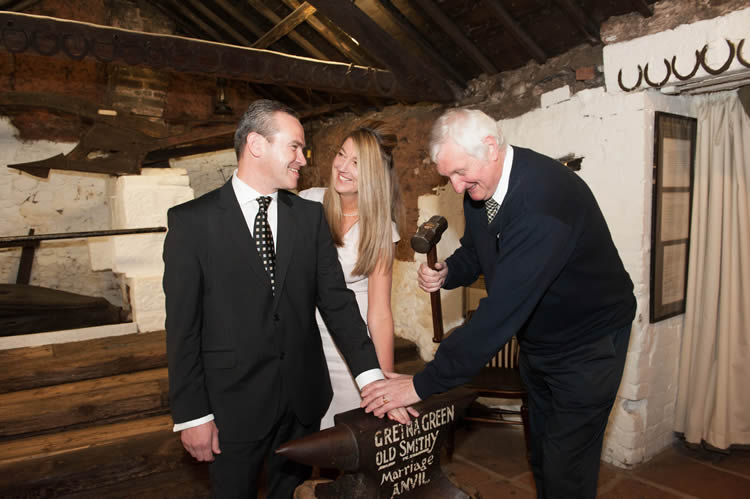 An impulsive, on the day vow renewal costs £35.00 and is possible so long as a wedding is not taking place within the Marriage Room.

If you prefer to be more planned an arranged vow renewal, including a longer ceremony, is possible. Bring guests with you for a larger celebration and perhaps combine a vow renewal with a romantic stay in Smiths at Gretna Green, 4 star boutique hotel. Pre-arranged blessings are conducted by a Blacksmith Guide or if you prefer a Minister. Prices start at £160.00 and include a Gretna Green Marriage certificate and lucky Anvil charm to remind you of your day.
Please note that impulsive blessings cannot be booked in advance.