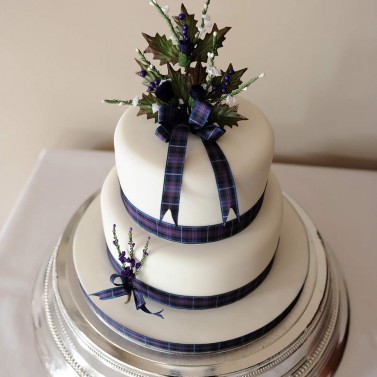 2 Tier Scottish Wedding Cake

A simply delicious two tier wedding cake, this Scottish design cake is suitable for up to 50 guests.
The bottom tier is an 8" cake, and the top tier is a 6" cake. More »
---
Description
The bottom tier is a rich fruit cake and the top tier is vanilla sponge; however you do have the choice to make both tiers vanilla sponge should you prefer.

The decoration of this lovely two-tier wedding cake is based on a Scottish theme... the cake topper is made by hand from a variety of silk floral elements, including thistles, heather, ivy leaves, rosebuds and bows of purple organza ribbon.

(Note: small variations in decoration can occur due supplier availability).

To finish the decoration process both tiers are wrapped with a 1" wide tartan ribbon.

Once coated with marzipan and icing, the cake dimensions are approx. 8 ½" diameter x 2 ½" high for the bottom tier and 6 ½" x 2 ½" for the top tier. The cake is then mounted on a coated ½" thick cake board and finished with a picot-edged satin ribbon.

Details

| | |
| --- | --- |
| Guests | Suitable for 30 - 50 wedding guests |
Share Your Experiences
Did you get married here? Why not tell us about your day?