Posted by Henry Davenport - November 16, 2020
Black Friday Offers on Gifts, Clothing and Accessories Made in Scotland
Here at Gretna Green, we are proud to champion Scotland and all things Scottish in everything we do.
Black Friday may be an American tradition but here at Gretna Green, we're using the opportunity to champion a wide range of Scottish products by offering amazing discounts on hundreds of fantastic items, made in Scotland by Scottish brands.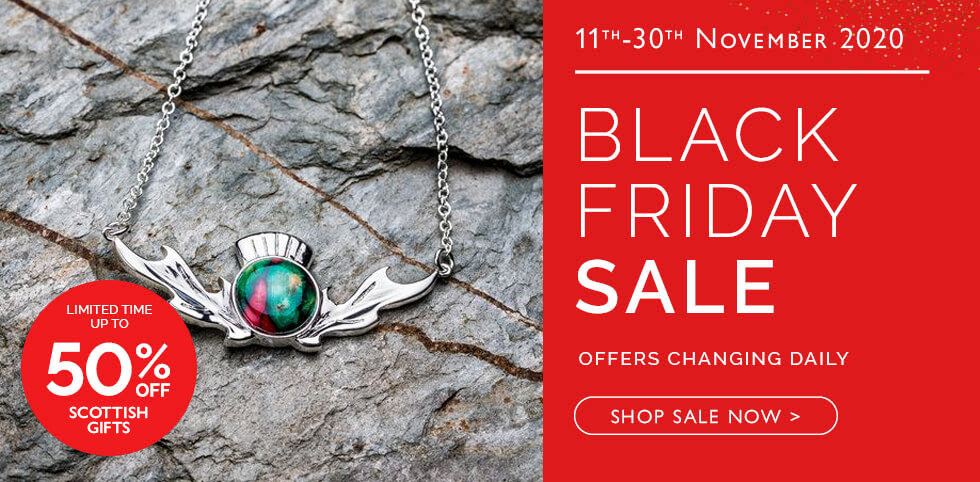 ---
Lochcarron of Scotland
With a heritage dating back to 1892, Lochcarron of Scotland is a leading manufacturer of tartan. Each of their products is proudly made in Scotland by skilled craftsmen and women who design, dye, warp and weave Scottish tartans and textiles.
In the Black Friday Sale: Save Up to 30% on selected Lochcarron of Scotland Merino Wool and Cashmere Scarves.

Ingles Buchan
Ingles Buchan produces an extensive variety of handcrafted tartan products, woven in their family-owned mill in Scotland. Offering a wide range of traditionally made tartan scarves, ties and bow-ties in traditional Scottish clan tartans, every fibre of their products is as Scottish as can be.
In the Black Friday Sale: Save 20% on all Ingles Buchan Scottish Clan Tartan Scarves, Ties and Bowties.

Johnstons of Elgin
Johnstons of Elgin was established at the Elgin Mill on the banks of the River Lossie in the north of Scotland in 1797. With over two centuries of tradition and expertise in textile manufacturing, today Johnstons of Elgin offers exceptional quality luxury cashmere products including blankets, stoles and scarves.
In the Black Friday Sale: Save up to 50% on selected Johnstons of Elgin Cashmere Throws, Stoles and Scarves.
Harris Tweed
Harris Tweed is a fabric which enjoys the rare honour of being protected by an exclusive authentication mark. Only fabric which meets the Harris Tweed Authority's strictest standards may bear the Orb mark of authentication; showing that the tweed is dyed, spun and handwoven by islanders of the Outer Hebrides of Scotland top, assuring the highest quality is met and maintained.
In the Black Friday Sale: Save 25% on all Harris Tweed bags, purses, wallets and accessories.

Shearer Candles
Established in 1897 in Glasgow, Shearer Candles is the oldest producer of lifestyle candles in the UK. Underpinned by a long tradition of Scottish candle-making, Shearer Candles are a leading creator of artisan candles and scented products from only the purest ingredients and inspired by the beautiful surroundings of Scotland.
In the Black Friday Sale: Save 25% on all Shearer Candles scented candles and diffusers.

Walkers Shortbread
Walkers Shortbread is a Scottish manufacturer of shortbread, biscuits, cookies and oatcakes to traditional Scottish recipes. It was in 1898 that the Walker family started baking shortbread in the Speyside village of Aberlour where they remain to this day. A gift tin of Walkers shortbread makes a fantastic Christmas gift for dad!
In the Black Friday Sale: Save 15% on all Walkers Shortbread baked goods.

Tunnock's
The Tunnock Limited, more widely known as Tunnock's, is a family-run bakery based in Uddingston, Lanarkshire, Scotland where they have been producing baked goods since 1890. Known the world over for the Tunnock's Teacake and Caramel Wafer, Tunnock's produces a range of irresistible chocolate-coated confectionaries.
In the Black Friday Sale: Save 15% on our exclusive Tunnocks Gift Box.

Heathergems
Heathergems is a family-run business based in Pitlochry, Scotland, producing unique, handmade jewellery that is crafted and designed in Scotland. Heathergems' handmade Scottish jewellery features unique Scottish heather, dyed and pressed into a one-of-a-kind "gemstone" at the heart of each piece.
In the Black Friday Sale: Save 25% on all Heathergems jewellery.

Art Pewter
Art Pewter is a Scottish Family business specialising in luxury accessories featuring the clan crests of Scotland. Their badges, cufflinks and kilt pins feature authentic representations of each clan's individual crest, taken directly from the Arms of the Chiefs of the Clans. Each one is made in Scotland and approved by the Standing Council of Scottish Chiefs.
In the Black Friday Sale: Save 20% on all Art Pewter Clan Crest Badges, Cufflinks and Kilt Pins.

Gretna Green Cashmere
Our very own exclusive Gretna Green cashmere gloves and socks are made from only the finest, pure cashmere fibres and are manufactured in a traditional factory in Hawick - the traditional centre of the textile industry within the Scottish Borders and a town synonymous with quality cashmere.
In the Black Friday Sale: Save up to 27% on made in Scotland Gretna Green cashmere Gloves and Socks.
---
Shop the Black Friday Sales Now!
With huge savings on a range of fantastic, Scottish products, there's no better time to grab that perfect Scottish Christmas gift for him, her or kids. Treat mum to a new Harris Tweed purse; make dad smile with a pair of personalised cufflinks featuring his own clan name; brighten up any home with a gorgeous Johnstons of Elgin cashmere throw. Whoever you're shopping for, this Christmas, get all your festive shopping in one place in our mega Black Friday Sales!