After 5 years of planting, our tree garden is now full and so we are not currently accepting any new orders for further memory trees.
We are looking at a potential new area, to allow for further planting, but at present, we are unable to accept more orders.
Gretna Green is a special place, full of warm memories as couples and families come here to celebrate marriage. It has a lasting legacy that spans over 250 years with people returning year after year.
For couples marrying in Gretna Green or those already married who are looking for a special way to celebrate their togetherness, Trees for Families woodland project is a wonderful way for you to leave your mark. Unique to Gretna Green, it is all about creating a lasting legacy to mark your wedding day or anniversary. Create a permanent, natural symbol of your marriage by making a tree planting part of your ceremony.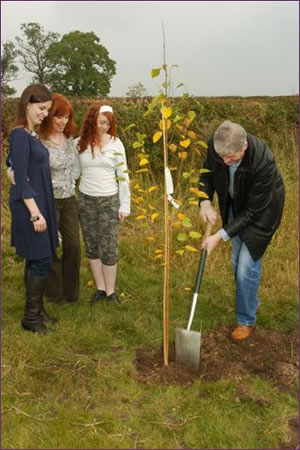 By planting a tree it becomes your mark on a part of Scotland's landscape... show care for the environment as your tree grows and thrives to become a permanent feature in the Scottish Lowlands. Your tree is something that endures; a permanent natural symbol that becomes somewhere you and your friends and family can always return to.
Plant your own tree as part of your wedding ceremony here in Gretna Green. If you are already married, you can plant a tree as a symbol of your enduring love. Each tree is individually labelled with details of who planted it, why they planted it and when. You take home a certificate as a reminder and a keepsake.
What love is...
Love itself is what is left over when being in love has burned away, and this is both an art and a fortunate accident. You need roots that grow towards each other underground, and when all the pretty blossom had fallen from your branches you find that you are one tree and not two.
"In marriage, we endeavour to develop strong, invisible roots on which to base our growth through life. If the roots aren't strong the tree won't stand"
- Extract inspired by Captain Corelli's Mandolin by Louis de Bernieres
Enquire now>>