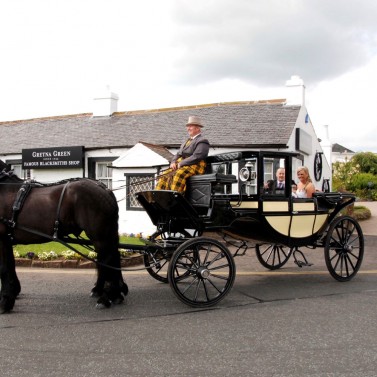 Premier Glass Landau Carriage

The Glass Landau is a luxurious carriage offering you a choice and security. Simply stunning, the Landau has folding steps, fully closing doors and even boasts heaters for the winter. The carriage is painted in black with touches of British 'racing green' for an elegant finish. More »
---
Description
This glass Landau carriage can actually sit up to 6, (4 adults and 2 children depending on size) and has 2 large buttoned leather seats with golden braiding adding to a feeling of luxury which you deserve on your special day.
The roof is of a folding design and can be raised or lowered to give you complete privacy. The rear hood is leather but the front, sides and door windows are all glass, giving clear, uninterrupted views of where you are travelling through. In addition to this the door window can also be raised or lowered to allow for more comfort.
In the cooler weather you will be glad of the cosy tartan blankets which are supplied as standard.
This carriage has fully fitted wheel guards, leaf springs and disk brakes allowing for a safe and smooth journey. The Glass Carriage can be open or closed within 45 seconds.
The Glass landau Carriage has a driver, groom and 2 horses with plumes as standard.
Share Your Experiences
Did you get married here? Why not tell us about your day?