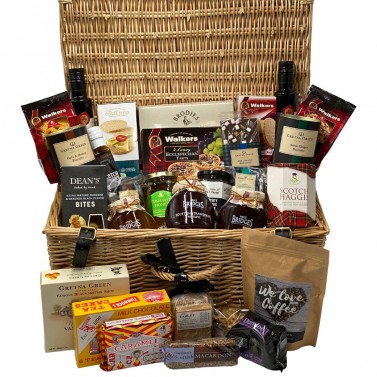 Gretna Green

Scottish Larder Luxury Food Hamper

Our Scottish Larder food hamper brings you the unique taste of Scotland in one luxury hamper.

Unfortunately, due to export restrictions, we are currently unable to ship this item outside the Uk. Please see our delivery information if you have any concerns. More »
Unfortunately, due to export restrictions, we are currently unable to send this product to United States. See our delivery page for more information.
---
Description
Contents:
Mrs Bridges Scottish Strawberry Preserve 300g
Mrs Bridges The Dundee Orange Marmalade 300g
Mrs Bridges Chutney For Chesse 300g
Walkers Mini Shortbread Fingers bag 125g
Walkers Mini Chic Chip Shortbread bag 125g
Gretna Green Roasted Coffee 400g
Brodies Famous Edinburgh Tea bags (100)
Walkers Ecclefechan Tarts
Walkers Fine Oatcakes 280g
Walkers Highland Oatcakes 280g
Deans Chedder & Black Pepper Bites
Scottish Blossom Honey 12oz
Lauries Tablet Twin Bar
Macaroon Bar 85g
Gretna Green Stem Ginger Biscuit Drum 200g
Gretna GreenOats/Honey Cookies Drum 200g
Gretna Green Dundee Cake
Little Doone Original Sweet Balsamic Dressing
Little Doone Garlic Balsamic Dressing
The Little Herb Farm Whisky Haggis Sauce 300g
Scotch Whisky sauce 100ml
Stahly Scotch Haggis 410g
Gretna Green Vanilla Fudge 200g
Tunnocks Caramel Wafers 4pk
Tunnocks Teacakes 6 pack
Gretna Green Milk Choc Rocky Road Bar
Gretna Green Cream Fudge 150g
Gretna Green After dinner Mint Fudge 150g
20" Wicker Picnic Basket
* Note some items may be substituted for equal or higher value and quality items according to seasonality and availability.
Note that we will replace the haggis with a vegetarian haggis for countries that have restrictions on importing standard haggis into that country.