"Suppose you were in love with a girl and her father refused his consent to the union, what would you do?" John Fane, 10th Earl of Westmorland, asked Robert Child, the director of Child's Bank.

Mr Child replied: "Why, run away to Gretna Green of course!"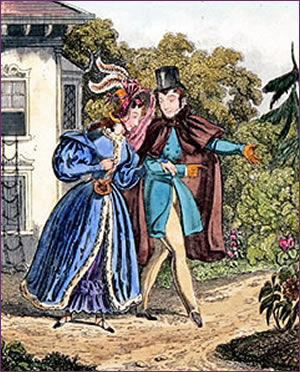 The Earl of Westmorland took Mr Child at his word, even though the object of his affections was Sarah Anne, Robert Child's only daughter and sole heiress. The young Earl became acquainted with the Child family when, as a young Guards officer, he sought a loan from the great banker. During one of his frequent visits to the family home in London, the Earl first met Sarah Anne. But it was unlikely that Mr Child would agree to the match; what he had in mind for his daughter was a man who could carry on the banking business, not an impoverished aristocrat.

Sarah Anne grew up in the luxury of her father's London home and country estate, Osterley Park in Middlesex. Sarah Anne was 18 when she eloped to Gretna Green. John Fane 10th Earl of Westmorland inherited his title at the age of 15 and his family seat was Apethorpe Hall in Northamptonshire, a house that was modest in comparison to Osterley. At the age of 23, he had fallen deeply in love with Sarah Anne. There are no records of meetings between Sarah Anne and John, but doubtless, they attended many of the same balls and other social functions, and without a doubt, a loving relationship developed between them.
Flight to Gretna Green...
In May 1782, the Earl of Westmorland and Sarah Anne Child decided to elope to Gretna Green so they could marry against her father's wishes. Robert Child, alerted to his daughter's flight by his footman, was soon in pursuit. With Westmorland's careful planning and help from friends en-route, the runaway couple stayed ahead of Sarah's father until they were just a few miles shy of the Scottish border. Mr Child finally caught up with them at Hesketh-in-the-Forest, between Carlisle and Penrith. In a rage, Mr Child jumped out of his carriage and shot the young couple's lead carriage horse. Again the couple escaped, but only after the lead horse had been cut free and they were forced to proceed with just three horses.
Child was not so lucky! During the melee, one of the Westmorland's servants had sabotaged Child's carriage and Child was at last compelled to abandon his pursuit. Later that day, the Earl of Westmorland and Sarah Anne Child arrived in Gretna Green at high speed and were married at equally high speed by Joseph Paisley, a notorious Anvil Priest.
Love and Marriage Happily Ever After...
After their marriage, the couple spent the night at Gretna Hall. Apparently, there was no spare room for the newlyweds but the landlord woke up an elderly gentleman who agreed to move out of his room so that the young couple could have his bed for the night.
A few days later John and Sarah Anne returned to Apethorpe Hall. Since they were now married, Robert Child had little option but to accept it and he gave his consent in order that the couple could be married according to the rites of the Church of England. This second ceremony was conducted by special licence at Apethorpe Hall on 5th June 1782 by the Vicar of Nassington.
A devoted couple, Sarah and John had six children together. Sadly Sarah died of a fever at the age of only 28.
No Money for the Earl
While he had to accept the marriage Robert Child never forgave the couple for running away to Gretna Green; he changed his will to ensure that no Earl of Westmorland could receive his wealth. The fortune passed directly to the second son or eldest daughter that Sarah Anne might have in the future.
But Sarah Anne and Westmorland did not need Child's money; they prospered in their own right and had six children. The eldest daughter, Sarah Sophia, was the beneficiary of her grandfather's will.
A Twist to the Tale
Sixty years after Sarah Anne's elopement, history repeated itself; her granddaughter Lady Adela Villiers - Sarah Sophia's daughter - eloped to Gretna Green in 1845.
Said to possess the same independent spirit as her grandmother, Lady Adela could not abide her mother's meddling matchmaking. She escaped to Gretna Green with Captain Charles Parke Ibbetson, a tall, gallant young officer with the 11 Hussars, and recorded in The London Times as "The Mysterious disappearance of Lady Adela Villiers"
Lady Adela joined the Captain at the train station in Brighton, having given her father and his servants the slip. From there they travelled by train to London, onwards by train to Carlisle, and then by carriage to Gretna Green, where they were married under Scottish law. Lady Adela's brother, Captain Frederick Villiers arrived in Gretna Green a day too late to stop the wedding. All he could do was procure a copy of the marriage certificate and inform his parents. The couple later underwent a second marriage ceremony, this time with all the trimmings, in a fashionable London church.