Would you like to renew your wedding vows? Well at Gretna Green you can, we offer an Anvil Blessing to reaffirm your commitment to one another or a renewal of vows ceremony (a religious ceremony with a minister), over the legendary anvil in the Famous Blacksmiths Shop.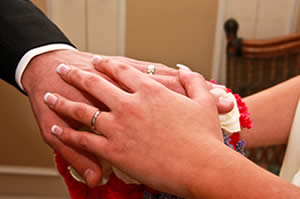 Blessings and ceremonies are becoming a very popular request here at Scotland's most famous wedding destination, which has been associated with wedding ceremonies since 1754. What better way for you to rekindle the romance in your relationship and to remind one another about the serious commitment you made to each other on your wedding day? Talk to us here at Gretna Green, today, about a blessing or renewal of your vows ceremony.

Your ceremony alone can be arranged here at Gretna Green or add in photography or a stay at Smiths hotel as optional extras. You will receive your very own lucky Anvil.
--------------------------------------------------------------------------------
Gretna Green Vow Renewal
Why don't you enjoy a romantic blessing or vow renewal over the Anvil in the Famous Blacksmiths Shop here in Gretna Green?
Recapture your wedding day by enjoying the romance of the intimate Anvil Blessing, at the Gretna Green Famous Blacksmiths Shop. The blessing lasts 30 minutes and is conducted by a Blacksmiths Guide who will begin with a historic introduction to Gretna Green before conducting your personalised ceremony with romantic readings.
So you're wondering what is the difference between an Anvil Blessing and vow renewal? The Anvil Blessings are more informal than a vow renewal ceremony. If you choose a vow renewal ceremony you are repeating the vows from your wedding day.

Only £250.00
--------------------------------------------------------------------------------
Anvil Blessing and 'Stay, Dine & Celebrate' at Smiths Hotel
Combine your Anvil Blessing with a night of luxury at our award-winning 4* Smiths Hotel, which sits directly opposite the historic building of the of the Gretna Green Famous Blacksmiths Shop.
A Scottish piper will escort you to and from your ceremony. Champagne will be in your room and you can continue the celebration with a 3 course dinner in the Smiths award-winning restaurant.(Blessing couple receives an allowance towards a meal in our award winning à la carte restaurant. Opening times 6-9pm. Booking is essential.)
Only £610.00
----------------------------------------------------------------------------
Make a gesture of love and commitment in Gretna Green...

No matter what the occasion, a special anniversary or a romantic gesture out of the blue, here in the romantic village of Gretna Green we can create a wonderful experience for you.
Contact Gretna Green online or call the wedding planning team on +44 1461 336001 to discuss your arrangements.

Please note: Anvil Blessings are conducted by our Blacksmith Guides. If you would prefer a renewal of vows ceremony with a minister this can be arranged at an additional cost - just let us know your preference.