The Courtship Maze at Gretna Green Famous Blacksmiths Shop is a maze with a difference and great fun for all ages. An impressive structure, located near to the car park, the Courtship Maze is shaped like a pair of interlocking wedding bands (symbolic of its romantic location); covering a space of 70m x 40m and built from stone.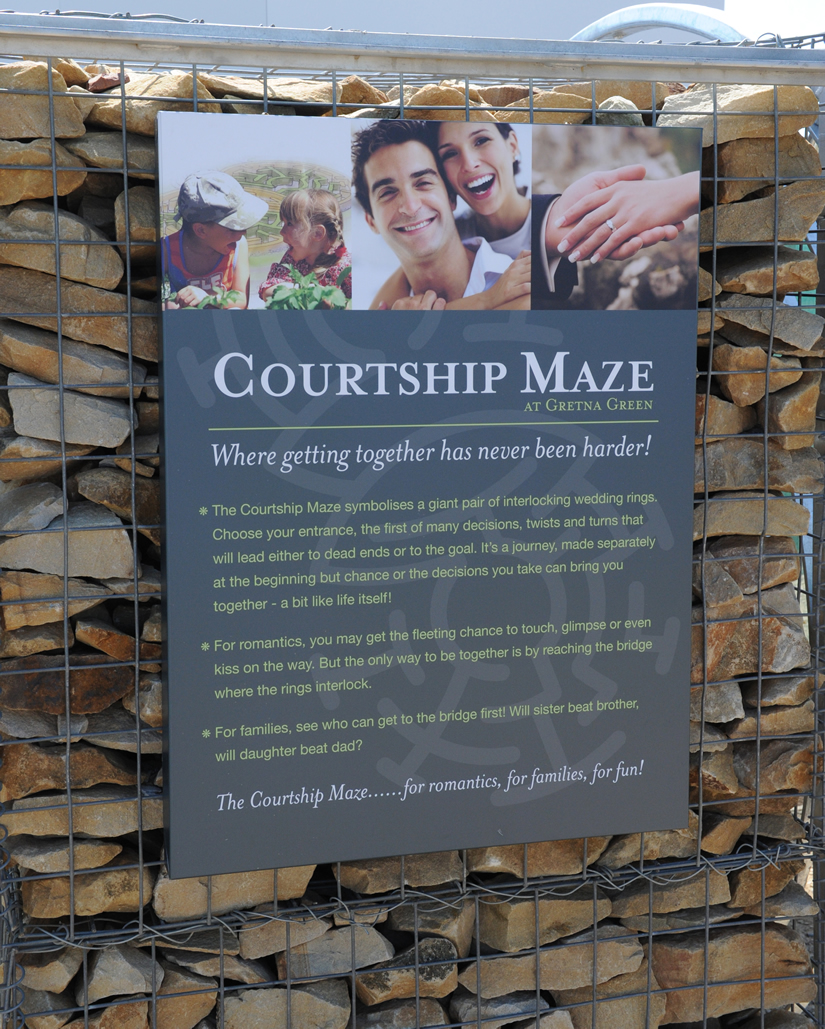 Before you enter the Courtship Maze you will notice two entrances: this is to symbolise the beginning of our life's journey, which we make independently before we meet our partner. Choosing which entrance is the first of many decisions, twists and turns that will either lead to dead ends or to the goal!
In the spirit of the Courtship Maze we suggest that couples choose separate entrances and along the way, through various features within the maze, you will get the chance to catch a glimpse of each other; maybe a fleeting chance to touch, even kiss but no opportunity to get together until you reach the goal: the bridge at the centre of the Courtship Maze. For families it is a journey of discovery and competition - can brother beat sister or daughter beat dad?
The Courtship Maze sets the challenge: "Where getting together has never been harder" but ultimately it is about everyone having fun as they wind their way through!
Early visitors have enjoyed discovering the secrets of the Courtship Maze. Local mum and daughter Laura and Courtney Copland were not sure what to expect from their first visit: "While the Courtship Maze was being built we were very curious to know what it would look like inside. I love the romantic features that you come across as you follow the route of the maze and the inspirational messages. For adults it is a lovely place to explore and for children I think they will love the chance to simply run round and enjoy trying to hide from parents. You also get an amazing view once you reach the centre, where the two separate pathways meet, and climb the steps on to the bridge."
As you will see from the photo below the maze is brand new. The hedging is there but needs time to grow, at the moment the pathways are divided by a mesh wall.

The Courtship Maze is open every day from 10am and entry is £2 per person with children under 5 entering free.