Learn how to care for your cashmere with advice from the cashmere experts at Gretna Green Since 1754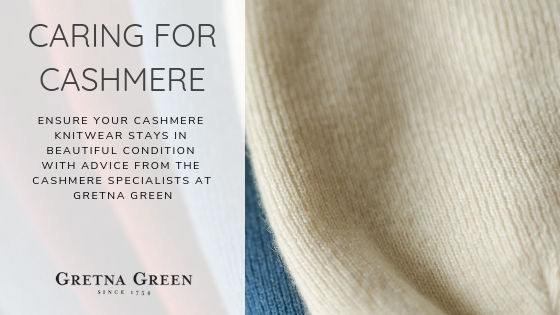 Whether you have invested in luxurious cashmere from Gretna Green online, or at our world-renowned Cashmere department at Gretna Green Since 1754 - follow these simple tips to get the very best look and longevity out of your cashmere clothing and accessories.
Washing
Use a hand wash cycle on your washing machine when washing your cashmere. If you don't have a hand-wash or gentle cycle setting then place your cashmere inside of a pillowcase and put it on a cold wash cycle. Less aggressive spinning and low temperatures result in less agitation of the Cashmere's natural fibres.
Drying
When drying wet or damp cashmere, such as from the washing machine or from damp weather, lay your cashmere out to dry at room temperature on a clean, dry towel. This will prevent your cashmere from losing its shape.
Storing
When storing cashmere, ensure it is totally dry and stored flat. Moisture will create a habitat for moths - so ensure your cashmere is never stored damp. Hangers can cause garments to stretch under their own weight - so fold items carefully and place in drawers or on shelves. If you are storing your cashmere for long periods, it is advisable to wrap your cashmere garments in plastic to provide a barrier to moths and keep it moisture free over time.
Pilling

Quality cashmere can pill naturally over time and with wear. If pilling is an issue, comb the fibres to remove any bobble. Lay the cashmere flat and gently pass the knitwear comb over the fibres of the garment to lift away the pills.
We hope that these hints and tips help you to ensure a long life for your beloved cashmere clothing and accessories.

Shop a wide range of men and women's luxury cashmere clothing and accessories at Gretna Green online or in our cashmere department at Gretna Green Since 1754.