Discover Weddings in Gretna Green & Gretna Scotland
Historic venues, all-inclusive packages and more – why you should marry in Gretna Green - the only official Gretna Green wedding planners and wedding venues, and the only place you can get Gretna Green on your marriage certificate!
Multi-award-winning wedding planners and a family business you can trust!
---
Looking to discuss an existing booking?
To support our wedding couples, we have created a new Contact Form for getting in touch with our award-winning Gretna Green wedding team.
---
Wedding Venues
The Original Home of Romance
| | | |
| --- | --- | --- |
| | | |
| Famous Blacksmiths Shop | Famous Blacksmiths Shop | Famous Blacksmiths Shop |
| From $543.50 | From $401.80 | From $354.20 |
"Getting married in Gretna Green has a romantic legacy, spanning more than 260 years... why not become part of this unbroken thread of romantic history?"
Welcome to Scotland's most famous wedding venue, where couples have fled to join their lives together in the name of love since 1754. Our Famous Blacksmiths Shop has stood at the heart of Gretna Green village since it was built in 1713 and has been a part of Gretna Green weddings since couples began to elope to Scotland in 1754 from England and Wales; where marrying under 21, without their parent's consent became outlawed… so beginning the 'Anvil Wedding'. The legend of the marriage anvil began as the Blacksmith Priests would strike their anvil as part of the wedding ceremony - forging the lives of the two lovers together in an unbreakable bond. Family-owned for four generations, the Famous Blacksmiths Shop is at the heart of soul of Gretna Green.
| | | |
| --- | --- | --- |
| | | |
| Gretna Hall Hotel | Gretna Hall Hotel | Gretna Hall Hotel |
| From $502.60 | From $502.60 | From $271.10 |
Built, in 1710, as a private manor home for the Gretna Estate, Gretna Hall Hotel, has been hosting weddings since the late 18th century; shortly after Lord Hardwicke's law of 1754 changed the rules on marrying in England and Wales. An affluent home turned coaching inn, Gretna Hall attracted a host of wealthy runaways, including Lords, Earls and those of royal bloodlines. Renowned for some of the most scandalous of elite runaway weddings, it is now a luxury hotel and Historic Marriage House. This elegant lady sits in 10 acres of beautiful parkland and offers all the character of a substantial historical building, with the comfort you would expect from a contemporary hotel. This is an ideal place for a wedding reception or can be your ceremony and reception venue for the entire day.
---
| | | |
| --- | --- | --- |
| | | |
| Gretna Green | Gretna | Gretna |
| From $1,021.60 | From $415.50 | From $265.60 |
Alongside our 18th Century wedding venues of the Famous Blacksmiths Shop and Gretna Hall Historic Marriage House and Hotel, we are also proud to own the Old Toll Bar, Gretna - Built, in 1830, the fabulous Water Gardens at Greens at Gretna Hotel and Our 4-Star Boutique Hotel Smiths at Gretna Green - where you have a choice of wedding ceremony venue options, including our largest venue area, serving up to 180 guests and our intimate Penthouse Suite.
Weddings in Gretna Green have taken place here in Scotland for over 260 years. Whilst there have been a lot of changes in that time, the spirit of Gretna Green remains strong. Today we offer you a great choice of Scottish wedding venues, in Gretna Green including the Famous Blacksmiths Shop and Gretna Hall Hotel and Historic Marriage House as well as our award-winning 4-Star Smiths Hotel. We are also proud to offer 3 exceptional Gretna wedding venues too, including the Old Toll Bar – First and Last House in Scotland since 1830 and our 3-Star Greens Hotel; home to the famous Water Gardens marriage venue and The Conservatory at Greens at Gretna.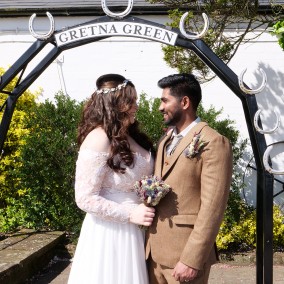 From $1,185.10
Marry in the Famous Blacksmiths shop
or Gretna Hall Marriage Rooms
Photography Package
2-Night Stay in a Double Room
Bridal Couple Only

From $667.50
Marry in the Famous Blacksmiths shop
Or choose one of our other
selected venues
Photography Package
Bridal Couple Only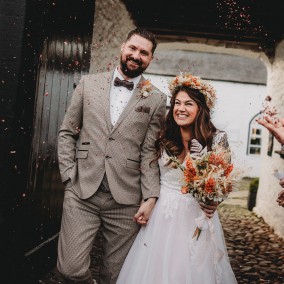 From $2,178.10
Marry in the Famous Blacksmiths shop
Reception with Dining for 10
2-Night Stay for Bridal Couple
Drinks Package
Bridal Couple & 8 Guests
At Gretna Green, we are dedicated to helping you bring the wedding of your dreams to life and our expert team has designed a series of exclusive packages just for you. Together with our wonderful choice of Gretna Green and Gretna wedding venues, we have a great range of all-inclusive wedding packages for you to choose from. Whether you are looking for a small, intimate Scottish wedding, such as our 'Gretna Green' package or 'Elopement' package, right up to larger 'Love Story' 40 to 100 Guest package, we can cater to your wedding needs and budgets. Gretna Green also offer inexpensive weddings, but these are in no way cheap weddings! We'd prefer to think of them as wedding package deals and special offers.
For over 260 years, couples have continued to flee to Gretna Green to marry over the anvil, but as our family business has grown, so have our wedding packages and we now offer a range of all-inclusive weddings from 2 to 180 guests.
---
Planning Your Wedding

The Famous Blacksmiths Shop is what made Gretna Green famous and is not only an intrinsic part of our village heritage and history but also our family's history! Every bride and groom that marries here, becomes another important line in our story of romance and enduring love and holds a very dear place in our hearts. Marrying at Gretna Green is more than just a wedding. It is an inauguration into centuries of history and the exclusive, life-long 'club' of 'Anvil Brides and Grooms'.
If you're planning a Gretna Green wedding then our multi-award-winning wedding planners can help. Our wedding team have over 100 years combined wedding planning experience so you can be assured you're in safe hands; as the only official wedding bureau in Gretna Green.
We understand that wedding planning can feel like a daunting task, but let us take the weight off your shoulders with our venue only or all-inclusive wedding packages. Prefer something more bespoke? Then why not have a go with our wedding calculator?
If you would like to speak with a member of our Gretna Green wedding planner team, here at our Gretna Green wedding bureau, you can contact us on +44 1461 336001 or via email to weddings@gretnagreen.com. Alternatively, you can make an enquiry from any of our wedding package, special offer or wedding venue pages.


While our brochure or website may occasionally refer to the 'bride and groom', all of our Gretna Green wedding packages are available as both 'bride and bride' and 'groom and groom' and it would be our honour to host your Gay or Lesbian wedding. Our fantastic range of all-inclusive packages are the perfect way to celebrate your gay marriage, as you become Mr and Mr or Mrs and Mrs in Gretna Green!

We don't just perform and host weddings here in Gretna Green, we are also the perfect place for a vow renewal! Whether you are looking to repeat your vows in an official ceremony with a minister or a less formal 'Anvil Blessing', conducted by one of our Blacksmiths Guides, to reaffirm your commitment to each other; we have a wonderful range of options available if you would like to have your marriage blessed. Talk to one of our wedding planners to find out more.


The tradition of handfasting has been at the heart of Scottish and English weddings since medieval times. It was originally a ceremony between a couple to confirm their commitment to marry – the original engagement – but is now more commonly either a commitment ceremony, for unmarried couples or a marriage blessing, for couples already married. Our Anvil Handfastings are available, on the day to any couples visiting Gretna Green, provided that a room in the Famous Blacksmiths Shop or Gretna Hall Marriage Rooms is available and cost $54.50 per couple. If you would like to pre-book, please email: blacksmiths@gretnagreen.com or call 01461 337893.


If you would like to talk to our wedding planning team, please contact us on +44 1461 336001 or via email to weddings@gretnagreen.com. Alternatively, if you would like to request a brochure to be posted to you, you can do so here: REQUEST A BROCHURE
---