Posted by Ludia - September 23, 2020
Visit the Famous Blacksmiths Shop with Family this Half Term
Looking for fun things to do with the kids, this Half Term?
Plan the perfect family staycation in the UK with our NEW October Half Term Breaks special offer! Spend 2, 3 or 4 nights half-board with the family at Smiths or Gretna Hall Hotel from just $420.30 – KIDS EAT FREE! Better still, we have lots of fun kids' activities right here at Gretna Green or in the surrounding area; perfect for keeping the kids occupied.
Posted by Administrator - April 28, 2020
25% Off Famous Brand Fashion & Accessories from Joules, Barbour, Harris Tweed, Radley & More!
For a limited time only, enjoy a fantastic 25% OFF big-name brands online at www.gretnagreen.com/shopping
Find the perfect wardrobe essential in Joules and Barbour's fashionable range of Spring clothing and accessories; perfect for sunny video chats and social media snaps! Or send a thoughtful "thinking of you" gift to that special someone in our popular selection of Radley and Harris Tweed bags, wallets and purses. All 25% OFF right now!
Posted by Administrator - April 27, 2020
Smiths Hotel is Awarded Wedding Hotel of the Year & Cocktail Bar National Winner 2020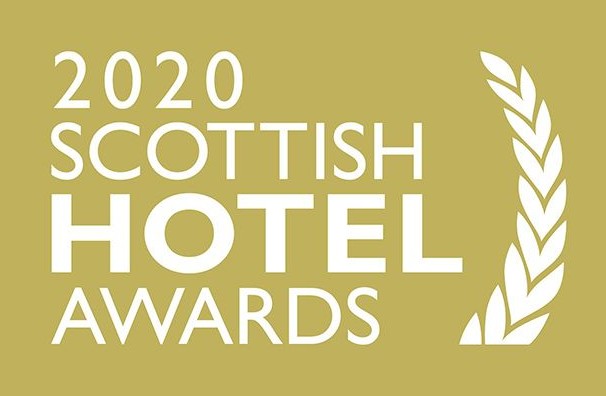 We are ecstatic to announce that Smiths at Gretna Green Hotel has taken home two fantastic wins from the Scottish Hotel Awards 2020 for Cocktail Bar and Wedding Hotel of the Year.

In such unprecedented times, it's so wonderful to celebrate something positive, and we are incredibly proud of our fantastic hotel team for all their hard work and dedication.
Posted by Administrator - April 01, 2020
'Chick' Out Our Full Range of Easter Chocolate, Toys, Kidswear & More!


This Easter, show your nearest and dearest how much you care with a special gift, direct from the home of love, Gretna Green! Our online store has an egg-cellent selection of unique keepsakes, toys, kidswear and - of course - chocolate! Our wee team of Easter bunnies have made sure that, even if you can't catch up with your friends and family face-to-face, you're guaranteed to find the perfect products to help celebrate this Easter.
Posted by Administrator - April 01, 2020
Food & Drink, Healthcare, Boredom-Busters and More, Available Online and In-Store Now!
Here at Gretna Green, we want to support our customers.
Are you running low on supplies, need a treat to cheer yourself up or want arrange a hamper for a loved one? Gretna Green has you covered.
Shop our full range of tea & coffee, biscuits, canned goods, healthcare, home necessities and lots more, all available online at www.gretnagreen.com/shopping or in-store at the Famous Blacksmiths Shop Foodhall, just off the M6 & M74 and only 10 minutes from Carlisle.
---
Posted by Administrator - January 08, 2020
The Symbolic Meanings Behind Your Leap Day Wedding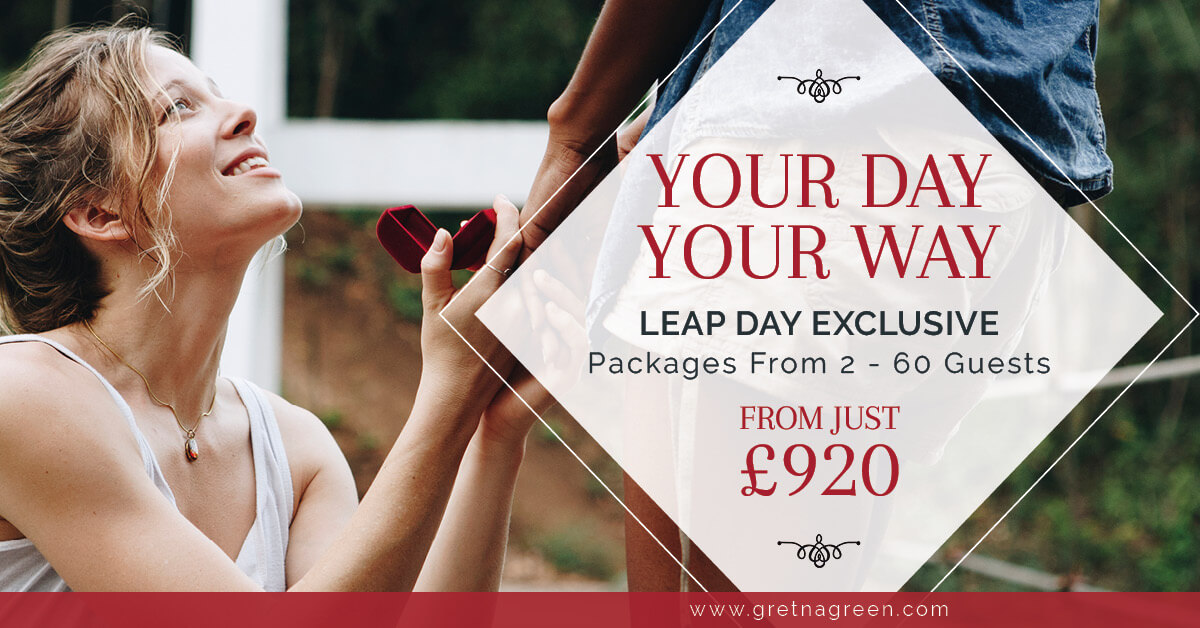 The 29th February is a date which only occurs every four years but there's so much more to this incredible quadrennial day! Read all about the history and symbolism of this special date and discover our exclusive Leap Day Wedding Special Offer.
---
Posted by Ami - December 20, 2019
Gretna Green Wedding Open Weekend - February 2020
Pre-register today
For Spring 2020, we're opening our doors for not one, but two open days; giving you even more time to see what we have to offer for weddings at Gretna Green. Use our form below to pre-register for our February 2020 wedding open weekend and choose to request an appointment with a wedding planner!
Posted by Administrator - November 08, 2019
Whisky & Gin Tasting and Scottish Anvil Handfasting Experience Vouchers
Our Scottish Experience Day Vouchers make a fantastic, unique treat for friends, couples or families, and start from just $62.40!
You can purchase one of our Experience Gift Vouchers on-site at Gretna Green Since 1754 or online here. Alternatively, speak to our dedicated team about creating your own bespoke experience by contacting us today!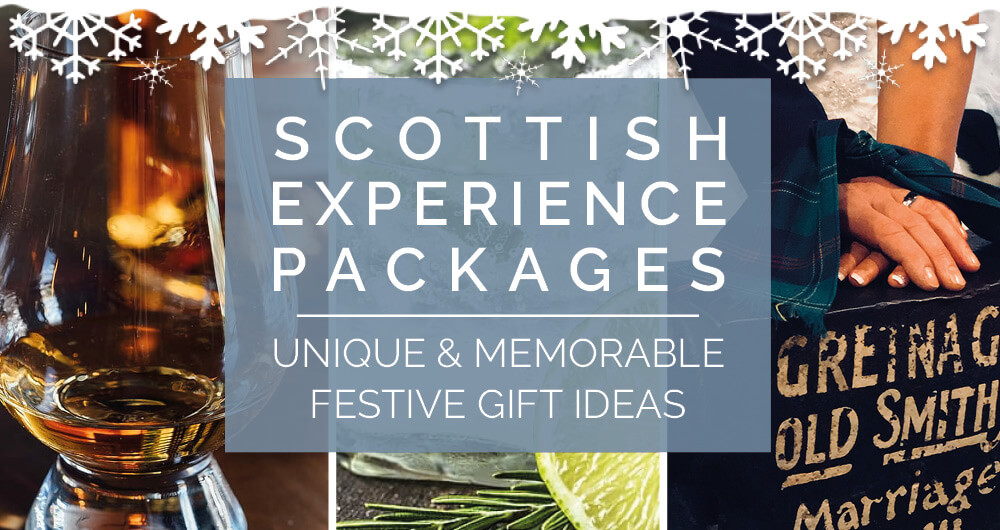 Posted by Administrator - October 09, 2019
Discover Gretna Green's Range of Large & Bespoke Weddings
Have you got big ideas for your big day? Here at Gretna Green, we have a range of large wedding packages and special offers, as well as our bespoke wedding planning service, right at your fingertips.
Currently, our largest all-inclusive package is the The 'Love Story' 40-60 Guest Wedding, including a variety of wedding necessities as well as exclusive extras; meaning you can relax knowing your special day has all been taken care of. Find out more below about this package, pet-friendly receptions and rooms, wedding gifts and favours, and everything else you'd like to know about marrying at Gretna Green, Scotland.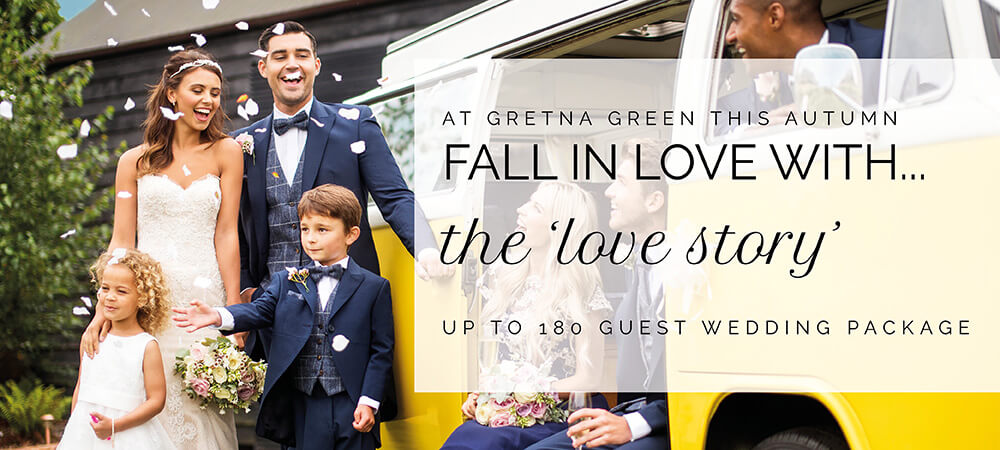 ---
Posted by Administrator - October 02, 2019
Make Your Own Gretna Green Pumpkin Soup This October
Get in the spooky spirit this October with our delicious recipe for Pumpkin Soup, straight from our experienced kitchen team at the Famous Blacksmiths Shop Foodcourt. Easy to make, low in fat and scarily scrumptious, our Gretna Green Pumpkin Soup will be just the treat (no tricks!) to keep you warm this Autumn. PLUS, it can be made 100% vegetarian or vegan!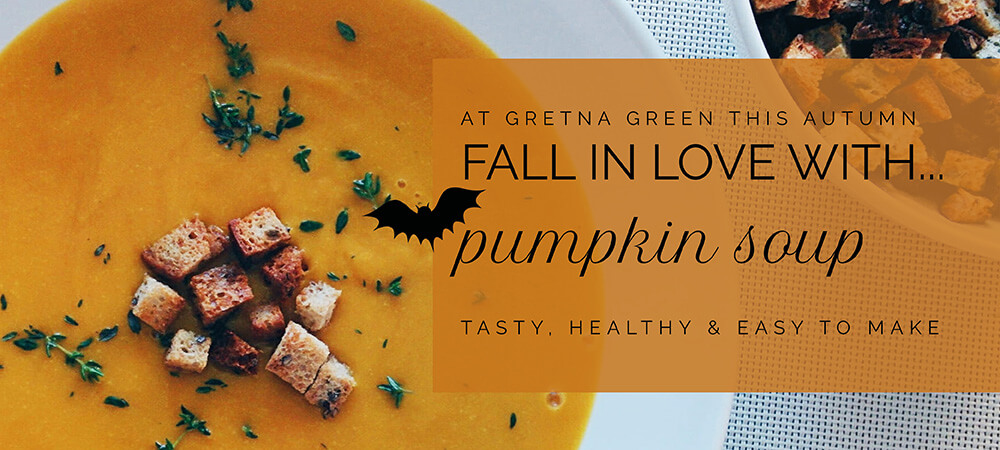 ---