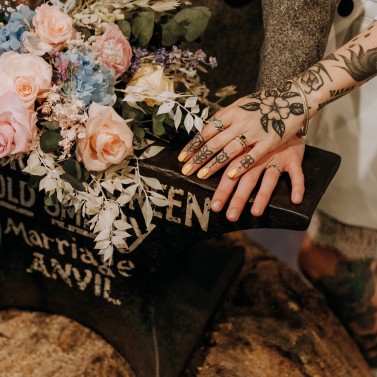 Everlasting Love Handfasting Package

Experience a truly romantic Scottish tradition.

Book now for as early as this week.

One Night's Hotel Accommodation.
---
Description
For centuries, couples have used handfasting ceremonies as a way to affirm their commitment, celebrate engagements, and even marry! Nowadays, handfasting is a popular way to celebrate a couple's love, be that as an anniversary celebration, for a birthday, Valentine's Day, Christmas, or even as a part of wedding ceremonies. Here at Gretna Green, we offer a unique Anvil Handfasting ceremony, which combines the traditions of handfasting, with our traditional Anvil blessing to offer a memorable experience that you won't find anywhere else in the world.
Please Note: This package is for a traditional Scottish Handfasting experience at Gretna Green, not a legal wedding.
---
Wedding Venues

With the Everlasting Love Handfasting Package, choose to marry in any of the following Gretna Green wedding venues:

▪ The Famous Blacksmiths Shop:

▫ The Elopement Marriage Room

Included in Your Package

Enjoy the following benefits which will be included with your package:

▪ A traditional Handfasting ceremony over the iconic Gretna Green marriage Anvil.

▪ Free entry to the Famous Blacksmith Shop Gretna Green Experience.

▪ A meal for two in one of our four-star hotel restaurants.

▪ Spend one night in a Double Room in the hotel of your choice.
---
Additional guests can be added to your package upon request.
Image credits: (c) Naomi House, Fleming Photo, James Green Studio and Others
---
Share Your Experiences
Did you get married here? Why not tell us about your day?