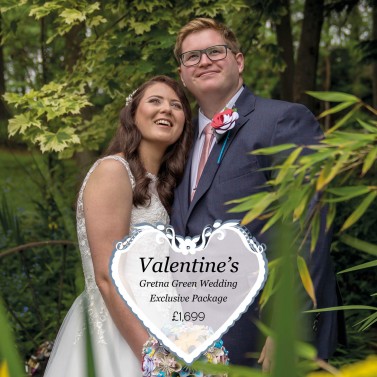 Weddings

Valentine's Day Wedding for 2

Valentine's Day Celebration Dinner with Champagne

Photography Package included.

Two Nights Hotel Accommodation. More »
---
Description
What better day to tie the knot than upon Valentine's Day itself? Celebrate the passionate and rebellious spirit of elopement, the true spirit of Gretna Green, with our Valentine's Day Wedding Package for two. This special package is available for just one day of the year, that most romantic date in the calendar, the 14th of February.
Exclusively Available: Our Valentine's Day Wedding Package is exclusively available to book for Valentine's Day in 2024 or 2025. Arrive on the 13th of February and marry on Valentine's Day itself, on the 14th of February. Enquire with our Wedding Team today for more information!
---
Wedding Venues

With the Valentine's Day Wedding Package, choose to marry in any of the following Gretna Green wedding venues:

▪ The Famous Blacksmiths Shop:

▫ The Original Marriage Room

▫ The Forge Marriage Room

▫ The Elopement Marriage Room

▪ Gretna Hall Marriage Rooms:

Included in Your Package

Enjoy the following benefits which will be included with your package:

▪ Photography package consisting of 16 (10" x 8") photographs presented in an album.

▪ Free entry to the Famous Blacksmith Shop Gretna Green Experience.

▪ Spend two nights in a Double Room in the hotel of your choice.

▪ $31.70 per person dinner allocation on the 13th of February.

▪ Valentine's Day Romantic Celebration Dinner with champagne on the 14th of February.

▪ Full Scottish breakfast every morning.

▪ Bottle of sparkling wine in the room.

▪ Robes, slippers and luxury toiletries (wedding couple only).
---
Additional guests can be added to your package upon request. For more information on Registrar or Minister Fees, please see our
Wedding Fees
Page.

*Included photography: A photographer will be selected for your wedding from our list of approved suppliers. However, should you wish to employ your own photographer to capture your wedding day, please let our wedding team know that you do not wish for photography to be included in your package. Please note that the photography used to represent these packages is used with permission from various photographers and does not necessarily represent the style of imagery or photographer included within your package.
Image credits: (c) Naomi House, Fleming Photo, James Green Studio and Others
---
Share Your Experiences
Did you get married here? Why not tell us about your day?