Posted by Susan Adams - July 18, 2012
We've been keeping busy here at Gretna Green building our new website and adding lots of new images and features so we hope you all love it! We also thought we'd have a bit of fun at the same time and create some of our own wedding photography!
Our 2 lovely models... Helen and Chris did a great job (yeah thats right, you spotted them on the homepage!) and we think we've got some cracking shots of Gretna Green! This photo is a particular favourite with everyone here and just happens to be one of the most popular spots for our Brides and Grooms to get snapped at... right beside the Gretna Green sign,outside the Famous Blacksmiths Shop.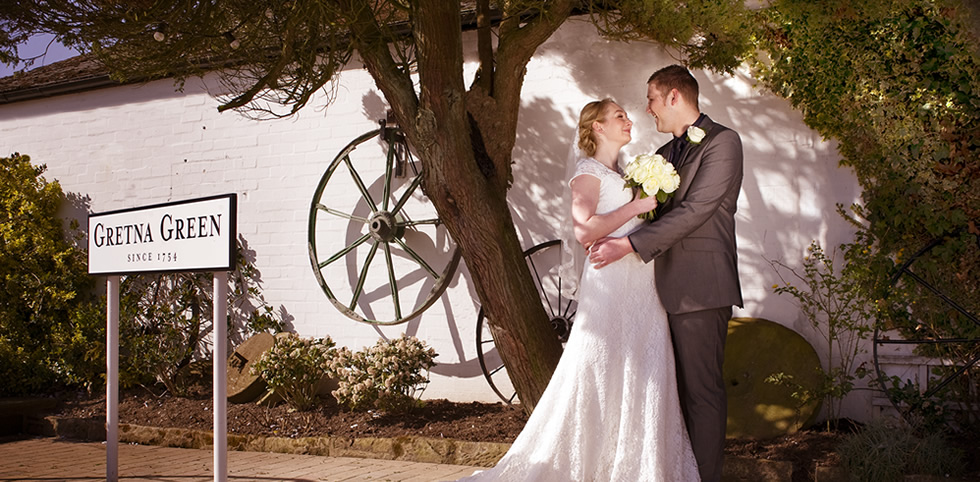 We'd just like to say a big thanks to the very knowledable Carol Roberts of Carols Roberts Couture Bridal for 'lending' us a beautiful Charlotte Balbier dress for the day... Helen said she felt amazing in that dress and well that's just how a bride should feel on her special day!
Oh and we can't forget our lovely Sharon in the Spoilt Salon at Smiths Hotel for doing Helen's hair and make-up...
Why not contact us now to enquire about making your own 'romantic history' at Gretna Green? We look forward to hearing from you all...