Luxury Brand Shopping at Gretna Green, The Home of Romance since 1754
Who are Gretna Green Since 1754
A family-owned and operated business since 1885, Gretna Green Famous Blacksmiths Shop is not only a Historical Landmark in its own right, Museum and Five-star award-winning Visitor Attraction, but home to Gretna Green Since 1754, famous brand and cashmere department store, dining, gift shops, and an award-winning Food Hall; all located in the heart of Gretna Green, famous for runaway love for over 250 years.
Our Shops
Gretna Green Since 1754
Your first and last stop for luxury shopping in Scotland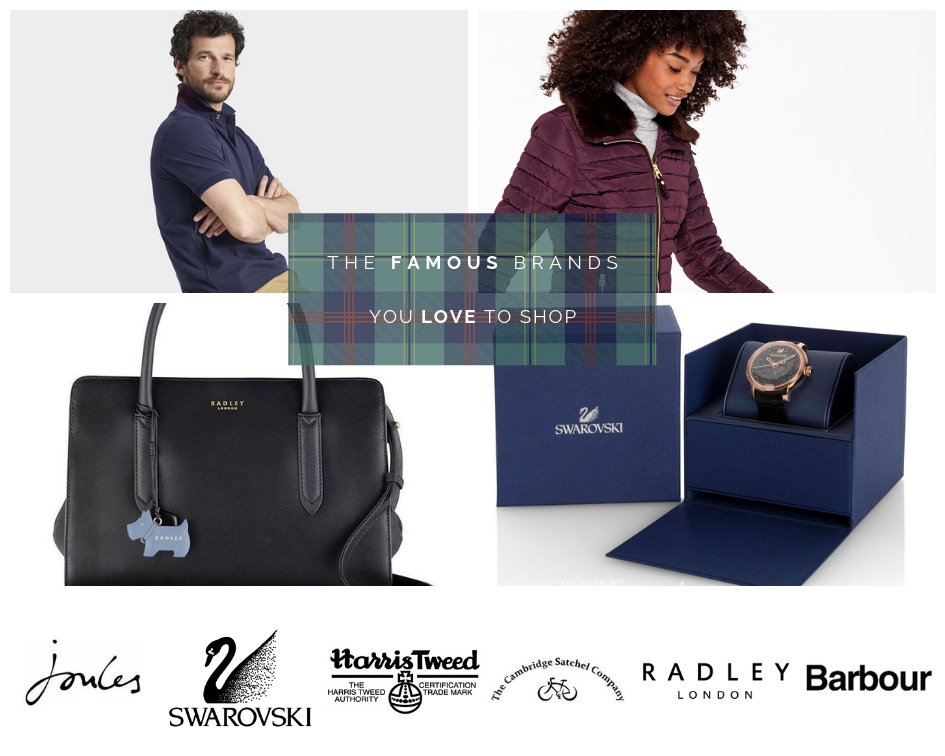 From some of the biggest names in British fashion, including Joules, Radley, Harris Tweed, Barbour, Grafea and The Cambridge Satchel Company, to international favourites such as Swarovski, our Gretna Green Since 1754 department store is your first and last stop for Luxury brand shopping in Scotland, located in the Home of Romance, Gretna Green just minutes from the M74/M6 and A75 on the Scottish border; only 10 minutes from the English border city of Carlisle.
Love our Luxury Cashmere from Scotland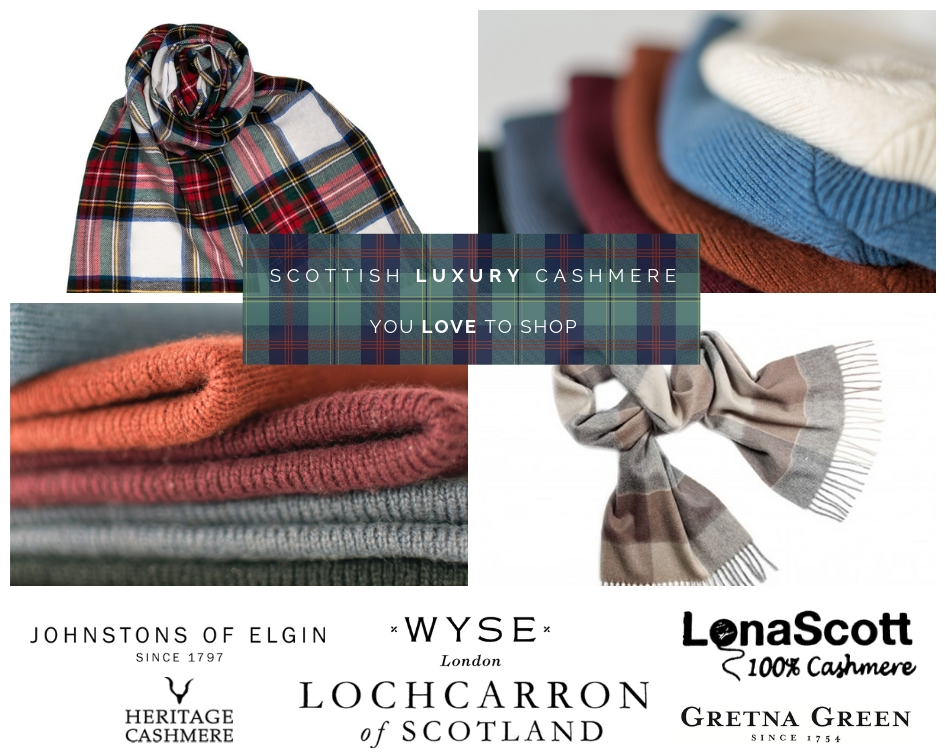 Indulge yourself with the luxury touch and feel of 100% Cashmere products, with our wide range of cashmere brands, including our exclusive Gretna Green brand cashmere products! A true touch of Scotland our cashmere all comes from the best quality UK designers: Johnstons of Elgin, Wyse London, Lona Scott, Lochcarron of Scotland and Heritage Cashmere, so you are guaranteed a quality, luxurious product!
Shop your favourites from our Tartan and Clans collections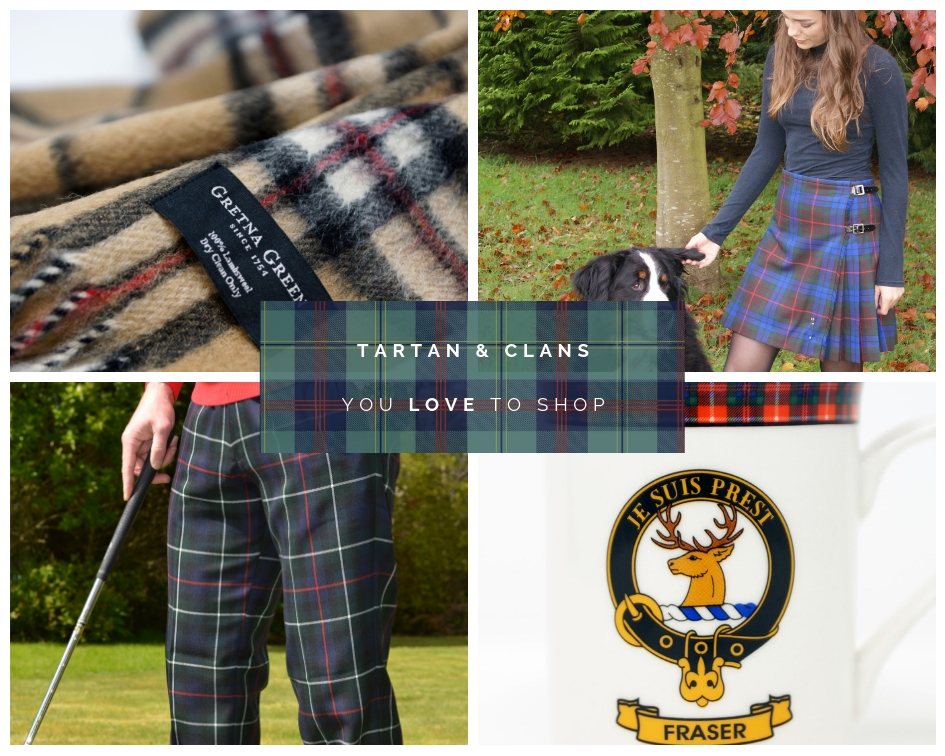 From men, women and children's tartan kilts, formal wear and tartan trousers, (perfect for golfing), scarves, stoles, shawls and more to our clan items including mugs, scarves, pins, whisky glasses and much more.
Foodhall at Gretna Green
Award-Winning Foodhall for all your favourite Scottish foods and drinks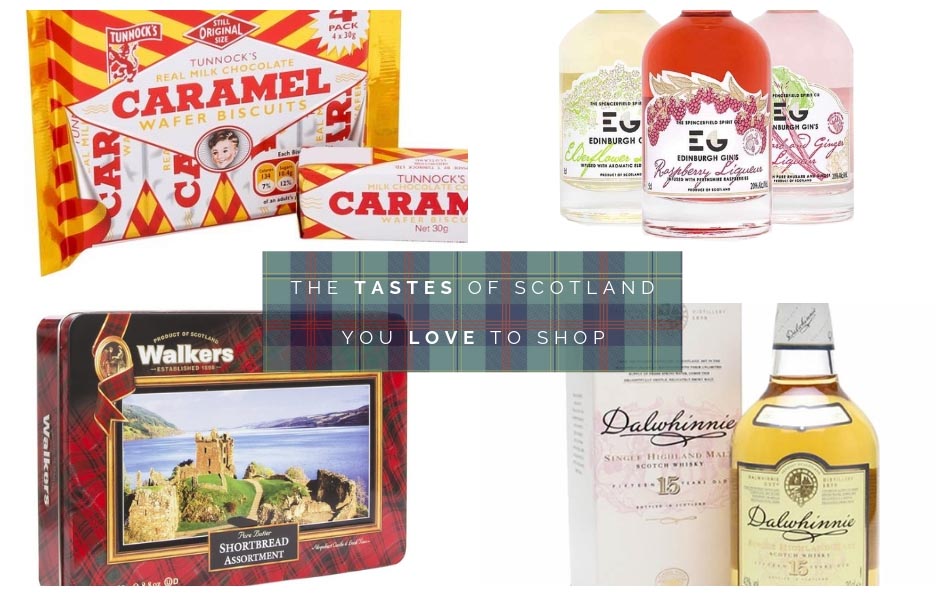 From good old-fashioned Cloutie Dumpling and fine malt whiskies to the popular Scottish favourites of Tunnocks, Walkers Shortbread and everything in between, our 5 Star Award-Winning Foodhall, here at the Famous Blacksmiths Shop Attraction in Gretna Green is the perfect place to stock up on all of your favourite local foods and drinks.
Our product ranges include Beers, Whiskies and Gins; Jams, Chutneys and Marmalades; Fresh Fruit and Vegetables, Biscuits and Sweet Treats; Traditional Scottish delicacies such as Haggis and Cloutie Dumpling, and Fresh Meats and Fish. Not forgetting our Gretna Green Famous Blacksmiths Shop own-brand food and drinks.
Our new Beer, Whiskies and Gins department stocks a wide variety of beers, (including local brands from Scotland and the North of England), wines, a large spirits department stocking a huge collection of Scottish whiskies and gins, prosecco and champagne.
We also specialise in personalised gift hampers. Choose the products you want to include, in store and we will make it up for you while you wait, or we can ship it home or straight to the recipient!
Gretna Green Famous Blacksmiths Shop
Love our own-brand Gretna Green products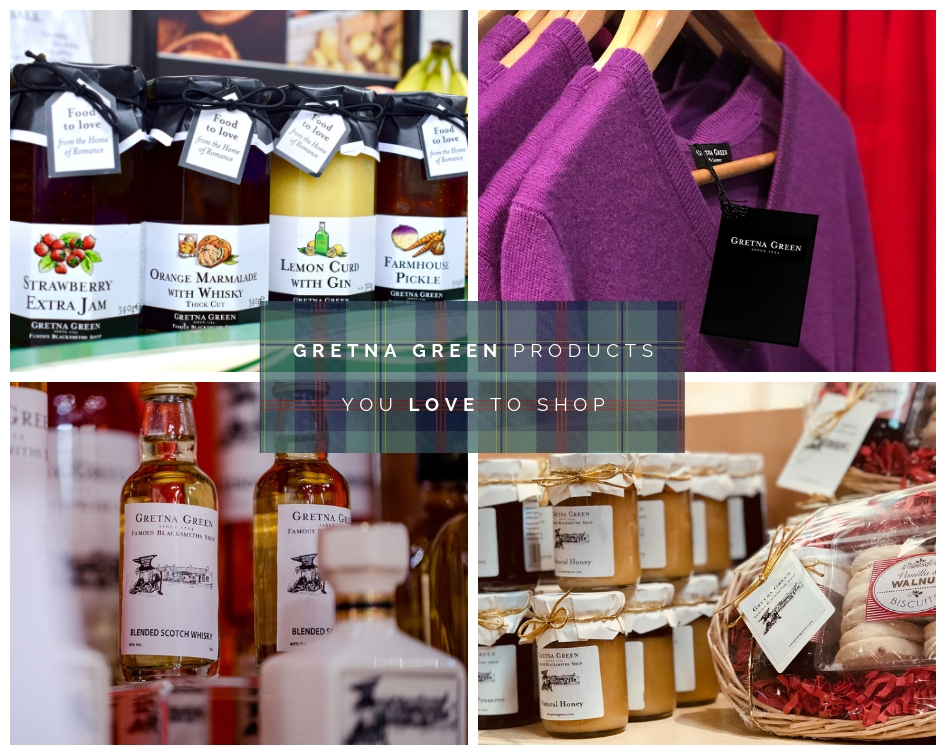 From our jams, chutneys, marmalades and honey to whisky, cashmere and luxury Christmas decorations, our range of Gretna Green Since 1754 and Gretna Green Since 1754 Famous Blacksmiths Shop Products are not only tasty to eat and luxurious to wear, but make a perfect memento of your visit and a wonderful gift for family and friends. You'll find our Gretna Green Since 1754 fashion products in the Gretna Green Since 1754 shop and our Gretna Green Since 1754 Famous Blacksmiths Shop food, drink and gift products in our Whisky & Gifts Shop, Foodhall and Hamper & Home stores.
Whisky & Gifts and Hamper & Home
Discover our two, fabulous, luxury gift shops at Gretna Green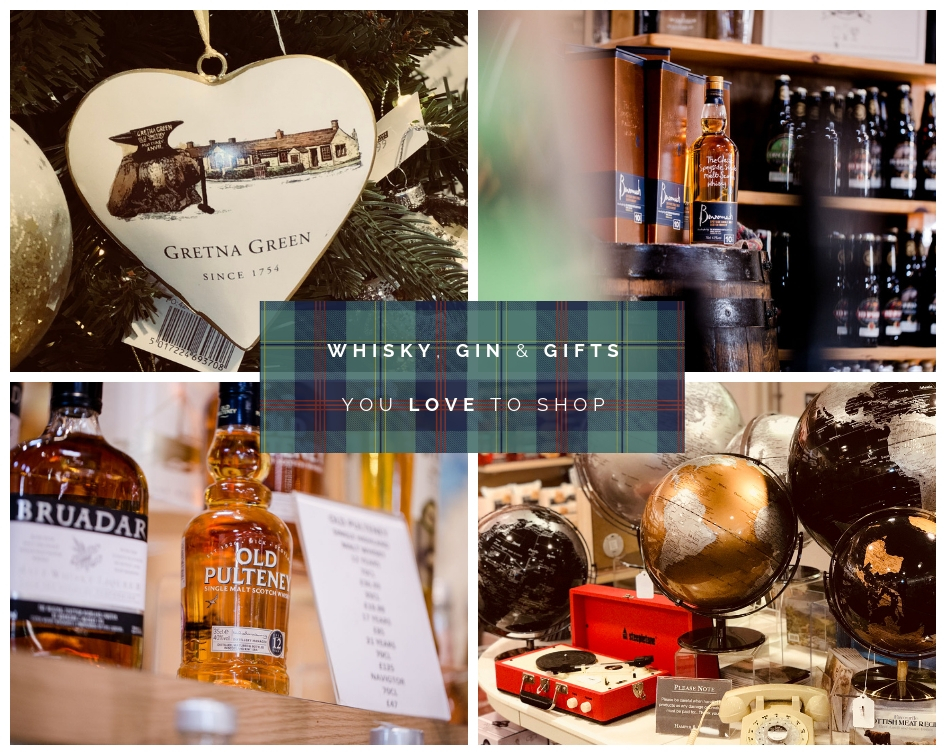 Whether you are looking for a rare Scottish Malt Whisky or luxury gifts, our Whisky & Gifts and Hamper & Home stores are a must-visit.
Whisky & Gifts
Part of the Famous Blacksmiths Shop, our Whisky and Gifts shop is the perfect place to explore our range of local and rare, aged Whiskies and Gins, as well as our range of Wedding Gifts, Glassware and special Gretna Green Famous Blacksmiths Shop mementoes. It's also home to our Whisky and Gin tasting experiences. Take a tour of Scotland with your favourite tipple before buying a bottle (or two) to take home!
Hamper & Home
Full of luxury gifts for you and the home, from handmade German clocks to retro music players and of course hampers, our Hamper & Home store is the number one stop for unique gifts from Gretna Green.