Gretna Green History
Posted by Ami Brough - December 15, 2017
Why you should visit Gretna Green Famous Blacksmiths Shop for a traditional 'Spontaneous Blessing'
A quick look at Handfasting history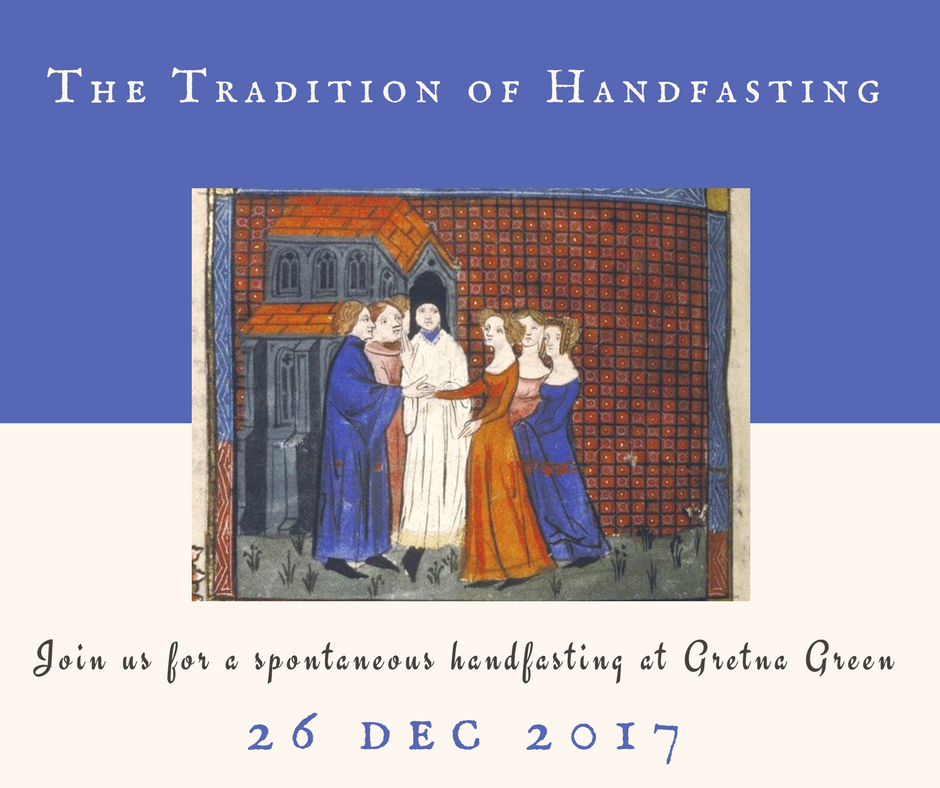 South of the border
The term 'handfasting' is both the historical term for a wedding, or 'betrothal' in Great Britain and Ireland, and also the word for a wedding in Neopaganism.
Throughout the middle ages, from the 12th to the 17th century, handfasting was commonly the term used in England to simply mean 'engaged to be married' and was a ceremony that was held, generally around a month prior to the official church wedding; to demonstrate the couple's commitment and a form of contract and as a declaration of their intention to marry. It was, however, still a legally binding marriage and considered valid; though many couples and their families still did not consider this the case until after the church ceremony. But, as with any church weddings, handfasting could only be distinguished by death.
Posted by Susan Adams - June 22, 2016
77 years ago Dennis and Eileen Howell 'ran away' to get married here in Gretna Green. Dennis knew that there was a war on the horizon and that he would enlist. Both their parents were aware that they were in love but they did not approve of marriage since they were so young. Back in those days one person needed to stay in Gretna Green for the 21 day residency act and Eileen did this without suspicion from her parents by saying that she was visiting a friend on the coast... She had even left pre-written postcards with Dennis whom then played his part by cycling to the coast to post the postcards for 3 weekends in a row... Dennis then followed his wife-to-be once the 21 days had passed and they were married here on 17th June 1939.
Last week, Dennis and Eileen's grandson Simon and his fiancée Beccy did the same on the exact same date, along with their children (although they didn't have to stay for 21 days!).
They even recreated the iconic photo from all those years ago!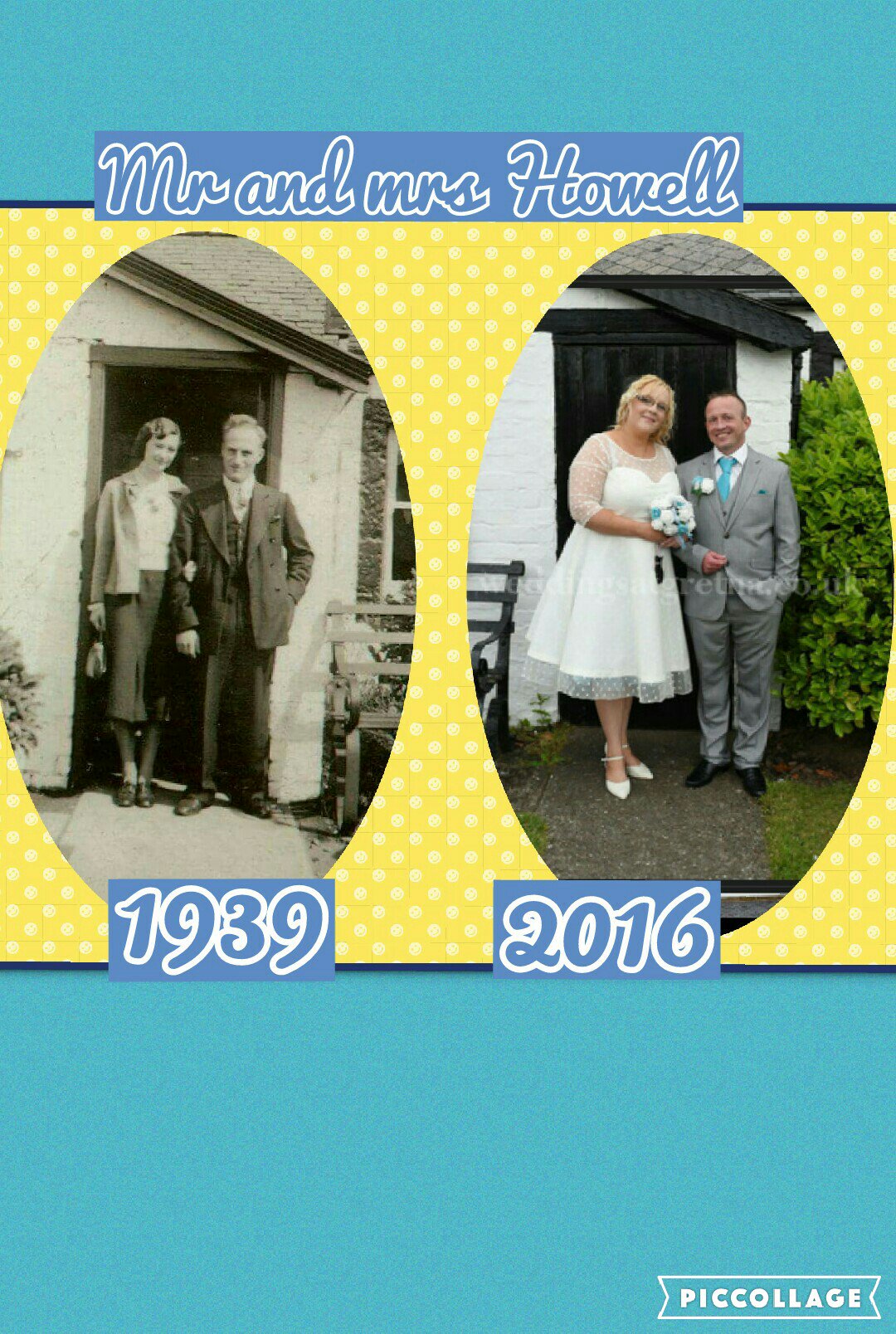 Posted by Ami Brough - August 11, 2015
In its heyday, the Blacksmiths Shop was at the centre of village life. The village blacksmith was always at work making horseshoes, fixing carriages and farm equipment ... and was one of the most respected figures within the village. Following changes in 1754 which increased the restrictions facing young couples who wished to marry, the differences in law led to a flow of young lovers desperate to marry running away over the border...stopping in the first village they came to (most famously our wee village of Gretna Green). As a highly respected member of the community, the Blacksmith was frequently sought by these couples....and soon the 'anvil priest' arose.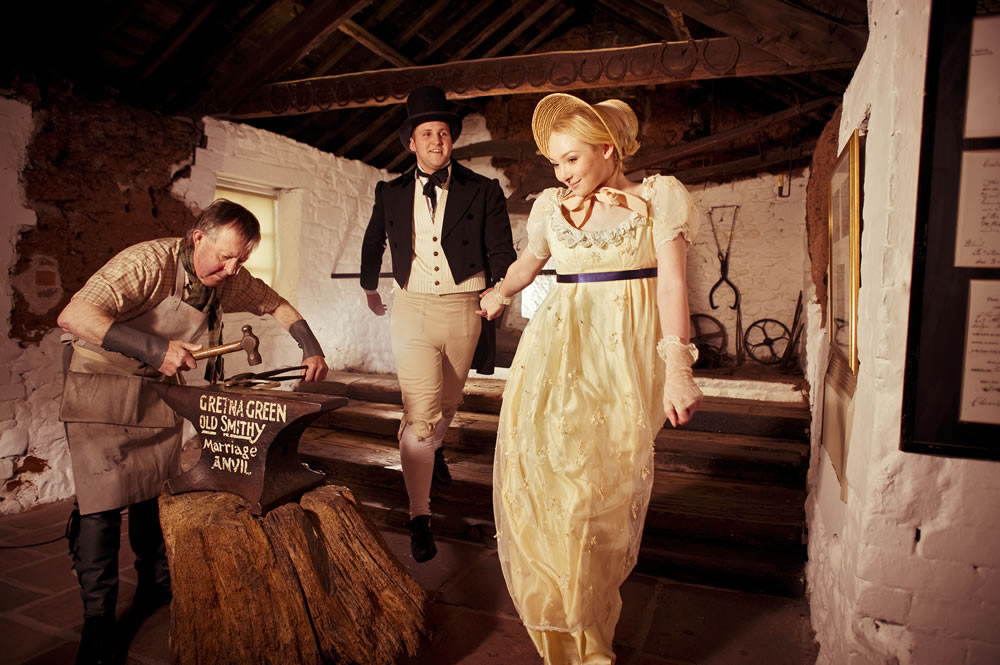 Posted by Ami Brough - April 01, 2014
Each year thousands of couples make the journey here to Gretna Green to get 'married over the anvil' and it's a tradition which is entrenched in history as far back as 1754 when English lords voted to change the marriage act. For couples in England this meant they had to be over 21 and gain their parents' permission to be married. Scotland however did not adopt this law and continued on its way with irregular marriages which in essence meant you could marry anywhere as a declaration in front of only 2 witnesses.
Still this does not really answer about the anvil question though, or does it...?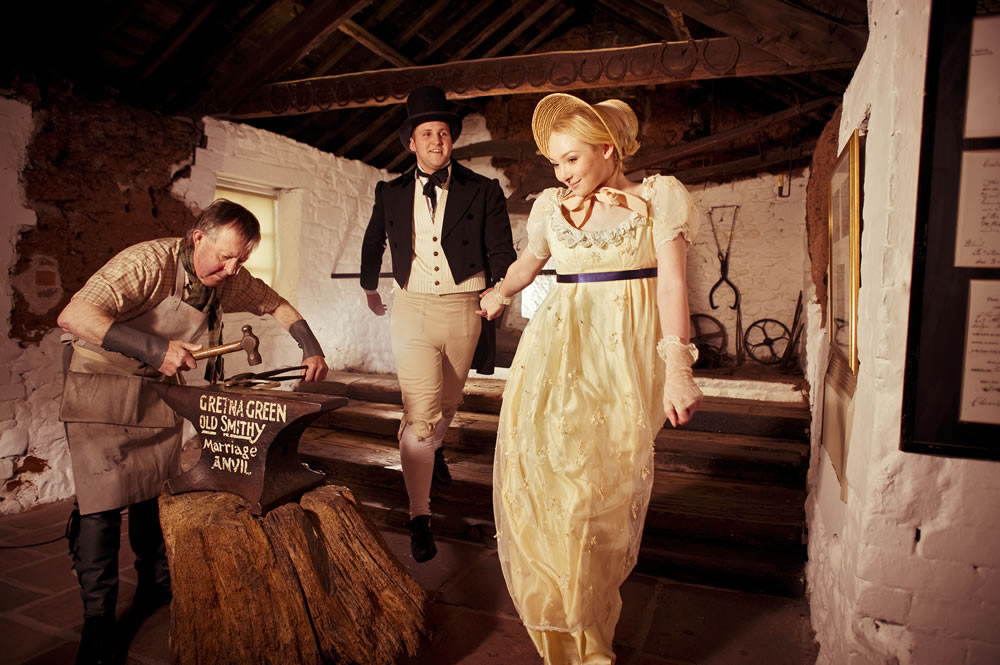 Posted by Ami Brough - March 19, 2014
Can you trace your family history back to the Scottish Borders region with a family name of Moffat, Bell, Graham, Irvine or even Bates, Little, Thomson, Glendenning, Carruthers, Johnstone, Jardine or Latimer?? You may be descended from the families of the infamous Border Reivers....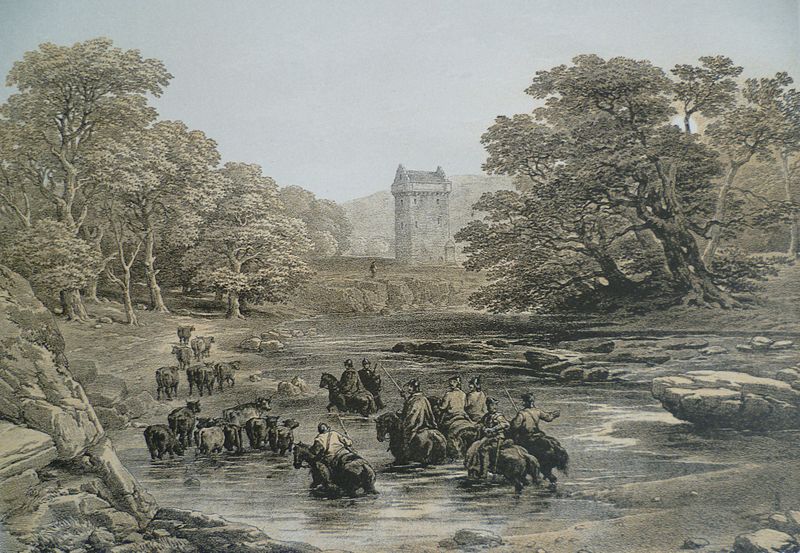 Posted by Ami Brough - October 04, 2013
Ask almost anyone about Gretna Green and most people will answer with a remark about runaway weddings...but what do we actually know about the place? Since we've entered the month of mystery and intrigue (Halloween will be here before any of us realise!), we thought it would be interesting to compile a list of Gretna Green stories ... and reveal the truth behind them!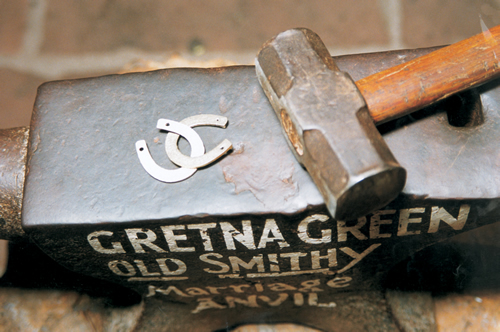 Posted by Ami Brough - April 12, 2013
Over the years, we have been lucky to meet so many different people in the Famous Blacksmiths Shop from so many varied walks of life, and it's certainly true that it's a place that holds special memories for many of our visitors.
One recent visit in particular turned out to be very nostalgic for Roger Claymore who we were delighted to meet a few weeks ago in our carriage museum, and he shared his story with us...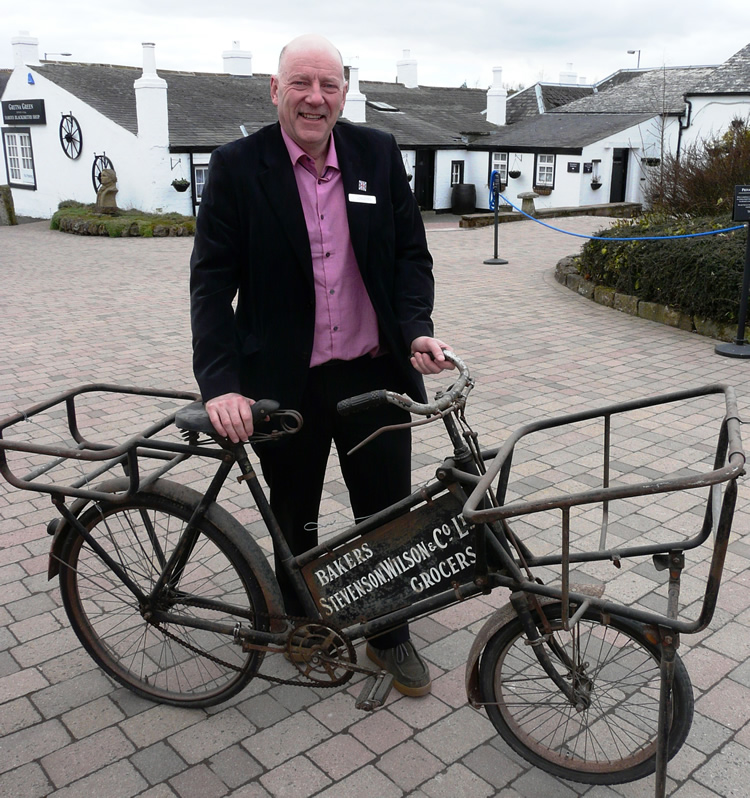 Posted by Ami Brough - March 05, 2013
Another little piece of Gretna Green History...
Last weekend, we were visited by 3 generations of a family, with a very special connection to Gretna Green's Famous Blacksmiths Shop.
Geraldine Davey (nee Tough) had been visiting Gretna Green, namely the Famous Blacksmiths Shop, for a friend's wedding when she spotted an old photo hanging up of a 'Mr & Mrs John Tough' and upon inspection it turned out to be her Great Aunt and Uncle...

Posted by Susan Adams - January 28, 2013
Just like Jane Austen's Pride and Prejudice, Gretna Green has its own 'enduring love affair' story... in fact it dates back to even before this great novel was written. Harking back to 1754 and with the introduction of a new controversial Marriage Act in England, Gretna Green flourished as a haven for runaway couples and has been growing in popularity ever since... With mentions of this little village in not just 1 but amazingly 3(!) of Jane Austen novels, Pride & Prejudice, Sense & Sensibility and Mansfield Park, we can safely say that Austen herself had a genuine, sincere affection for Gretna Green.