Posted by Henry Davenport - December 01, 2017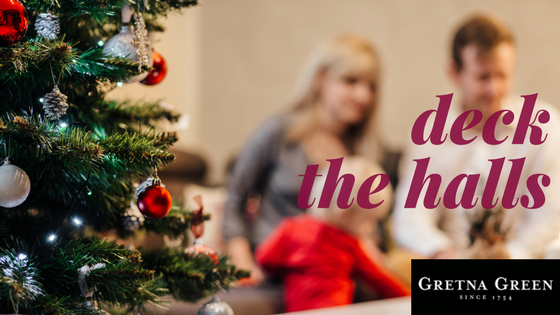 Christmas is a time for family and friends, for feasting, drinking, laughing and creating wonderful memories together.
With people celebrating and coming and going you want your home to look its very best at this time of year.
With a wide range of festive decorations & homewares available at Gretna Green and online at GretnaGreen.com/shopping, we have everything you need to make your home look fabulous this Christmas.
Lounge
When thoughts turn to Christmas decorations the lounge is probably the first room you'll be decorating.
It's the centre of the home during the festive period.
As the place where you open Christmas presents, spend time with the family and share in a mince pie or two, it's not only a space you want to be comfortable and inviting – it also in the background of all those Christmas photos – so why not go all out?
The centrepiece of any lounge area has to be your tree. Here at Gretna Green, we're big fans of a real tree- but then we are in Scotland where beautiful fir trees are abundant!
Whether you're going real or plastic, the ornaments and decorations are what make the tree really special.
At Gretna Green, we have a huge range including:
Made exclusively for Gretna Green, this charming plush anvil Christmas tree decoration is a unique keepsake.
One to hang on your tree with special memories of Gretna Green for years to come.
Inscribed with GG and featuring 2 horseshoes, this Anvil Christmas decoration would also make a wonderful gift idea.
Gretna Green
Anvil Christmas Tree Decoration
$20.40
Decorate your Christmas Tree with this lovely Silver Christmas Decoration.
Featuring a design based on the traditional Scottish Thistle motif.
Crafted in fine silver-plating, this stunning decoration comes with a short history of the design....
Hamilton and Young
Scottish Thistle Christmas Tree Decoration
$17.70
Our crown-shaped Scotland decoration is a stunning hand-made tartan decoration with amazing embroidered detail.
This Scotland crown Christmas tree decoration would look great hanging on any Christmas tree this year...
A great Scottish Stocking Stuffer or to add that festive Scottish touch to your own tree.
Tartan Scotland Crown Christmas Decoration
$16.30
One of our most popular designs this year - the Gretna Green hanging heart decoration is the perfect decoration for anyone with happy memories of Gretna Green.
Featuring a rustic print of the Famous Blacksmiths Shop which was originally hand-drawn, this metal heart decoration is outlined with gold paint and hung on a gold-coloured ribbon.
Gretna Green
Famous Blacksmiths Shop Hanging Heart Decoration
$13.60
Decorations don't stop at the tree; introduce decorations throughout your home to add a smile wherever you look.
This wonderful 'Give Kindness' Victorian Santa Christmas ornament is the perfect addition to any room this holiday season.
The warm colours and heartwarming design of a Victorian Christmas come to life with this Victorian Santa with his miniature Christmas tree and a bag full of gifts,
A warm welcome to the holidays!
'Give Kindness' Victorian Santa Christmas Decoration
$57.30
At Christmas you want your home to be warm, comfortable and inviting.
Cushions, throws and blankets totally transform your living room.
Even the stiffest and most uncomfortable chairs can be transformed into a comfy nest with the addition of the right soft furnishings (and let's be honest… who isn't finding every stool, box and old office chair in the house to find somewhere for everyone to be able to sit around the dinner table!?).
Made in Scotland by Lochcarron of Scotland.
This is a 100% lambswool throw in Royal Stewart Tartan, lightweight, soft and warm.
Perfect for snuggling up on the sofa and adding a splash of colour to any room.
Lochcarron
Lambswool Royal Stewart Tartan Blanket
$163.60
These cushions will add a touch of Scottishness and Christmas spirit to any home.
Handmade in Scotland from 100% wool they're incredibly soft and comfortable.
Scatter a few of these gorgeous tartan cushions on your sofa (or even your bed) to make cosy spots to settle this Christmas.
Dark Maple Tartan Cushion
$40.90
Sheepskin rugs look fantastic as the centrepiece to any room.
We've also yet to find any little ones that won't immediately gravitate towards snuggling into one on the floor – giving a bit of breathing space for grown-ups on the sofa!
Why not warm up your home with a luxurious supersoft sheepskin rug this Christmas.
Sheepskin Rug Ivory
$75.00
Why not fill a fantastic vase with Christmas lights or even baubles to add some extra festive touches?
Also ideal for an arrangement of roses, this stunning Dartington Crystal vase features real Swarovski crystals to add a touch of glitter to your home.
Dartington Crystal
Glitz Medium Conical Vase
$75.00
The dining table
Setting the stage for Christmas dinner is arguably just as important as the preparations that go into the food.
You've spent all that time shopping, prepping, boiling and roasting – setting the stage is a must to showcase all of the hours of effort gone into bringing the family together to feast and enjoy.
A beautifully laid table enhances the anticipation of the meal to come, setting the table the night before not only enhances this anticipation, it also makes life that bit easier on Christmas morning.
At Gretna Green you can choose from a wide range of tablecloths, napkins and crockery to create a look that fits with your home.

This Balmoral green thistle tablecloth would be ideal for special occasions such as Christmas, a boxing day buffet or even Hogmanay.
The rich green colour really gives that festive feel of Christmases gone by.
With embroidered thistle detailing it also features that unique Scottish twist that we're famous for here at Gretna Green.
Justina Claire
Balmoral Green Thistle Design Square Tablecloth
$30.00
Co-ordinating tableware, such as with this amazing stags-head range, also makes a stunning festive feel to your table: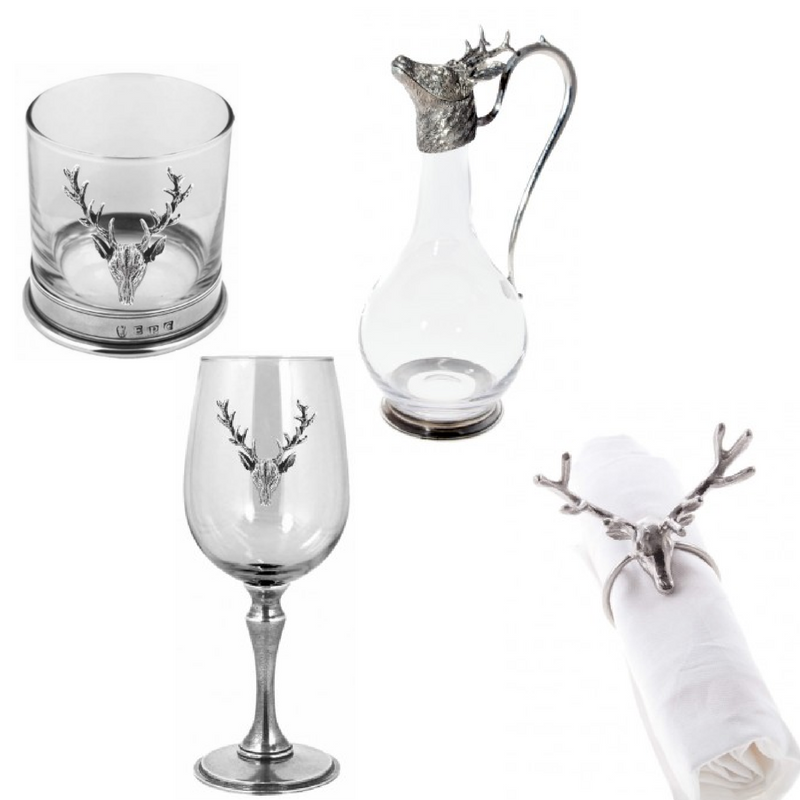 English Pewter Company
Stag's Head Decanter
$238.50
Stag Wine Glass
$68.10
Stag Tumbler (11oz)
$34.10
Stag Napkin Ring
$16.30

As much as food is important at Christmas, for the adults, it's often as much about enjoying a good drink!
Jamjars may have been fashionable in the summer – but we'd all prefer a proper glass around the dinner table!
Do your special bottles some justice this year with exquisite glassware from Dartington.
Gin has been the standout drink of 2017.
Based on the gin glass preference of Spanish gin bars the Copa glass is fast becoming the favourite gin glass for this classic combination.
These Dartington Gin Glasses are a simple bowl-shaped crystal gin glasses that help you serve and enjoy the best Gin and Tonic experience.
Dartington Crystal
'Gin & Tonic' Copa Balloon Glasses 6 Glasses
$30.00
If you can't enjoy a bit of fizz at Christmas - when can you!?
Made from crystal, each of these glasses has brilliant clarity and has been scientifically shaped to bring out all the subtleties in your favourite bottle.
Whether sparkling wine, prosecco or champagne - these glasses make every bottle that bit more special.
Dartington Crystal
Six Champagne Flute Glasses Set
$30.00
Enjoying your favourite wines becomes more of an experience with great glassware.
Each of these fantastic wine glasses (either red or white) is designed to bring out the best in flavours.
Dartington Crystal
Red Wine Glasses Set
White Wine Glasses Set
$30.00
Candles are almost always on the table at Christmas but their height can make them clumsy, dangerous, messy (with dripping wax) and an obstacle to the conversation.
That's why we LOVE this candle holder from Newbridge Silverware that makes a centrepiece of even the most humble of tealights.
Gift Boxed and ready for Christmas.
A great gift or centrepiece to your own table this Christmas.
Newbridge Silverware
2 Piece Tulip Tealight Holder
$57.30
(One last handy hint… make sure you have plenty of paper napkins on hand when entertaining.
Saves washing and perfect for handing over a mince pie on when the dishwasher is heaving and the kids are screaming.)
Royal Stewart Tartan Napkins
Pack of 20
$4.10
And so to bed…
After all that partying and excitement, you'll want to make your bedrooms an inviting sanctuary for weary heads.
Give yourself an escape with bedding that makes you want to curl up and sleep soundly.
(Don't forget the spare bed! – especially if the kids are coming home for Christmas!)
Tartan Bedding
$21.80 - $32.70
Christmas is about the kids (or so we're told!), so don't forget cute and cuddly touches to make Christmas even more magical.
Want more Christmas ideas?
Check out our guide to decorating your home for Christmas at Gretna Green: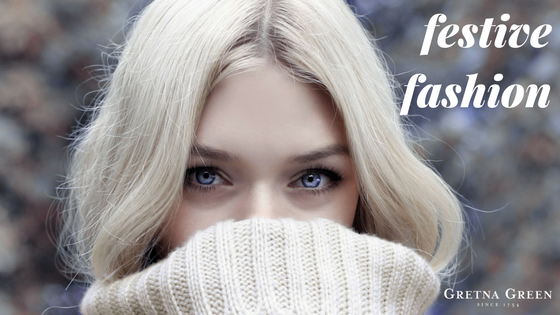 FESTIVE FASHION - GET THE WINTER LOOK 2017
Shop for the little ones this Christmas at Gretna Green: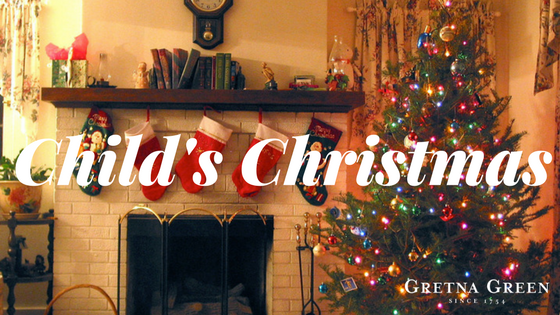 CHILDREN'S CHRISTMAS GIFT IDEAS FROM GRETNA GREEN- A CHILD'S CHRISTMAS IN SCOTLAND
Get that festive glitz with our ultimate sparkle gift guide: