Posted by Susan Adams - August 12, 2013
It's all fun and games (and flying sweeties) here in Gretna Green at the moment!

Don't fret mind you, it's not in the Famous Blacksmiths Shop but in our very own 'Wee Big Shop' (which sells mostly sells newspapers, confectionary and treats) where the spooky goings-on have been causing a bit of a stir!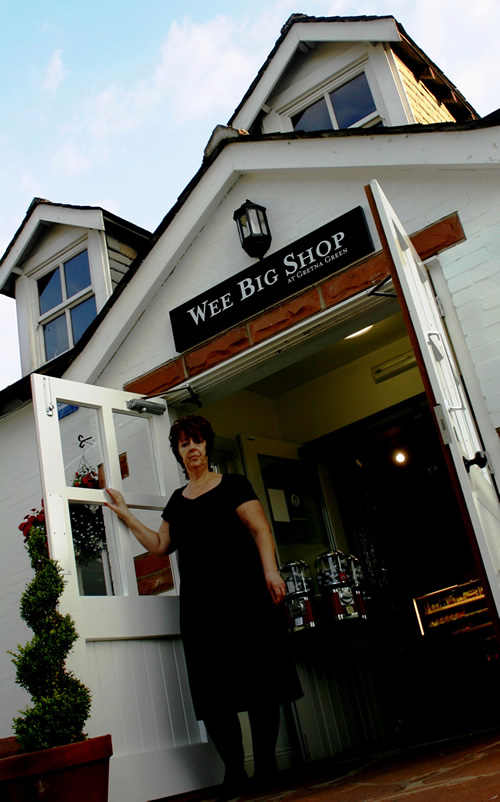 Cath Johnson our manager here in the 'Wee Big' shop, along with other members of staff, have been experiencing weird and unexplained incidents recently which all seem to have started since refurbishments were finished in this shop and the nearby Blacksmiths Restaurant...

With reports of a mysterious grey figure appearing out of nowhere, books flying off the shelf and sweeties being found in formations on the floor after opening the shop, Cath and her team have called in the experts... Local paranormal team, Mostly Ghostly have already been for a preliminary investigation in which one of the investigators John Hill said he sensed a strong presence in the room and that the temperature dropped (Yikes!). John believes the recent building work which involved the removal of a wall may explain why these spooky incidents are occurring as he says paranormal activity is often associated with renovation or demolition of a property.

Either way, we're all keen to see/hear what happens when Mostly Ghostly come to spend the night in the 'Wee Big Shop' this week - stay tuned for more details!

Let's just hope there are no 'bumps' (or should we say 'Bon Bons') in the night for them!