Posted by Kiana Greenan - July 29, 2022
We are absolutely delighted to announce the arrival of JOMA JEWELLERY at Gretna Green.
Available to buy online, in-store at our Gretna Green since 1754 shop - DG16 5EA - and some selected lines in our hotels too!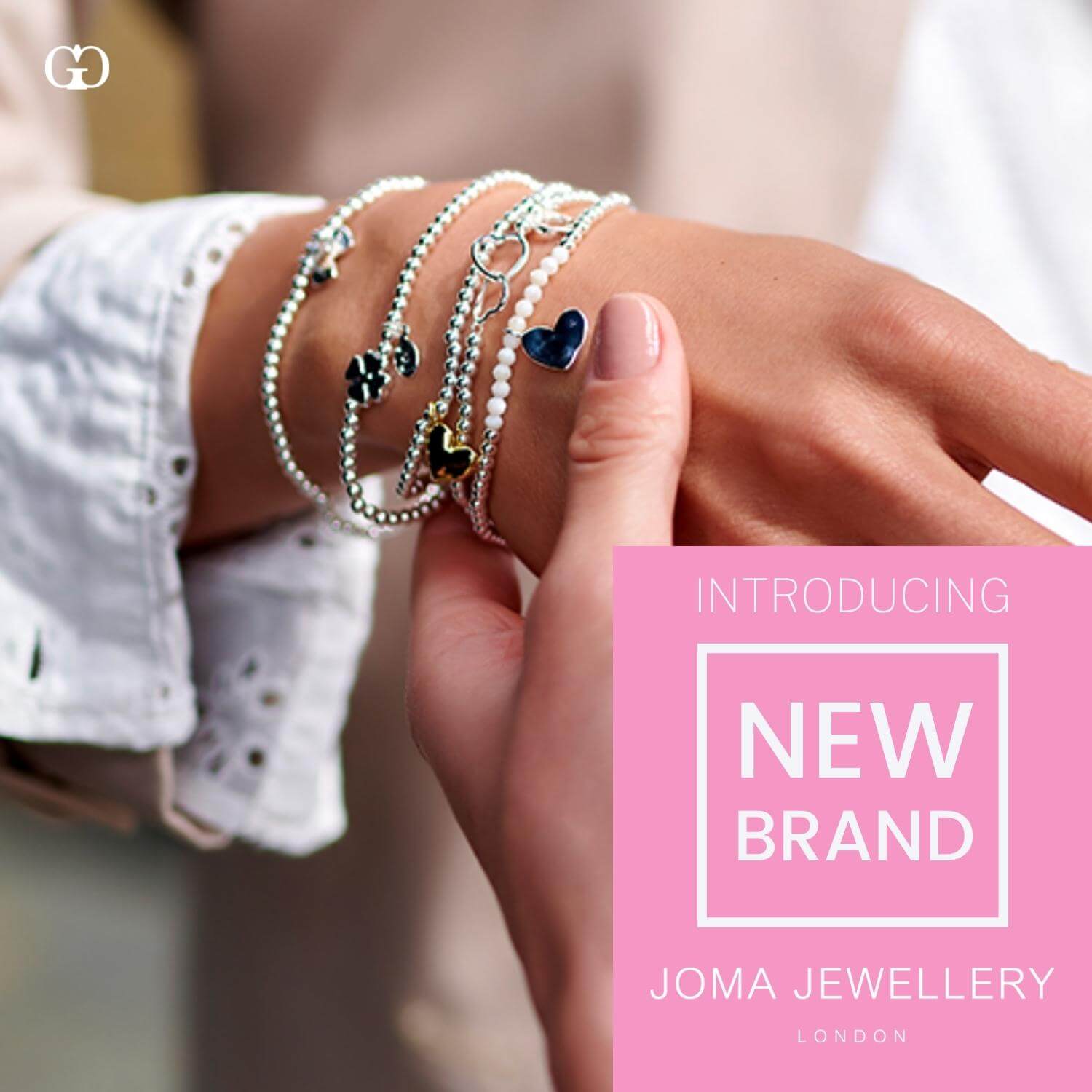 Part of the Katie Loxton family which we were pleased to welcome in May this year, Joma Jewellery offer beautifully designed jewellery with gifting in mind, focusing on quality and sentiment, whilst remaining accessible.
Founded in 2008, Joma Jewellery;
"...believe in making beautiful pieces that have their own story to tell, so whether you keep them or gift them, our special sparkles will always have a precious meaning".
Joma has developed a selection of gifting categories to make the design you choose even more special, personal and unique to your loved ones.
Joma Jewellery for Weddings
Of course, at the Home of Romance itself, we have brought in Joma's gorgeous wedding range. Not only do we sell a stunning 'Bride' bracelet, which is the ideal gift for an elegant bride-to-be, but we also have a range of wedding party pieces, including the 'Mother of the Bride' and 'Bridesmaid', the perfect way to gift your friends and family for helping you tie the knot. Why not treat a beautiful bride to A Little 'Something Blue'.
Joma Jewellery for Family
Family is everything at Gretna Green, and that is why we have selected Joma Jewellery's stunning range of gifting items for all the family. From the traditional 'Wonderful Mum' bracelet to our 'Mother in Law'' and 'Sister in Law' products. We also have a stunning line of earrings which include 'Amazing Auntie' and 'Marvelous Mum '.
Joma Jewellery for Occasions
We also have an exciting range of Occasion items, gorgeous Birthday wishes including 'A Little Birthday Bubble' and extra special birthdays such as 'Sweet Sixteen' and 'Super Sixty' AND much more. As well as birthdays, we also have a selection of 'You've Passed' and 'Proud of You' the perfect wee gift to celebrate whatever the occasion may be.
Joma 'Life's A Charm' Range
Our stunning 'Life's a Charm' range is the perfect excuse to give a loved one a gift for no particular reason other than to spread some love. One of our favourites in this line is our 'Love You to the Moon and Back' bracelet, which we believe can be given to any of your loved ones, for any reason. This range also includes 'One in Million' bracelets and 'With Love'. All are beautifully designed to be both stylish and meaningful.
Joma Jewellery for Kids
Joma also caters for all the family and has created stunning, smaller pieces for your little ones. From friendship bracelets to Birthday gifts, Joma's children's line is the ideal gift made to fit those smaller wrists.
Joma 'Thinking of You' Jewellery
Joma also acknowledges that sometimes life isn't always easy, and has carefully selected a range for those going through hard times. From our range of A Little 'Get Well Soon' to our sentimental items which include 'Feather's are Near When Loved Ones Appear' and 'Strength'; the perfect item to gift someone to let them know you care when they need it the most.
Here at the home of romance, we can't think of anything better than jewellery with meaning. So whether you're looking for a treat for yourself, the perfect gift for friends or family or jewellery for a special occasion, check out our hand-picked selection for both adults and little ones too! Shop NOW.