Posted by Susan Adams - January 28, 2013
Just like Jane Austen's Pride and Prejudice, Gretna Green has its own 'enduring love affair' story... in fact it dates back to even before this great novel was written. Harking back to 1754 and with the introduction of a new controversial Marriage Act in England, Gretna Green flourished as a haven for runaway couples and has been growing in popularity ever since... With mentions of this little village in not just 1 but amazingly 3(!) of Jane Austen novels, Pride & Prejudice, Sense & Sensibility and Mansfield Park, we can safely say that Austen herself had a genuine, sincere affection for Gretna Green.
Therefore with Pride and Prejudice's 200th anniversary today, Monday 28th January 2013, we thought it was apt that we celebrated this wonderful novel, which even as far back as 1813 recognised Gretna Green as a destination for runaway couples... That's some history to share!

We were even inspired by this great novel when we were preparing for a recent photo-shoot - to represent Gretna Green's historic run-aways we chose costumes from Jane Austen's era - what do you think? Our bride is a part-time model but did you know our groom is in fact a member of our team at Smiths Hotel... Chris! The costumes were hired from Birmingham Costume Hire who buy many of their costumes left over from TV shows and films. So who knows, maybe these costumes were worn for the making of the TV version of Pride & Prejudice, which was made famous by Colin Firth and the lake scene!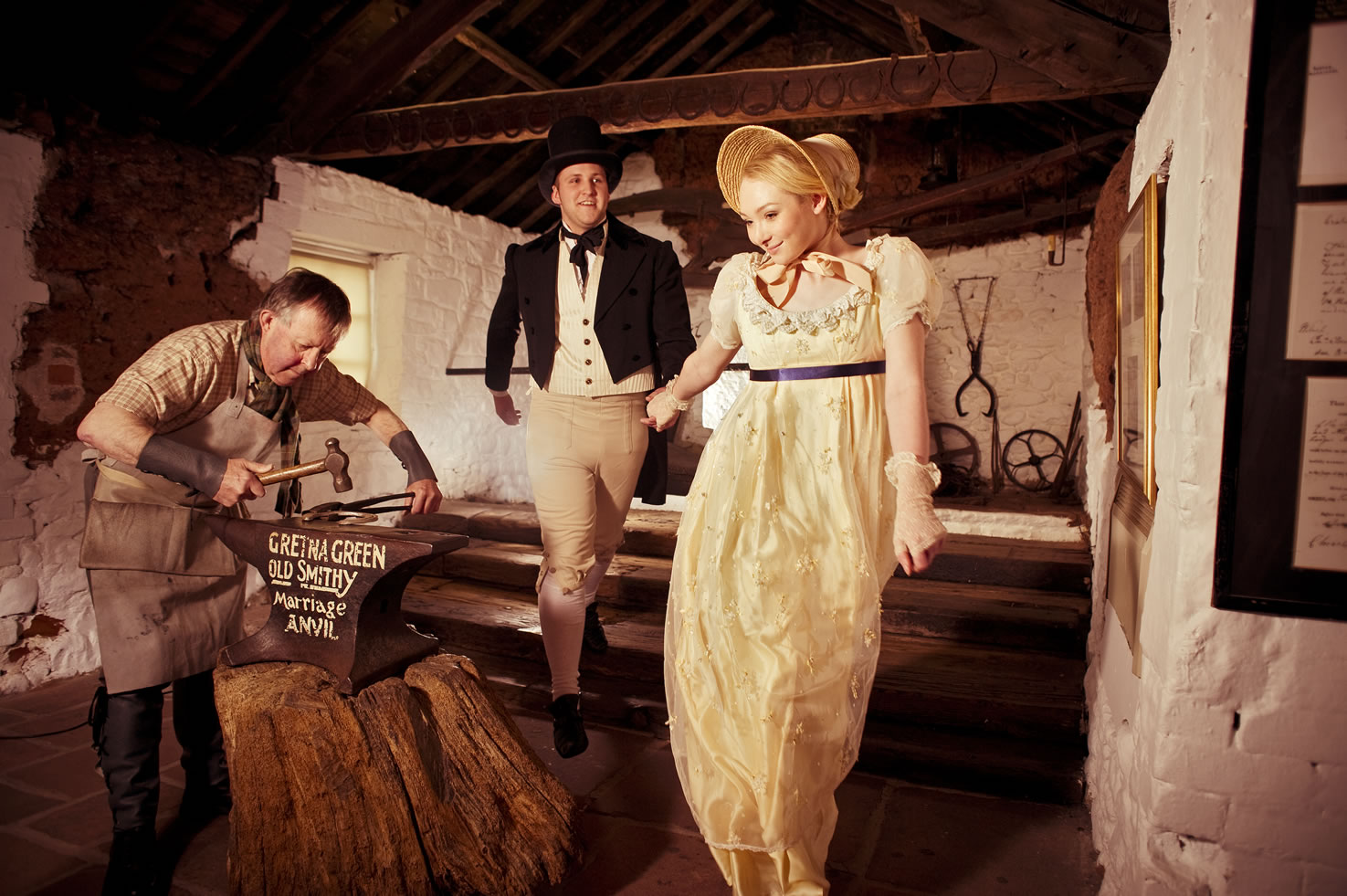 To further celebrate our link with many famous novels, TV shows and film we hope to host a new exhibition this summer in our museum at the Gretna Green Famous Blacksmiths Shop with new 'Jane Austen' themed exhibits. Plus we are preparing new displays featuring those famous TV programmes which have included storylines involving Gretna Green... to name a few lately: Downton Abbey, Waterloo Road, Coronation Street and Hollyoaks!

They all made reference to Gretna Green as a focal point for which star-crossed lovers planned (& sometimes succeeded) in running away to be wed... How romantic!