Posted by Kiana Greenan - June 10, 2022
What is Pride Month?
Pride Month is celebrated every year in June to mark the anniversary of the Stonewall Riots in New York which took place from 28th June to 3rd July 1969. These demonstrations came about by members of the LGBTQ+ community as a response to a police raid at the Stonewall Inn, a well-known gay bar at the time. Although these events happened in America, the Stonewall Riots became a significant turning point in the fight for LGBTQ+ rights across the globe, including in the UK.
So much so, that in 1969, the Committee for Homosexual Equality (CHE) reforms, and begins to gain support from medical professionals and the church. This was a small but important step in LGBTQ+ rights during this year in the UK.
Pride at Gretna Green
During the 60's Gretna Green had developed a profile of being a somewhat 'love conquers all' place. On the 22nd of June 1969, just six days before the stonewall riots, having known that Gretna Green was a place that forged together hearts no matter the 'scandal', a gay German man wrote to the 'mayor' of Gretna Green, although the village did not have it's own mayor at the time so the letter was received by the Famous Blacksmiths Shop in the in hope of same-sex marriage.
It states,
"I have recently been informed that it is possible for two people of the same sex to get married at Gretna Green" And goes on to ask for information.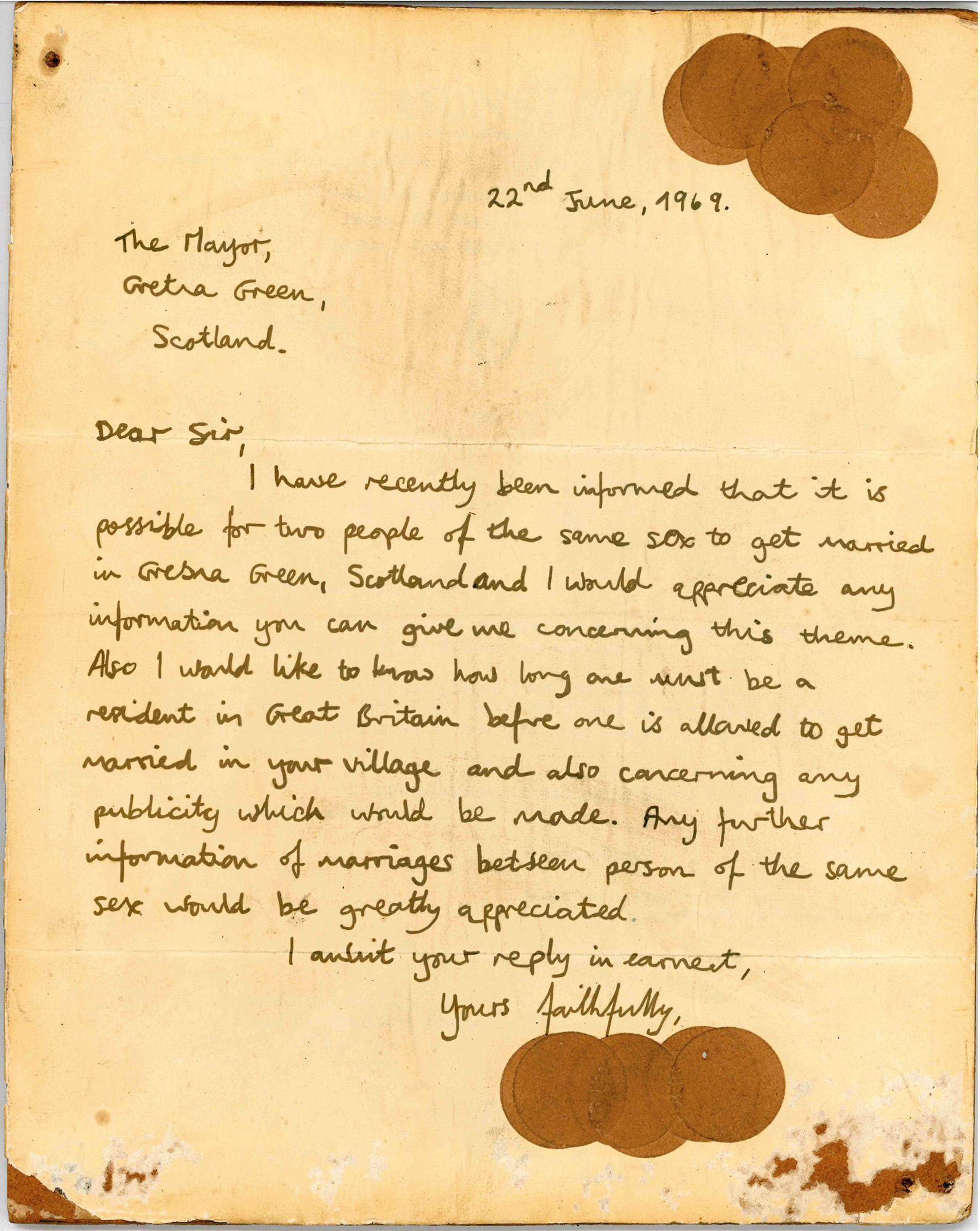 After the Irregular Marriages Act was passed in 1940, marriages conducted at the Famous Blacksmith Shop were no longer legally valid. However, that didn't stop couples flocking to the Blacksmith's for an Anvil Blessing after a register office ceremony. And so, although it was not until 45 years later in 2014 that same-sex marriage was legal in Scotland, Gretna Green is proud to be an inclusive wedding venue, joining hearts from far and wide for decades, and prior to the change in the act have conducted many civil partnerships.
Art Anvil
To celebrate the change in Martial Law in Scotland we ran a competition to redesign one of our Anvils. Which Erin Colquhoun from Glasgow School of Art won. You can find out more about our Art Anvil here and visit the Anvil itself in our new Famous Blacksmith Experience.
We believe that no matter what, love conquers all.