Posted by Henry Davenport - November 08, 2017
Our guide to getting the most out of your Saint Andrew's Day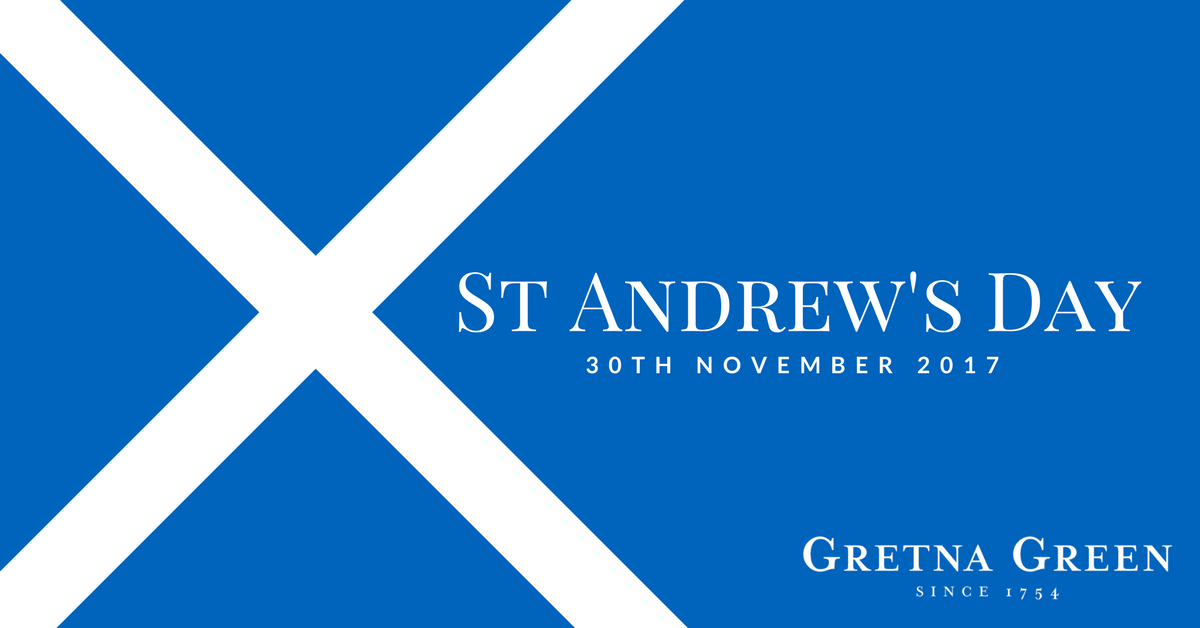 Saint Andrew's Day is quickly approaching, so here at Gretna Green, we've put together a quick guide to making the most of the Scottish National Holiday.
The 30th of November is the feast day of Saint Andrew; patron saint of Scotland and countries around the world including Russia, Romania, Greece, Cyprus, Ukraine, Bulgaria, Colombia, Barbados and Tenerife to name but a few.
Celebrated around the globe, Saint Andrew's Day is an important holiday for millions of people of different nationalities, faiths and heritages.
Here at Gretna Green, we're incredibly proud to be Scottish and look forward to Saint Andrew's Day as an opportunity to celebrate our rich history and heritage each year.
You'll find everything you need to make the most of St Andrew's Day on the 30th of November right here at Gretna Green:
Clothing
What better way to show your Scottish pride than dressing to impress with tartan clothing this St Andrew's Day?
For him
Don't want to jump right into wearing a kilt but still want to show your Scottish pride? Tartan trousers (or should that be tartan trews?) are a great way to celebrate St Andrew's Day in style.
For her
Stylish and distinctly Scottish, Gretna Green offers a range of ladies kilts that are perfect for St Andrew's day; or any time of the year for that matter. Choose from your favourite tartan and order today to get delivery in time for November the 30th.

St Andrew's Tartan
Incorporating the blue and white colours of the St Andrew's Cross and combining it with the purple and green of the Scottish thistle, this striking and popular tartan has been adopted to commemorate St Andrew; it's the perfect addition to any wardrobe this St Andrew's Day.
Here at Gretna Green, we have a variety of products in St Andrew's Tartan including:
Ties

Wear your tartan proudly this St Andrew's Day with Gretna Green.
Feasting
Saint Andrew's day is traditionally a feast day, so what better way to celebrate than with fantastic Scottish food and drink from Gretna Green?
Scottish Hampers
Whether as a gift to a friend or family member or simply as a treat to yourself, Gretna Green have a range of Scottish hampers that feature a wide range of fantastic Scottish produce. Have a real Scottish feast this St Andrew's day!

Shortbread
Shortbread is a very traditional Scottish treat. Here at Gretna Green we have a wide range of Scottish shortbread biscuits including this amazing gift tin which features the Scottish Saltire flag that's so important to Saint Andrew's day.

Napkins
Here at Gretna Green we think table dressing is just as important to feasting as the food and drink. A simple and easy addition to your table are our flag napkins which feature the Scottish Saltire flag so closely associated with St Andrew. A simple and cost-effective way to mark this St Andrew's Day around your feasting table this year.


Gifts, Decorations and Homewares
If you or your friends are Scottish or have a close affiliation with St Andrew and live away from home, Saint Andrew's Day is a great day for gift giving and receiving to remind people of their roots.
At Gretna Green, we have a wide range of Scottish gifts that are perfect for the special people in your lives this St Andrew's Day 2017 (or equally Christmas which is rapidly approaching!).
Shop the best of Scottish Gifts at Gretna Green.com
Order today from GretnaGreen.com/shopping to ensure your St Andrew's Day gifts arrive in plenty of time.
In the meantime, we wish you a very happy Saint Andrew's Day from everyone at Gretna Green.