Posted by Henry Davenport - October 11, 2020
Shop Gretna Green's BRAND-NEW Range of Scottish Tartan Face Coverings!
Available online now, our traditional Scottish tartan face masks are selling fast - so grab yours while stocks last!

Comfortable, stylish and available in some of our most popular tartans (including the iconic Royal Stewart tartan), our face masks are the perfect way to bring a dash of statement fashion to your outfit.
Offered in a range of traditional Scottish Tartan designs, each of these double-layered masks is breathable, washable, features a 100% cotton lining and is fitted with a nose clip to help them sit more comfortably on your face and reduce glasses fogging up.
---
Suitable for both men and women, our tartan face coverings are manufactured by Royal & Plaid - the same Scottish company that produces our wonderful ranges of Tartan Trousers, Waistcoats, Blazers and Ties - allowing you to coordinate your entire outfit (including face-covering) with your favourite tartans. Why not get set for the colder season with a matching tartan mask and tartan scarf?
---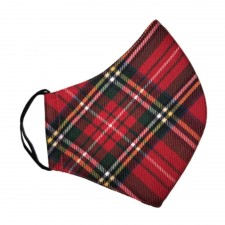 Royal Stewart Tartan Face Mask
Thanks to its striking, red colourway, Royal Stewart Tartan lends itself well to clothing and accessories for both men and women. Festive and warming in colour, it's great for adding a dash of vibrancy to your winter wardrobe.
Coordinate with: Royal Stewart Tartan Scarf, Gretna Green Royal Stewart Cashmere Scarf, Ladies Royal Stewart Blazer, Men's Royal Stewart Waistcoat
Shop All Royal Stewart Tartan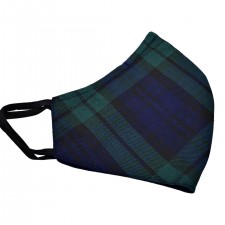 Black Watch Tartan Face Mask
Black Watch's dark colours make it a fantastic tartan for face masks. Subtle but stylish, this tartan is ideal for workwear and a coordinated outfit that's not too showy.
Coordinate with: Black Watch Tartan Scarf, Gretna Green Black Watch Cashmere Scarf, Ladies Black Watch Tartan Trousers, Men's Black Watch Tartan Tie
Shop All Black Watch Tartan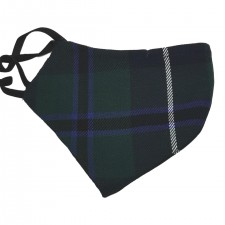 Douglas Tartan Face Mask
Similar in colour pallet to Black Watch but with more of a present green and defined white stripe, Douglas tartan is another subtle design that lends itself to workwear and clever coordination with clothing and accessories.
Coordinate with: Douglas Tartan Scarf, Douglas Tartan Tie, Men's Douglas Tartan Trousers
Shop All Douglas Tartan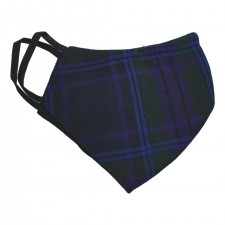 Spirit Of Scotland Tartan Face Mask
A great way to show your pride for Scotland, the Spirit of Scotland tartan is very handsome indeed with face masks suitable for both men and women.
Coordinate with: Spirit of Scotland Tartan Trousers, Men's Spirit of Scotland Kilt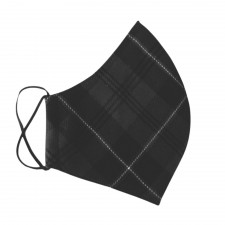 Grey Granite Tartan Face Mask
Grey Granite's monochromatic colourway is both subtle and eye-catching; a great every-day tartan that looks just as stylish for any daily outfit as it does professional for workwear (worn by many of our Gretna Green Ltd. staff!).
Coordinate with: Ladies' Grey Granite Tartan Blazer, Men's Grey Granite Tartan Trousers, Grey Granite Tartan Tie
Shop All Grey Granite Tartan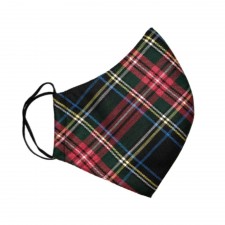 Black Stewart Tartan Face Mask
Not to be confused with Black Watch, Black Stewart Tartan features striking red tones and bold stripes of yellow. A fantastic tartan for accessories, its design is excellent for those wanting to introduce a little bit of colour to their outfits.
Coordinate with: Black Stewart Tartan Scarf, Johnston's of Elgin Black Stewart Cashmere Scarf, Ladies Black Stewart Tartan Blazer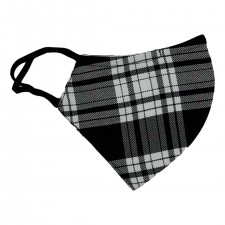 Menzies Tartan Face Mask
Menzies Tartan is a black and white combination which (like grey granite) is monochrome in colour, but still packs a punch in terms of style impact! Fantastically easy to coordinate, its contrasting black and white stripes also lend themself well to outfits you may already own that feature black or white, such as shirts, jackets or even tartan trousers.
Coordinate with: Menzies Tartan Scarf, Menzies Tartan Bow Tie, Menzies Tartan Billie Kilt
Shop All Menzies Tartan


MacKenzie Tartan Face Mask
MacKenzie tartan is a personal favourite as it offers a look that is both traditional but contemporary. Offering a great balance between blue, green, red and white shades, it goes well with so many colourways yet still stands out.
Coordinate with: MacKenzie Tartan Scarf, Johnston's of Elgin MacKenzie Tartan Scarf, Ladies MacKenzie Tartan Blazer
Shop All MacKenzie Tartan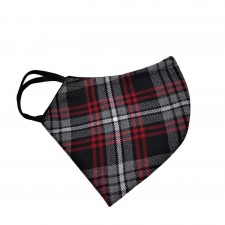 Auld Lang Tartan Face Mask
A BRAND NEW TARTAN TO GRETNA GREEN! Proving to be incredibly popular in this exclusive tartan face mask, this new tartan will certainly add a stylish Scottish flair to your outfit. Expect to see more accessories in the Auld Lang Tartan in the near future! Perfect for Hogmany!
---
Tartan not your thing?
Our fun, vibrant range of Eco-Chic face coverings are now back in stock!
With a colourful polyester exterior and a soft cotton interior, these shaped masks fit snugly over the mouth and nose. Available in a range of Adult and Children's styles, they're perfect for making the whole family feel safe and comfortable in any setting.
Explore the full range of face masks currently in stock at Gretna Green online.