Posted by Ami Brough - November 29, 2012
Here at Gretna Green, we know Christmas! What better way to kick off the Festive Season than to treat your loved ones with a delicious Scottish Christmas Hamper from Gretna Green. Filled to the brim with yummy Scottish fayre these xmas hampers will be sure not to disappoint this Christmas...

Lovingly hand-wrapped here instore in the Hamper & Home Shop and with many sent worldwide every year, there's a great range for you to choose from starting at as little as $41.90...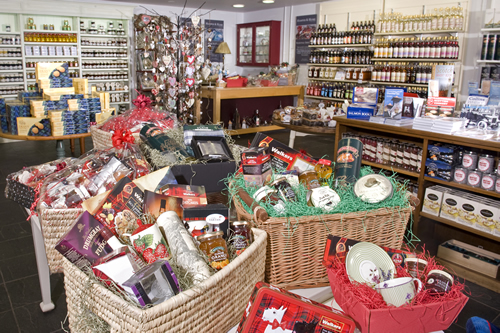 1. Scottish Treats Christmas Hamper - $41.90
For those who love all things Scottish, you'll love this "Scottish Treats" hamper. We've got Haggis, Malt Whisky Fudge and some delicious Scottish Butter Shortbread! A perfect present for your relatives, or even for your colleagues at work.
2. Overseas Christmas Hamper- $57.10
Very popular among our international visitors, you too can bring a little taste of Scotland into your home with this hamper. We've packed it full of our favourite items here in Gretna Green, including Haggis, Heather Honey, Glenfiddich Christmas Pudding and moreish Deans Shortbread... mmm!
3. Gretna Green Christmas Hamper - $69.80
We couldn't let this post go without mentioning our very own hamper. With the products hand-picked by our wonderful team here at Gretna Green, including a bottle of Lindisfarne Mulled Wine, some Clootie Dumplings and some traditional Famous Grouse Highland marmalade. Guaranteed to bring festive cheer over the holidays!
4. Yuletide Christmas Hamper - $107.80
We have gone all out on this one, filling this hamper with something for everyone's tastes. From Walkers Festive Shortbread to Lauders Blended Whisky to local Moffat Toffee, this would be perfect to share with the family during the holidays and even around the office (although maybe not the Whisky until after the working day!).
5. Traditional Christmas Hamper - $72.30
For those who love this time of year, why not pick the Traditional Christmas hamper? We'll sure you will love it! Filled with Tablet, Shortbread, fruit cake, a bottle of Auchentoshan Miniature 12 Years old Malt Whisky and more, this would be a perfect gift for your parents this Christmas.
There you have it: Plenty of choice and quality products available in our hampers here at Gretna Green. Buy online before the 19th December to ensure Christmas Delivery or pop into our Hamper & Home Shop right here at Gretna Green for an even wider choice.
Celebrate Christmas with Gretna Green...