Posted by Ami Brough - January 06, 2014
Ah well - sadly it's time to pack away the decorations again for another year! Not sure about you but our office is somehow looking a little less cheerful without the sparkles and colour of the mini Christmas trees that graced several desks.
Many of us wage battle with emails (how do quite SO many manage to arrive when many are 'off on holiday'??) as we start back to work this week. Here at Gretna Green, we've been busy throughout the season but we're now looking back on some of the high points and successes we've seen here over the last year!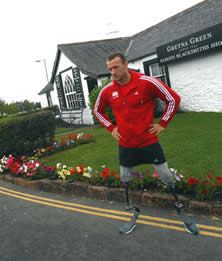 2013 saw us celebrate with many couples, including those lucky enough to snag the last 'special' date 11/12/13! A few well-known faces also popped by - including Richard Whitehead on his 40 marathons in 40 days charity run and Saor Patrol!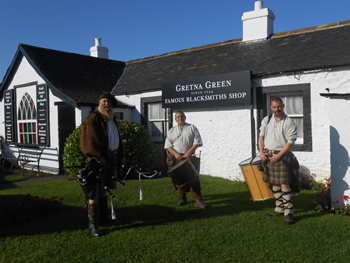 Shopping here at Gretna Green continues to grow! In fact, online orders throughout November and December came in the hundreds! Our website saw fabulous success, with Gretna Green products featured in The Guardian's Christmas Gift Guide and receiving attention from several fashion blogs....especially for those fly-off-the-shelf tartans! An absolutely brilliant way to end the year (even if some of us did temporarily suffer from nightmares brought on by the mere mention of tartan)!!
Our visitor centre's celebrated not one but two milestones in 2013 - the Famous Blacksmiths Shop turned 300 (wow!) AND we were awarded official five star Visitor Attraction Status by VisitScotland! (Not too shabby if we do say so.....but then we're every so slightly biased.)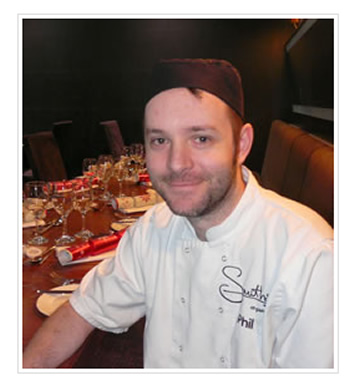 Smiths Hotel, just across the road from the Famous Blacksmiths Shop, received a new head chef Phil Woodcock, and underwent renovations including refurbishment of the Thistle, Ash and highly popular Rose Suites! We also launched our very first Smiths Hotel facebook competition, with the first lucky winner being announced in December! Along with the completion of our six new Bensmoor Suites, it's the perfect excuse to pop by for visit in 2014 (as well as a second, third or fourth)! We couldn't have achieved this without our brilliant staff who always go above and beyond to make sure you have a fantastic stay with us!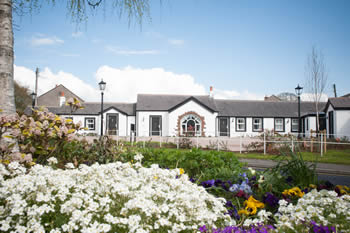 And so begins a new year! We're super excited about a number of events coming up this year - starting with the annual Wedding Fayre at Smiths Hotel on 26th January! 2014 is also Homecoming here in Scotland - the Commonwealth Games will be taking place just up the road this summer with the Baton coming nearby!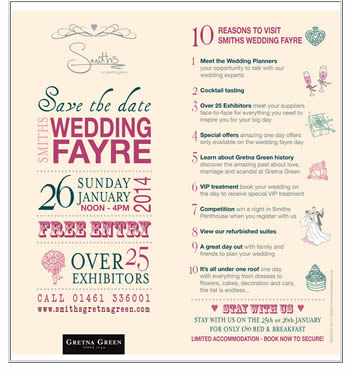 Facebook and Twitter are fully up and running - stay tuned for more info as the many events planned for Gretna Green and Smiths Hotel unfold and our Smiths Hotel giveaway competition continues!
As always, please continue sharing your stories and photos with us on our Facebook (Gretna Green Famous Blacksmiths Shop & Smiths Hotel) and Twitter (@GretnaGreen1754 & @smithshotel) - we love receiving them! Of course, our latest activities and developments will be shared too!
From the team here at Gretna Green, we'd like to wish you all the best for 2014 .... we hope to see you with us this year!