Posted by Ami Brough - February 28, 2023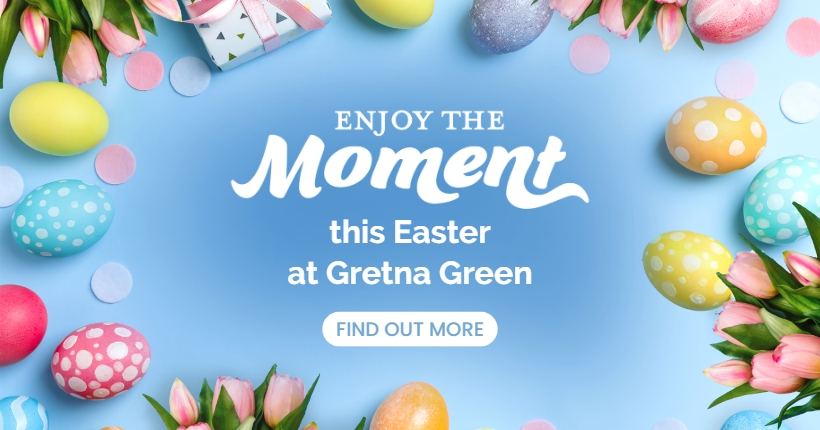 Looking for exciting, memorable things to do this Easter? Why not join us for fun days out, tasty treats and great escapes at the Famous Blacksmiths Shop Attractions, Smiths at Gretna Green Hotel, Gretna Hall Hotel and The Old Toll Bar Cafe, this April 2023?
Find out more below.
Dining

Afternoon Tea at Smiths Hotel

Easter Friday, Sunday and Monday

To book, please email: [email protected] or call: 01461 337007

Easter Sunday Lunch at Gretna Hall Hotel

Sunday 9th April 2023

1 course for $19.00
2 courses for $24.70
3 courses for $30.40

Or call 01461 337007 to reserve your table.

Shop and enjoy the New Cocoa Bean Easter Range

Available at the Foodhall at Gretna Green at the Famous Blacksmiths Shop Attraction

In store NOW!

Foodhall at Gretna Green, Famous Blacksmiths Shop Attractions, DG16 5EA

Experiences

Easter Egg Hunt Weekend at the Famous Blacksmiths Shop

Join us over the Easter weekend for a fun, family Easter egg hunt

Saturday 8th & Sunday 9th April 2023

Start at the Foodhall and work your way around the Famous Blacksmiths Shop attraction sites
Each child will win an Easter Egg.
10 am - 4 pm

No need to book, just visit us on the day

Stays

Join us this Easter for a Dinner, Bed & Breakfast break for 2

1 Night Bed & Breakfast
$19.00 per person allowance towards dinner
Cocktail with meal per person
Full Scottish Breakfast the following morning

Join us this Easter for a Break for 2 with Afternoon tea

1 Night Bed & Breakfast
Afternoon Tea for two with a glass of prosecco
Full Scottish Breakfast the following morning