Posted by Ami Brough - July 24, 2014
The Commonwealth Games were opened with a surprise 'visit' by John Barrowman.....and a certain much-talked-about gay marriage kiss!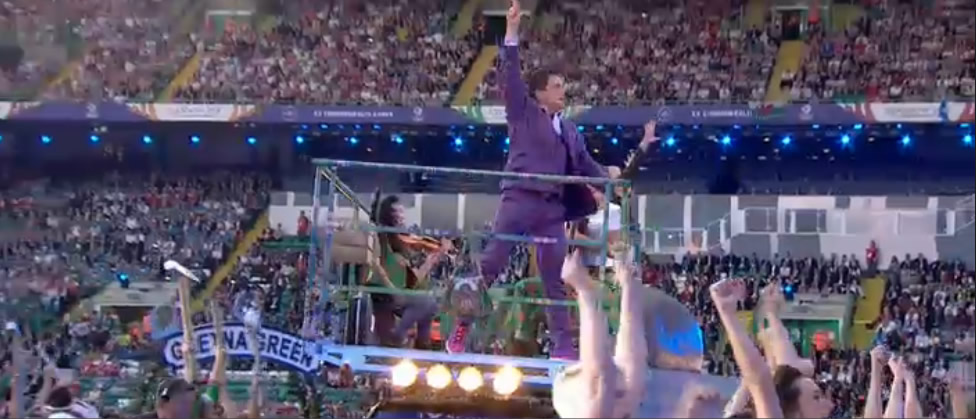 Yes, you've read that correctly. We were surprised last night to spot Gretna Green in the #openingceremony of @Glasgow2014....but that wasn't the biggest story of the night!
As part of the opening sequence, the Torchwood actor 'visited' Gretna Green Famous Blacksmiths Shop with Barrowman embracing a kilt-clad male dancer before 'marrying' him beneath a replica of the Famous Blacksmiths Shop's iconic horseshoe-decorated wedding arch.
We had no idea the feature was coming - but we're certainly thrilled with the mention! Of course, all couples are warmly welcomed here at the Famous Blacksmiths Shop - and we hope that it will be able to host the first gay wedding in Scotland once we're given the green light!
Glasgow School of Art student Erin Colquhoun is now decorating a replica Famous Blacksmith Shop wedding anvil to celebrate same-sex marriage in Scotland after winning a national competition.
It will be unveiled later this year and gay couples will be able to opt to marry over this special colourful anvil at the Famous Blacksmiths Shop.
Of course, Mr Barrowman is more than welcome here any time.....especially after the @Team_Barrowman mention in front of one billion potential visitors!