Posted by Ami Brough - October 04, 2013
Ask almost anyone about Gretna Green and most people will answer with a remark about runaway weddings...but what do we actually know about the place? Since we've entered the month of mystery and intrigue (Halloween will be here before any of us realise!), we thought it would be interesting to compile a list of Gretna Green stories ... and reveal the truth behind them!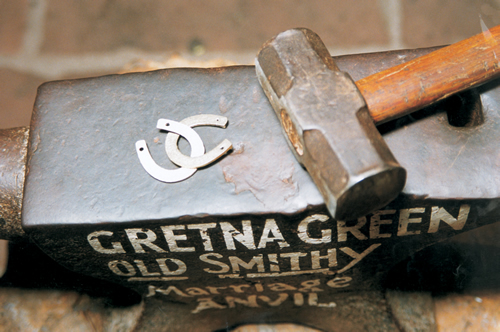 'Common Gretna Green Myths'
#1: You can simply turn up and get married over the anvil at the Famous Blacksmiths Shop.
Well...not really. The day of the true 'runaway' wedding has gone the way of the dinosaur thanks to legal requirements (Romance however is by no means extinct!). Nowadays, couples have to book their wedding at least 29 clear days before in order to complete the necessary forms and (you're all expecting this bit we're sure) pay fees.
#2: There is a waiting list to get married at Gretna Green.
Nope...with a few exceptions such as perhaps New Years or Valentine's Day, you can get married on almost any day! The only snag which you might face is when....but there's always earlier or later on the day of your choice!
#3: Anyone wishing to marry at Gretna Green must live (however briefly) in Scotland.
Simple answer: no. Requirements have changed since 'runaways' first flocked to Gretna Green, and it may be a wee bit more complicated if you live outside of the UK, but those infamous residency requirements are no more!
Since this one's a bit better known, here's the 'quick notes' version:
1753: Lord Hardwicke's Marriage Act (came into affect 1754) - this stated that for a marriage to be valid, it had to be performed in a church AND only after a licence (the banns) had been granted (published) ... just to further complicate matters, anyone under the age of 21 had to receive permission from their parent or guardian AND was only applicable in England and Wales
In 1856, Scotland changed its law slightly - one of the intended parties of a marriage had to live within the parish for 21 days
1939 saw Scots law change slightly to reflect the English provisions of the Act.
1977 saw the end of the 'residency rule'- leaving us with the current requirement providing at least 15 days written notice to the local registry office (essentially - the modern day equivalent of banns!)
#4: You can organise a surprise wedding.
Sorry - legalities get in the way of this one too. Forms such as the M10 must be submitted beforehand - and, unfortunately for those wishing to 'surprise' their partner, signatures from both of you are required. You may be able to emulate "Don't Tell The Bride" by planning all of the wedding without your partner's help...but, (and this is the important part) they will have to know that they're getting married!
#5: You can elope, just the two of you, to Gretna Green.
This one's true! You don't have bring anyone if you don't wish to...in fact, passers-by participate in quite a few weddings here every year, acting as witnesses or even impromptu photographers! Adds to the runaway romantic feel don't you think?
#6: A Gretna Green wedding is only legal in Scotland.
Nope - weddings held here are legally recognised in all countries! After all, restricting the legality to within Scotland's borders would have put a, errr, hitch, in the plans of the original runaway couples...
#7: You can only have a religious ceremony if this is your first marriage.
False! Everyone wishing to get married at Gretna Green has the same options. If you desire to have a religious ceremony, the option is open to you - even if you and/or your partner have been married before.
Alas, the true runaway wedding may now be stuck in the history pages...but as you see, the romance and the story of Gretna Green is still alive and well.....even if we do have a few more 'legal loopholes' to jump through!