Posted by Matthew Morgans - July 13, 2023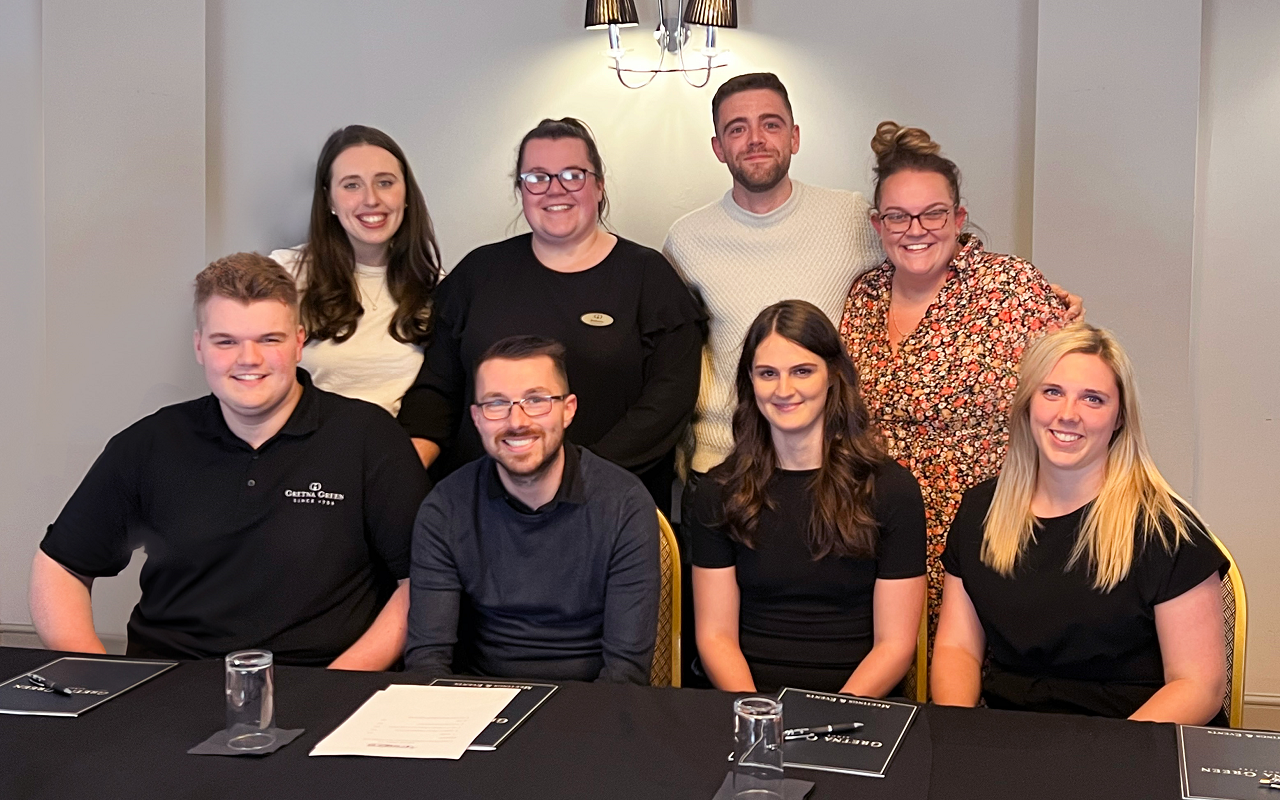 Ten top young performers at Gretna Green have been handpicked for the 'Future Leaders Club,' with the aim of driving progression, developing skills and building the future of this historic business. Distinguished corporate high-flyers are lined up to speak in future meetings, including John Ryley, Chris Holmes, and Nick Whiting.
Gretna Green Ltd. is proud to announce the recent establishment of our new Gretna Green 'Future Leaders Club'. This new initiative has been designed to create a platform for talented young workers to learn, grow and develop – and ultimately become future leaders of the business. The group consists of ten exceptional staff members chosen by managers out of a workforce of nearly 250.
Those chosen for the group are considered the 'best-of-the-best' - showing remarkable talent and a strong desire to contribute to the company's success. The Future Leaders Club meets every six weeks to discuss the business, as well as the impact it has on the community and the sector.
The first meeting, chaired by Hollie Higgin, 25, focused on generating fresh ideas to potentially make Gretna Green more engaging for prospective visitors. The group discussed topics such as whether Gretna Green could be gamified, and if so, how, as well as what they'd change about working at Gretna Green. The team also shared their thoughts and ideas on what they believe would improve the business and why.
"As the future inevitably remains uncertain, it's vital for future leaders to adapt, innovate and thrive," explained Miss Higgin, "We believe in empowering our exceptional talent - providing them with the tools, resources and opportunities they need to excel."

Bethany Sykes, 27, Corporate Events & Reservations Manager and a member of the Future Leaders Club, expressed her enthusiasm for the club's mission.
"Being part of the Club is an amazing opportunity to learn," she said, "collaborate with exceptional colleagues, and help shape our company's future. We can discuss best practice and swap ideas which will make a positive difference. There's a real shared energy and creativity when we meet. I feel honoured to be part of this inspiring group, and I'm confident that the Future Leaders Club will contribute to both our individual growth and Gretna Green's overall success."
An impressive list of influential business leaders have already agreed to come and address the Future Leaders Club, including:
- John Ryley, the recently retired boss of Sky News, who is renowned as an original thinker and inspiring newsroom leader.
- Chris Holmes, who for nearly 30 years led Cumbrian-based agricultural and engineering company Carr's Group to record growth.
- Nick Whiting, a visionary designer and Associate Partner at the world's biggest consultancy McKinsey.
These, plus others, will share their success stories and provide insights on career progression.

Gretna Green executive chairman John Holliday added: "Successful teams, professionals, and organisations of 2023 and beyond require leaders who can adapt to innovation and adjust to transformations in society. Future leaders must also be a step ahead in terms of their strategies and operational functionality. Within many corporates, young people rarely get the chance to be seen and heard. We are giving them a seat at the top table. At the Board. Too often we fail these young people. We hope we can nurture and grow our young talent – as they are the leaders of the future.

"This Club embodies our commitment to fostering a culture of growth, innovation, and leadership within our organization. We are confident it will contribute to Gretna Green's success – for many years to come."