Posted by Spare Account - May 25, 2018
Sparklers Nursery visit the Famous Blacksmiths Shop to learn more about the history of Anvil weddings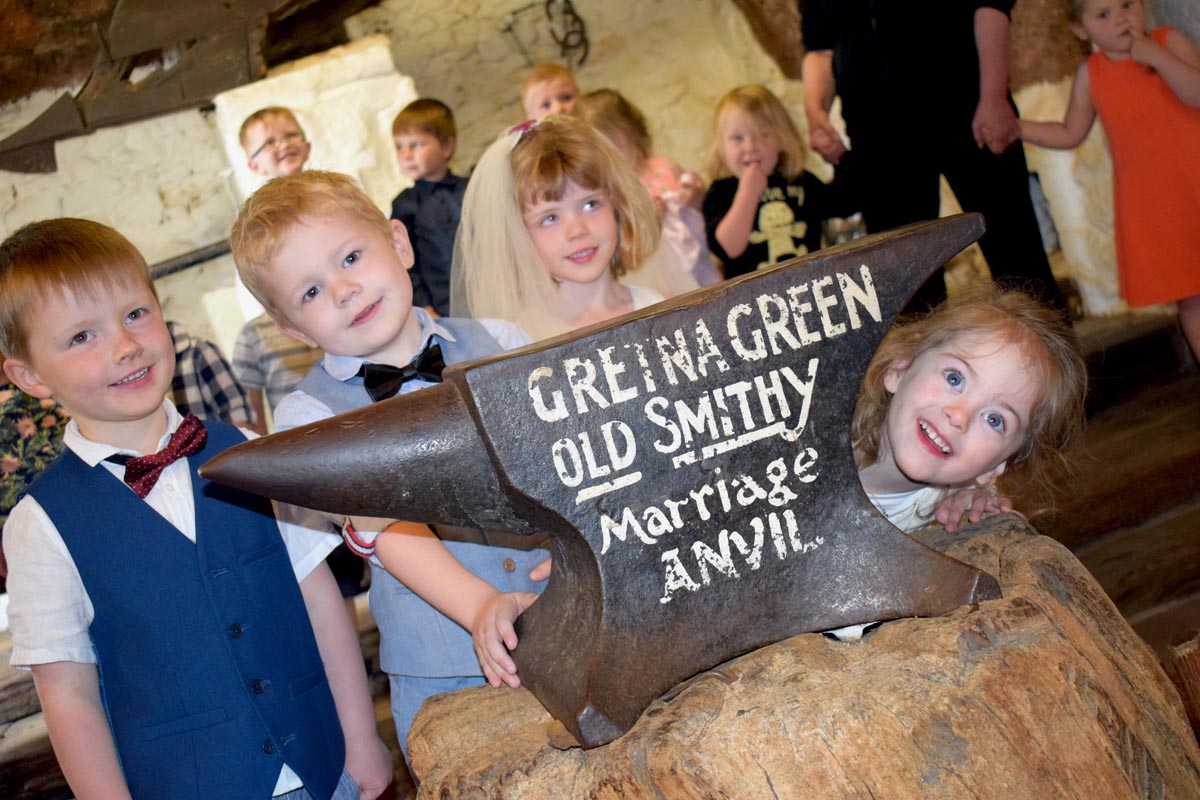 A Royal Wedding Party
To celebrate the Royal Wedding, Gretna Green Famous Blacksmiths Shop invited along a very special group of VIPs. The identity of these VIP guests was kept 'top secret' to avoid any speculation, but they were in fact Very Important Pre-School children from Sparklers Nursery in Gretna!
The group of nursery children, aged 3-5 years, were treated to a fun and interactive experience in the Famous Blacksmiths Shop Museum. They were given the opportunity to learn about the history of Gretna Green weddings, and focussed on Price Harry and Meghan's special Royal Wedding.
An Exciting Wedding Re-enactment
Frank Clarkson, Blacksmith Guide at the Museum, ran an entertaining wedding re-enactment for the group of children. Roles including bride, groom, bridesmaid and best man were given to the group of nursery children. The children also were all dressed up in the wedding finery, including a 2 piece suit for the 'groom' and wedding dress and veil for the 'bride'
Frank led the mock ceremony with the all-important vows - "do you promise to buy $6.30 worth of sweets every week?" "do you promise to play football every week?"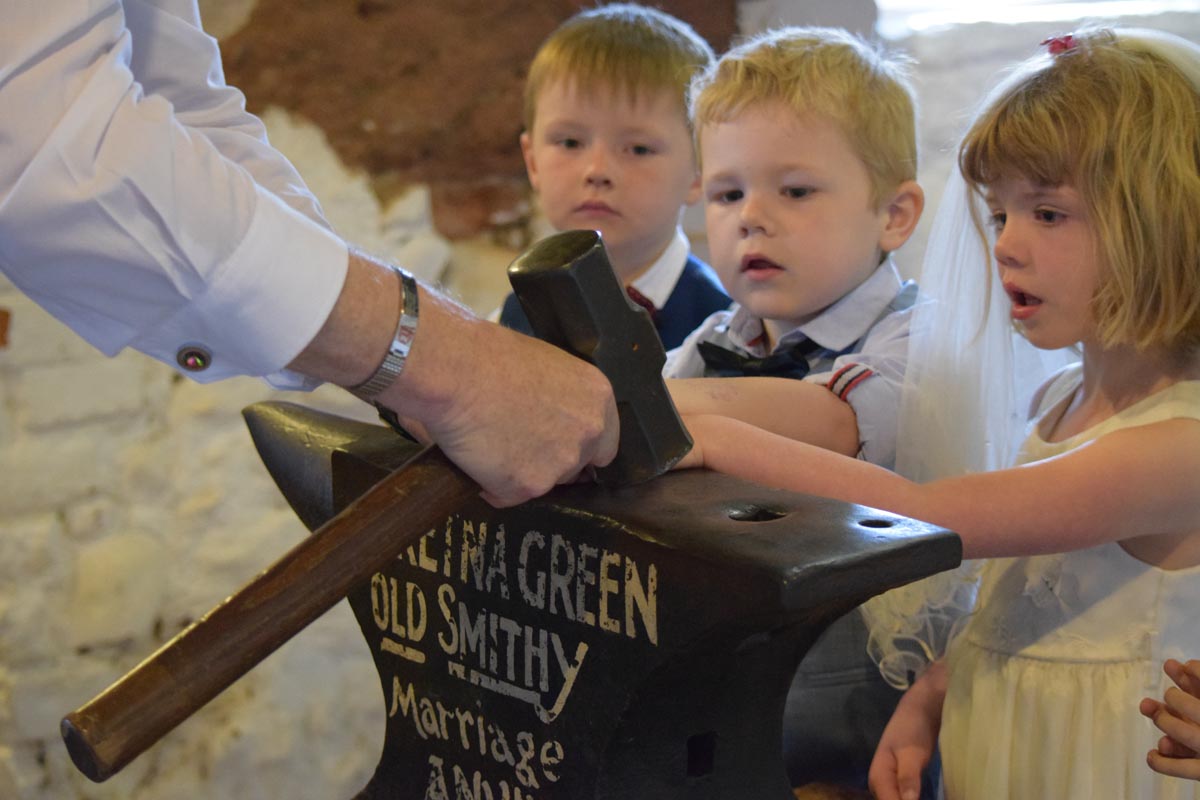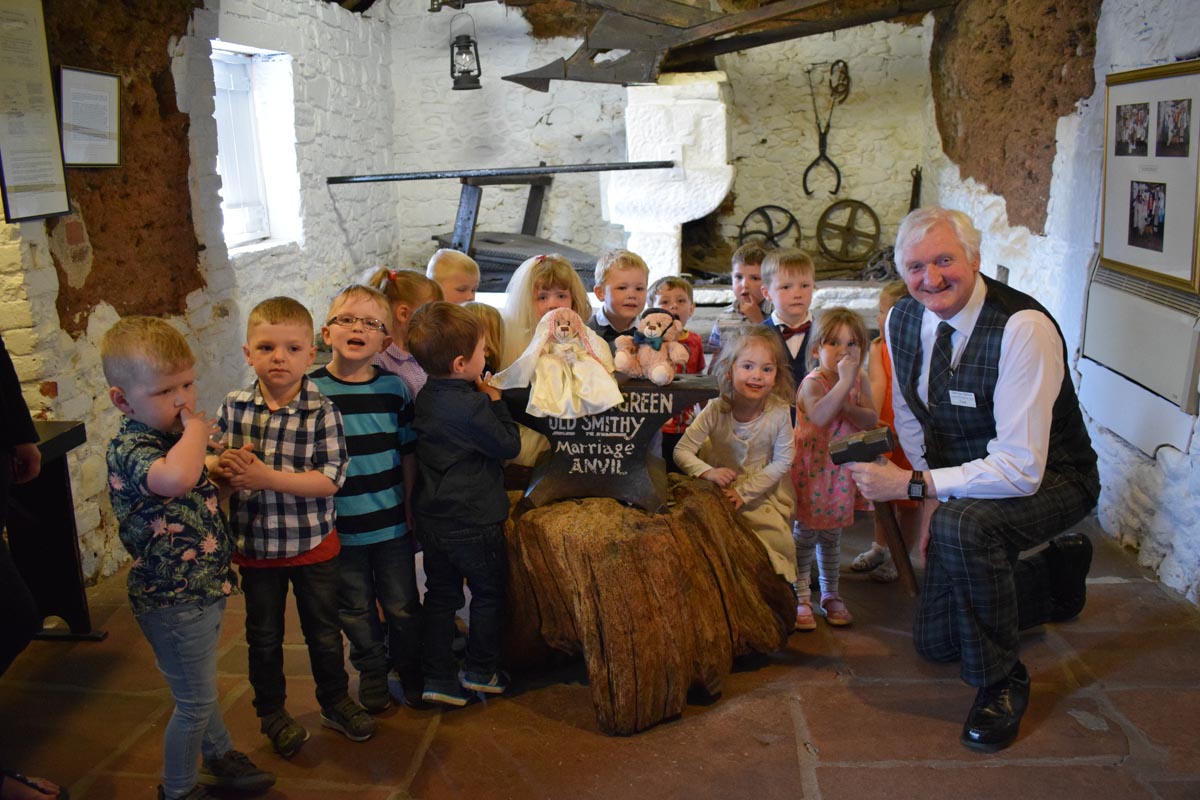 Once the vows were agreed, the children experienced what it would be like to sign their marriage certificates and become a married couple in the Gretna Green Famous Blacksmiths Shop.
To celebrate their new promises, confetti was thrown, snacks and drinks (orange/apple juice!) were consumed and gifts were shared - just like a real wedding! The 'wedding party' also enjoyed having their 'wedding photos' taken by both their nursery and the Gretna Green team; even posing with the Gretna Green bears, Millie Bear and Mackie Bear – who were also dressed-up in celebration of the Royal Wedding!
Don't just take our word for it
The outing was well received by the VIP's. Sparklers Nursery said that the children loved having their very own special wedding and enjoyed the whole experience from start to finish.
Thank you so much for our visit this morning and our very own special wedding. The children absolutely loved all of it and could not wait to tell the parents about it when they arrived to collect them. – Rachel, Sparklers Nursery
Bring your school or nursery to the Famous Blacksmiths Shop
As a five-star tourist destination and historic museum, we welcome groups of all shapes and sizes and offer extra special visits for primary school and nursery aged children, including free entry!
If you would like your school or nursery to visit Gretna Green Famous Blacksmiths Shop please call 01461 337893 or email [email protected].