Posted by Ami Brough - June 25, 2015
Warning... Only read on if you're a TRUE ROMANTIC at heart... :) Amanda contacted us recently after hearing about the removal of the lovelocks from the Ponts des Arts in Paris, concerned that her lovelock at Gretna Green might also have gone...
Luckily we were able to reassure her... She sent us this lovely story! Fabulous to hear from the VERY first couple to place a lovelock on our bridge, it's such a great story!
"In 2011 myself and my now husband Leigh went on a romantic weekend to Paris, I was aware of the love lock tradition and the Ponts des Art bridge so went armed with a love lock in which to place once we got there. We placed our lock on the bridge and threw the keys into the river Sienne, whilst making a wish in the process. It seems we both made the same wish as we got married on the 21st of June 2014 :)
Anyway, in September of 2012, we went on holiday to Scotland and again I went armed with a lovelock in case we found somewhere special in which to place it. Whilst out on our travels we stopped at Gretna Green and whatsapped our location to family to spook them into thinking we had eloped and got married, which of course we hadn't. We did have some news for our family though as we had recently found out that I was pregnant with our daughter Poppy. Whilst at Gretna Green we came across the courtship maze and thought what more romantic place to place our love lock than here on the courtship maze bridge. There were no other locks around so we were the first to place one there. Upon leaving the maze as there was no river into which we could throw our keys we decided to bury a key each at each entrance to the maze.
As our Parisian lovelock has now sadly been removed, we hope our Gretna Green lock will remain for a long time to come :)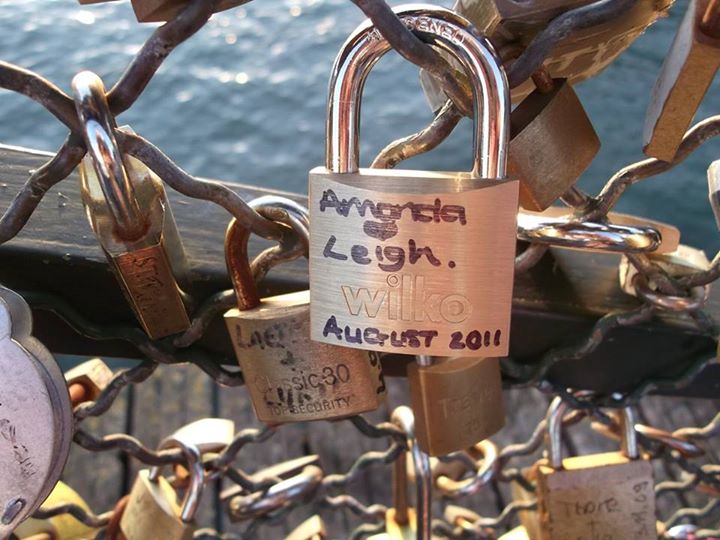 Huge thanks to Amanda and Leigh for sharing their story and we hope to see many more locks beside theirs springing up over the years here in Gretna Green...
Do you have a great story to share? We'd love to hear it, please get in touch! Xxx