Posted by Ami Brough - October 23, 2013
It may be hard to believe that the end of October is nearly here again..........but with autumn fully upon us, here at Gretna Green, we thought we needed something colourful to counter the constant grey that seems to be outside our windows.
While most of us may not view Halloween as the perfect time for a wedding, for anyone not enticed by traditional themes, this time of year is perfect for throwing a celebration that is just as unique! Although we may not have any stories of our own Halloween-themed weddings to share with you, we thought we'd share a few of our favourites with you.....who knows, those visitors to the New Shop may just ghost over to the Blacksmiths anvil before too long!
Don't fret - even if you're like some of us and not the biggest fan of costumes or over-the-top decorations which seems to accompany Halloween nowadays, it's easy to weave holiday themes without the need for fancy dress.....
From classic to quirky, modern to vintage or even rustic, getting hitched at Halloween clearly caters to crafty couples! From boo-tiful bouquets to be-witch-ing centrepieces, there's no need to choose between glamorous and ghoulish! So, brush away the faux cobwebs and throw a Halloween-themed wedding that's far from creepy! Capture your fancy? Look below to see what these creative couples did......
Costumes? From the wedding party to the guests, almost anything goes......from masquerades to caricatures or embodying your favourite film alter ego, no restrictions here!
Cakes - we've seen some pretty spectacular wedding cakes at our Smiths at Gretna Green hotel.........but these spooktacular ones take, well, the cake! Of course, no Halloween-themed wedding would be complete without a candy buffet!
No need to stop there either - how about teeth for place settings, thematic programmes or a Jack-o-lantern for guests to sign?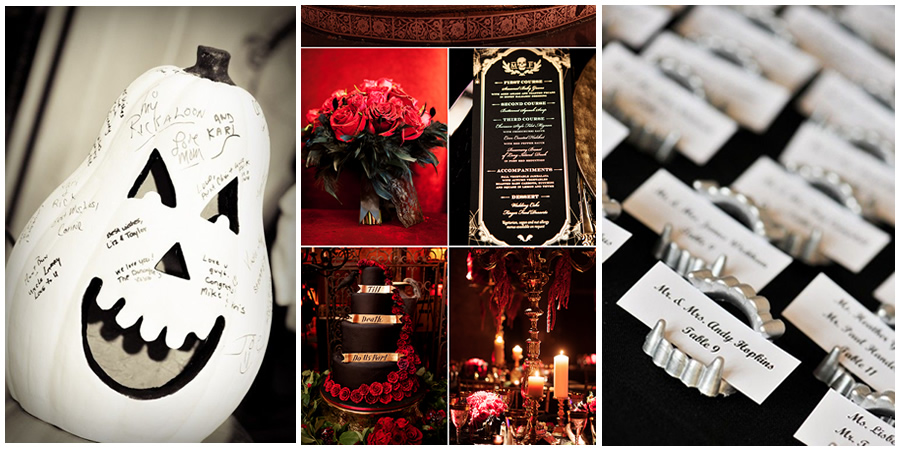 And don't forget about the groom and his attendants....cue the fun pumpkin-print ties or how about orange and black socks? Treating your guests to mummified centrepieces or mysterious black pouches rather than traditional party favours just adds to the fun......or so we think!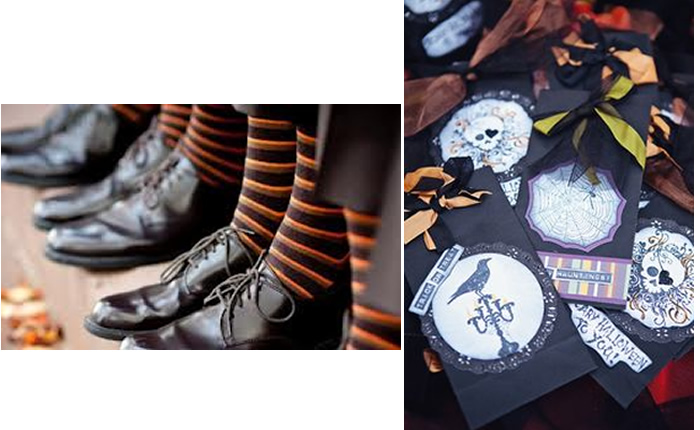 With so much freedom of choice when it comes to decorations, Halloween weddings can easily delve into the scary, creepy or gaudy....these weddings incorporated twists of gold, amber, elegant black satin table runners or orange roses adorning the lights to magically transform into elegant soirees.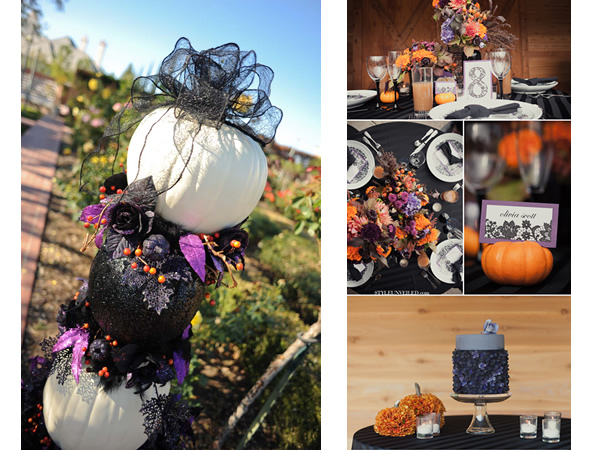 Not a fan of Halloween? Why not venture a gander at other takes on All Hallows Eve such as the Mexican Dia de los Muertos for your inspiration......
Fancy a Halloween wedding or know someone who does? Share with us on our facebook page!
Photos courtesy of:
http://www.bridalguide.com/blogs/bridal-buzz/halloween-wedding-ideas
http://mentalfloss.com/article/12825/18-wonderful-pictures-halloween-themed-weddings
http://www.buzzfeed.com/juliapugachevsky/reasons-you-should-have-a-halloween-weddingv
http://www.bhg.com/halloween/parties/eerie-halloween-wedding-party/
http://www.tumblr.com/tagged/halloween-wedding
http://styleunveiled.com/wedding-blog/halloween-wedding-ideas.html