Posted by Ami Brough - April 03, 2017
Ever thought of hiking to Scotland? Most of us might just laugh at this suggestion but not John and Marie Haddow!
This brave duo is making the trek over 188 miles from South Derbyshire to Gretna Green covering 188 miles in only 9 days.....yikes! Hats off to them!
We'll let Marie tell their story …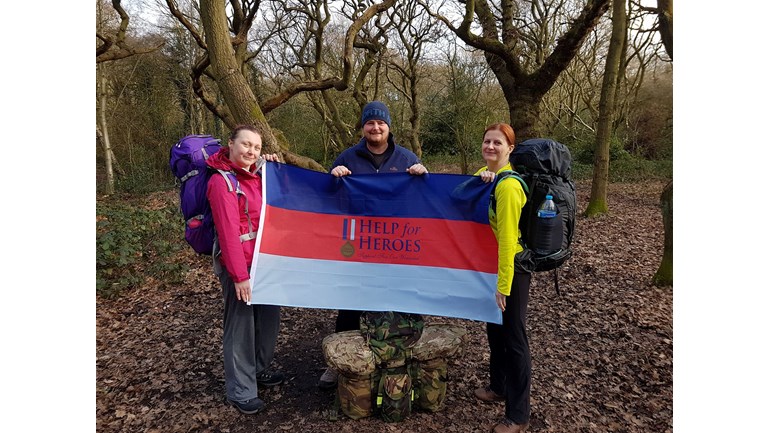 "So, this began as a crazy late night thought of "wouldn't it be amazing to walk all the way to Scotland?". Then, we woke up the next morning and realised with a lot of preparation and training, we actually did stand a chance of completing this challenge. Since it seemed to be such an epic challenge (i.e everyone thinks we're crazy for doing it), we thought it would be a great idea to make it a sponsored event.
We're going to be walking 188 miles, from Swadlincote, South Derbyshire, to just over the Scottish border - Gretna Green. We'll be doing this over 9 days and 8 nights. 7 of those 8 nights will be spent camping in the wild! The other night we arrive in the centre of Manchester at the end of the day's trek, so allowed ourselves one night in a hotel then. Since we'll be wild camping for the rest, that means carrying all of our kit with us on the trek.
We chose Help for Heroes as it is a charity close to our hearts, with John having served in the Army until he was medically discharged in 2008. John in no way escaped unscathed from his time in service, and was able to survive with a great deal of grit and determination, and support from his family and friends. Other service men and women are not so lucky, and this is where Help for Heroes comes in, offering their help and support to those people who were willing to put their lives on the line for the rest of us."
John and Marie have set up a Just Giving page (found here : https://goo.gl/QMHoxw) if you wish to support them … Follow along with their adventures on Twitter using #hiketoscotland - why not leave them a message of support as a comment too!
We look forward to welcoming John and Marie here to Gretna Green on the 22nd April … we'll be routing for you!