Posted by Ami Brough - August 16, 2017
7 Easy Steps to Planning a Gretna Green Wedding
So you're engaged? And you've always wanted to have your special day at Gretna Green?
Congratulations! That's such exciting news … and we're definitely thrilled that you're thinking about Gretna Green! But where to start? Relax … arranging your wedding with us is easy: just decide on your date, choose your ceremony venue and banqueting venue, and your preferred hotel for accommodation. You will also need to consider if you wish to have a minister or registrar; but worry not, our wedding team is here to help and guide you through each stage...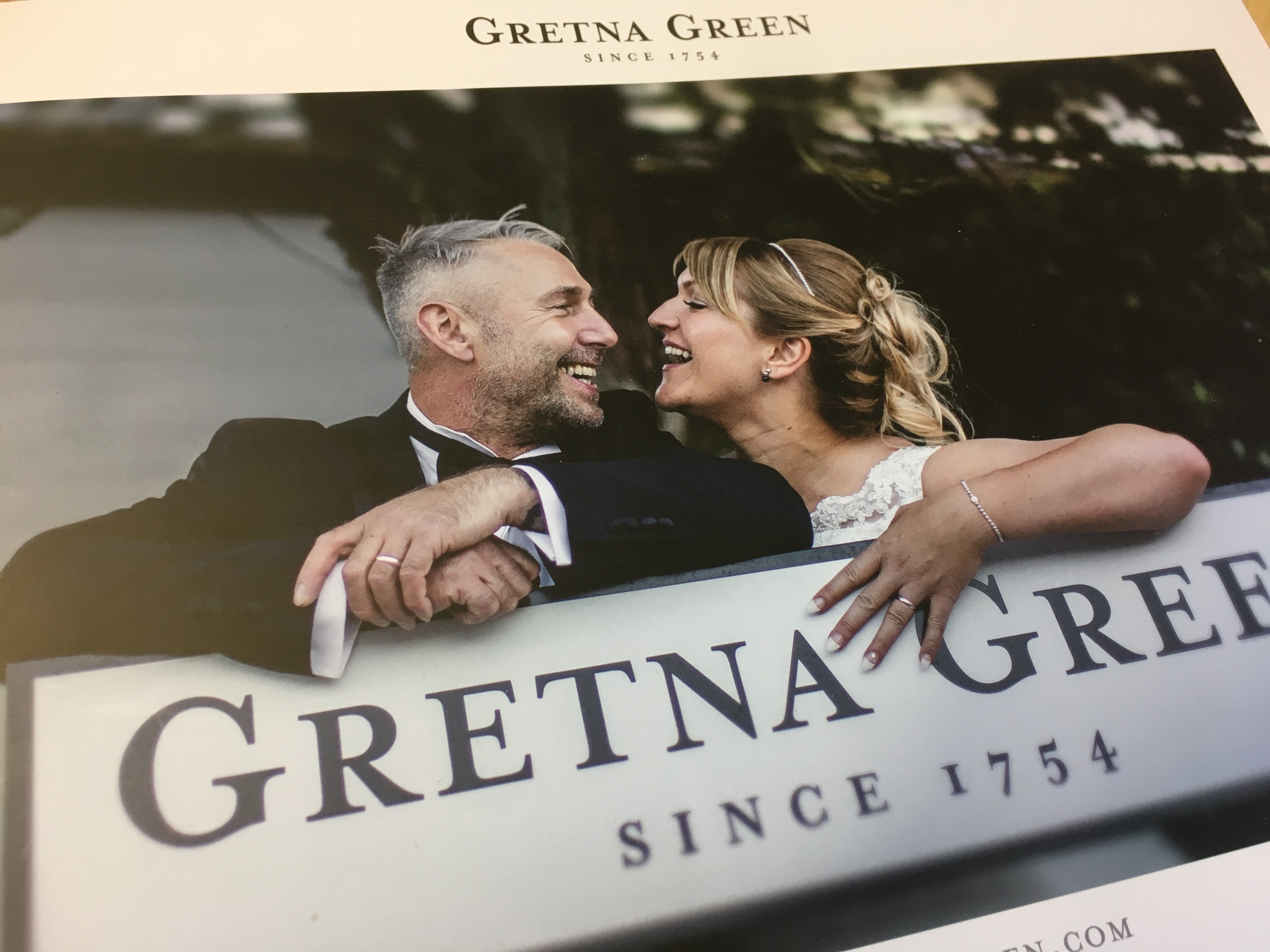 Save
Save
Save
To make it even easier, we've put together a short, seven-step checklist to help get you from 'Yes!' to 'I Do!' with ease!
1. Choose Your Date
Is there a special date for the two of you? An anniversary perhaps? It's best to have a date (or two) in mind, then give us a call …. We will advise you on dates that are available and make a provisional booking for you. All provisional bookings are held for two weeks.
2. Choose Your Ceremony Venue
There are a number of possible historic, romantic wedding venues to get married in, within Gretna Green & Gretna. From our famous romantic, historical rooms within the Famous Blacksmiths Shop to contemporary spaces within one of our hotels; there's a space for everyone here! If you need advice on capacity or distances from hotels to venues then please do not hesitate to ask questions - we are always on hand to offer advice.
3. Choose Your Ceremony Style
Religious or civil...it's up to you! Once you have booked your ceremony venue we will arrange a Civil Marriage Celebrant or help you arrange a Minister to conduct your ceremony.
4. Choose Your Banqueting Venue
Of course, one can't forget about the party! Our banqueting venues suit a range of sizes – we've even got lovely cosy private alcoves ideal for just the two of you – to help celebrate your special day in style! Not forgetting that all important meal - set menus are included in the wedding packages (or you can upgrade). But if you're still not sure, give us a call once you've chosen your banqueting venue and we'll happily discuss all your options to find the perfect one!
5. Choose Your Hotel Accommodation
Inviting friends and family? It is important to consider how many guests you wish to invite and what accommodation you wish to arrange for them.
We've got three hotels in Gretna Green/Gretna to choose from … each with their own special twists for a perfect romantic stay … why not take a closer look at Smiths Hotel, Gretna Hall and Greens at Gretna now!
6. Pick a Wedding Package
The simplest place to start to plan your wedding is to pick one of our Wedding Packages. You can add other wedding services and upgrade your banqueting but it makes for an easy start to planning your special day. Use them as inspiration – often getting started is the hardest part and we're always here to help if you'd like to make any changes! We also have a great range of seasonal special offers, for those looking to get married sooner rather than later. But remember, you need to register for your marriage certificate 30 days in advance of your wedding date, so don't leave it too late!
7. Your Marriage Schedule
Here's the important bit - You will both need to complete an M10 Form for the Gretna Registrars to create your Marriage Schedule. (Yes both of you – sorry, we too love the thought of a surprise wedding but your partner will need to know that they are getting married! The details can be arranged 'in secret' though!)
The earliest you can submit this form is 3 months before the date of your marriage or at the latest, 29 clear days. For Civil Partnerships a CP10 Form must be completed by both you and your partner and submitted to the Gretna Registry Office.
Something to keep in mind – these documents need to go directly to the Gretna Registry Office. Our wedding team is full of wonderfully talented people who breathe, eat and sleep all things 'wedding' and we can help you with most queries relating to the relevant legal forms … but we are not qualified on legal matters relating to your marriage. (If you do have any questions at all about the legalities, we'd recommend getting in touch with Gretna Registrars direct on 01461 337648.)
Other things to note (these are 2017/2018 prices …..)
Civil Marriage Celebrant Fees:
Weekdays - $377.40 Saturday - $500.50 Sunday & Public Holidays - $563.30 This includes the fee for your Marriage Schedule.
Religious Marriage Fees:
Marriage Schedule Fee - $88.80 The additional fee for the minister - $215.70
All fees are correct at time of going to print, June 2017. Civil Marriage Celebrant fees are subject to change.
Please contact us on +44 1461 336001 if you need any further information - our wedding team is on-hand to help with any queries.
Save
Save
Save