Posted by Ami Brough - April 04, 2013
Love is in the air quite literally this week as a pair of young wild swans wearing 'marriage' rings from the wedding capital of the UK, Gretna Green's Famous Blacksmiths Shop are 'eloping' to an Icelandic love nest in the name of science.

The two 'darvic' rings, attached to the legs of the Whooper Swans, were blessed in a symbolic 'over-the-anvil' Gretna Green blessing ceremony by us inside the Famous Blacksmiths Shop on Valentine's Day. UK bird experts hope the two white Whoopers - which mate for life and live for up to 26 years (how romantic!) will help them uncover new information about the species' migration behaviour between the Caerlaverock Wetlands in Scotland and Iceland.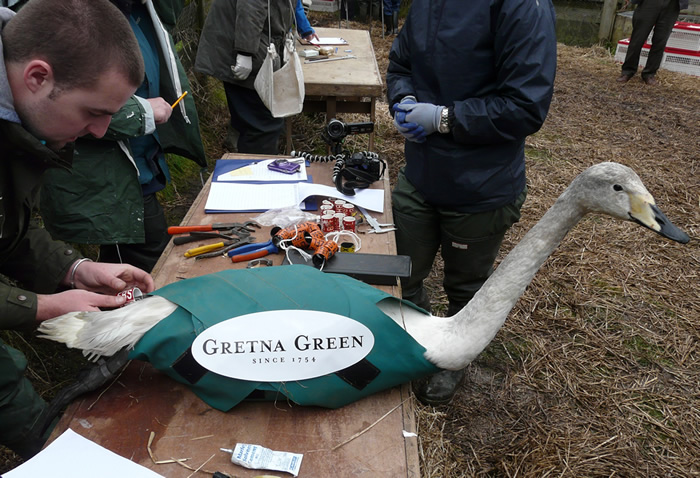 The swans also have special codes on the rings - GGS for Gretna Green Scotland on the male's yellow leg ring, and FBS for Famous Blacksmiths Shop on the female's red leg ring. This will help birdwatchers to identify the beautiful birds en route.



"Just like thousands of couples before them, the swans will carry the luck and loving symbolism of our historic marriage anvil with them on their journey through life," said Gretna Green Famous Blacksmiths Shop owner Alasdair Houston.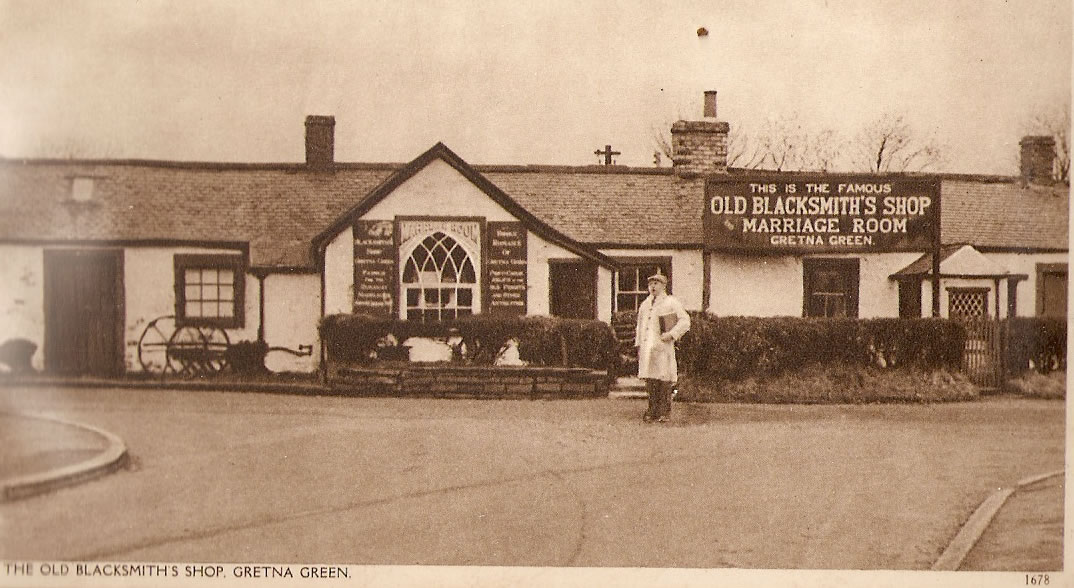 As part of the Famous Blacksmiths Shop 300th year anniversary celebrations (built in 1713) we decided to 'pair' up with the Caerlaverock Wetlands and work together to encourage some romance and thus learn more about the Whopper Swans migration & breeding habits, after all Caerlaverock is only a short distance from Gretna Green... much closer than the Scottish / Icelandic journey these swans are about to undertake.
Dave Fairlamb, manager of WWT Caerlaverock Wetlands Centre told us "Whilst our two specially ringed birds were seen a lot together at Caerlaverock in recent weeks, it is still possible they will eventually seek out a different permanent mate when they actually reach Iceland. In that case, instead of one pair of breeding whoopers returning to Caerlaverock we might have two couples which is doubly exciting."
Here in Gretna Green, we're certainly delighted to work with WWT and adopt the Whooper Swans as they perfectly symbolise the union of romantic runaways to the Famous Blacksmiths Shop. We're hoping that this project will help to capture people's imaginations and ignite a desire to visit & stay in our amazing area to experience the spectacular wildlife.

We will of course be keeping you up to date with the pair's journey right here on our blog and also via our Facebook and Twitter pages but if you're visiting Caerlaverock yourself then you can track both birds progress by typing in their respective Darvic ring codes into their system onsite.

Oh and there will also be a competition to name the birds, so watch this space!