Posted by Ami Brough - June 15, 2017
Here at Gretna Green, we've seen our fair share of couples arrive to marry over the Famous Anvil ... but we've never had a Pearly King or Queen choose to marry ... until today!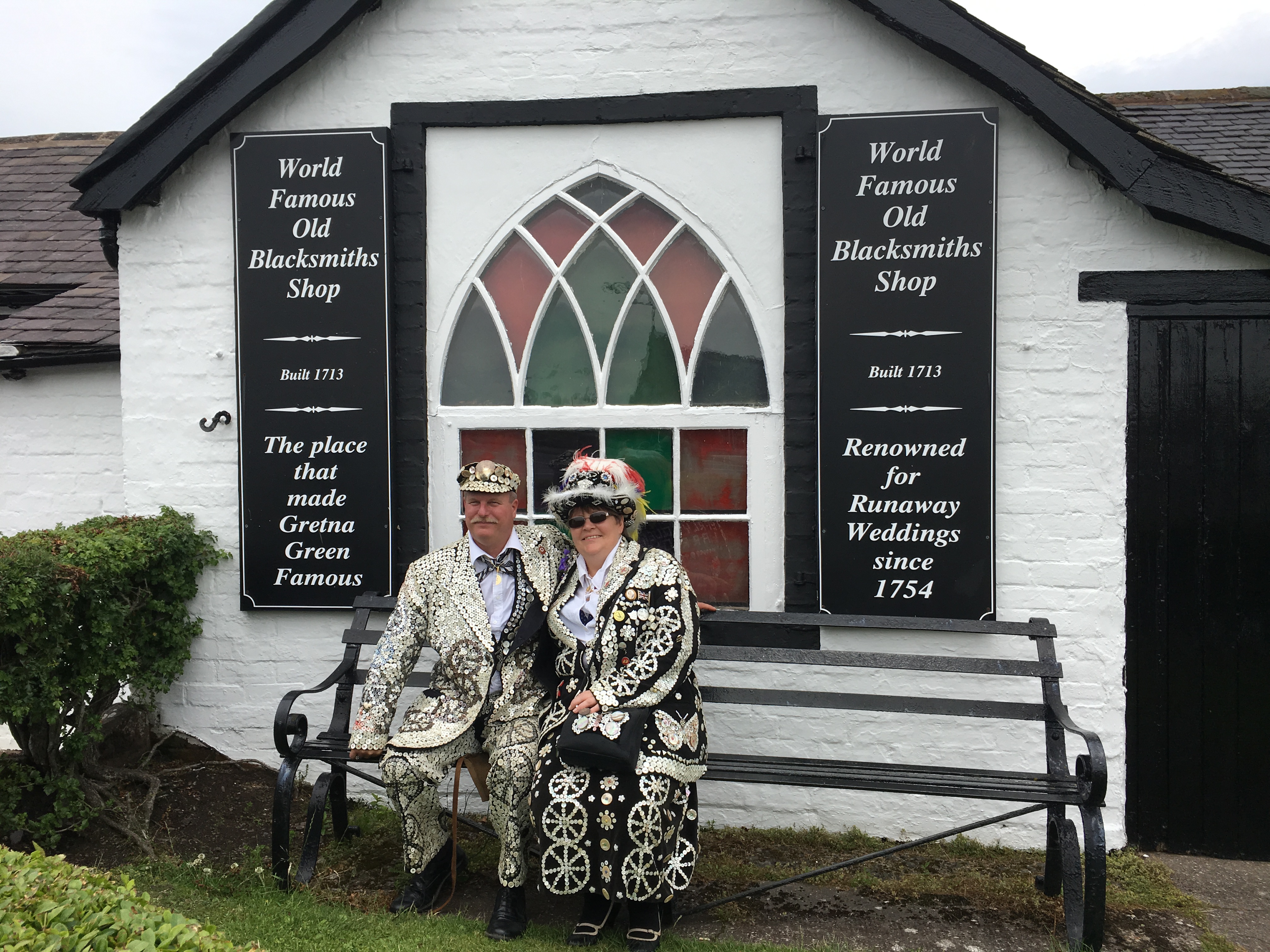 Although they are familiar faces in London, it may be that you have never heard of a Pearly King & Queen. A pearly Kings and Queen's title is inherited and each borough of London originally had one Pearly King & Queen, although not all now do.
The tradition of Pearly Kings & Queens dates back to the 1880s by Henry Croft following on from the 18th century Coster Kings and Queens who were particular street traders with the outlook of helping others who were less fortunate. Being a Pearly King & Queen is about charitable giving, pearly Kings & Queens of today attend various charity events, raise funds for numerous causes and assist London mayors with many engagements...
The Pearly King & Queen of Harrow are the new David and Paula Hemsley - third generation 'pearlies' - and the title was passed on through David's late mother Margaret Hemsley. David is a Blacksmith by trade...so of course there was no other choice for their chosen marriage venue than here with us at Gretna Green Famous Blacksmith Shop. David & Paula chose to marry in their traditional pearly wear.... they even had to obtain permission to wear this outfit and marry outside of the city of London!
David and Paula followed in the footsteps of the Pearly tradition and to date with the pearly group as a whole, have raised over $38,060.30 this year, which will be donated across many worthy charities. On Wednesday evening the Pearly King & Queen took the time to meet with a group of young brownies from the Gretna area - how kind of them on their wedding day!
Best wishes from all of us here at Gretna Green to the newlyweds!