Posted by Spare Account - May 10, 2018
Fraser goes back to his roots
As part of National Gardening Week (30 April - 6 May 2018) we caught up with Fraser Marshall, Head Gardener at Gretna Green Ltd to find out more about his love of gardening!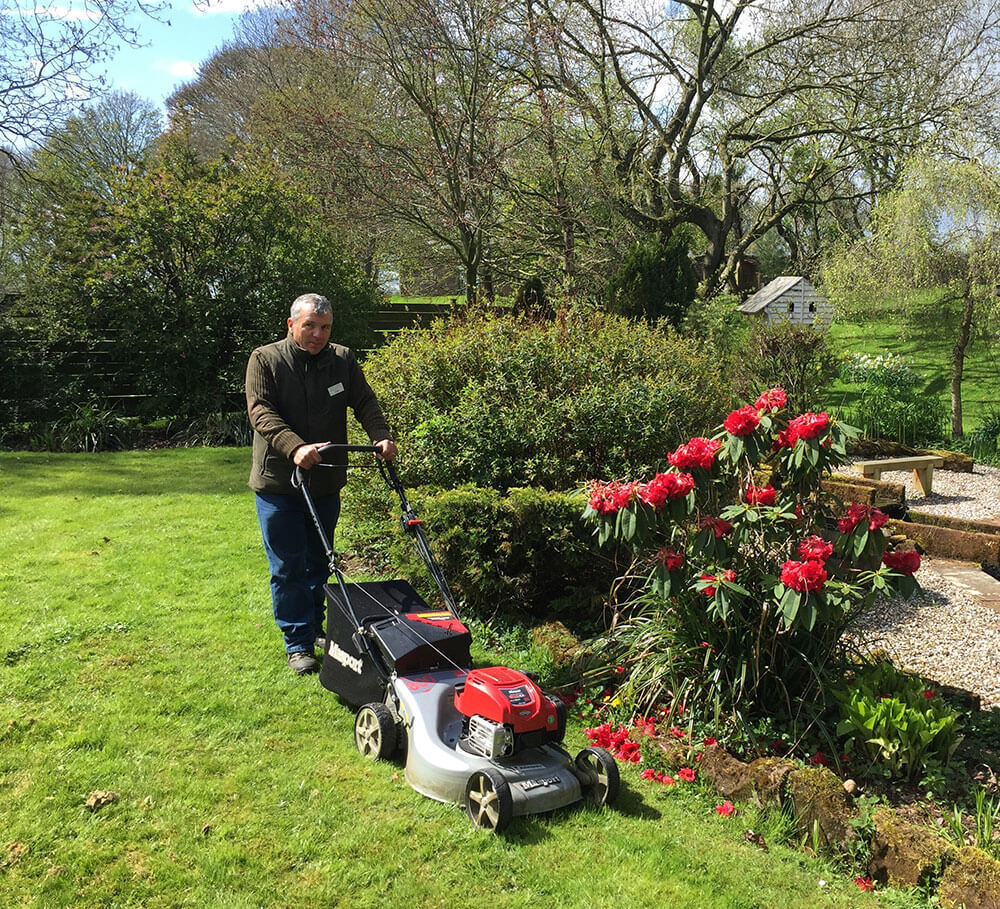 National Gardening Week is an initiative run by the Royal Horticulture Society and encourages gardeners from across the world to share their top tips and passion for plants. And what better way to learn about gardening than to spend an afternoon with the man who looks after the gardens of two of our hotels (Gretna Hall and Greens at Gretna) as well as the Gretna Green Famous Blacksmiths Shop gardens.
Fraser was previously a senior member of the council and upon retiring decided to go back to his roots – quite literally!
We caught up with Fraser to find out a bit more about his gardening experience and see if we could glean some of his knowledge…
Fraser told us; "I knew I had to go back to what I love which is gardening and horticulture. I started out at the Royal Botanic Garden in Edinburgh and later went to America to study arboriculture, (which is trees for those of you who don't know!) I love being outdoors and really enjoy seeing the tangible results of my work here at Gretna Green Ltd."
It's clear that Fraser knows his stuff, so we asked him for his top gardening tips. He said "the best tip I can give would be to make sure you enjoy your gardening and take time to appreciate all of your hard work."
Fraser certainly isn't afraid of hard work. He splits his time between three sites and spends two days of the week at the Gretna Green Famous Blacksmiths Shop, two days at Gretna Hall and one day of the week at Greens at Gretna. But, even with such a busy schedule he ensures that everything is in perfect condition ahead of any weddings or celebrations taking place at the three venues.
Here at Gretna Green we have a range of outdoor weddings venues available which are ideal for those who, like Fraser, love spending time outdoors. He says; "We have the courtyard area just outside the Gretna Green Famous Blacksmiths Shop, plus 10 acres of beautiful gardens that surround Gretna Hall and the [almost] tropical Water Gardens at Greens at Gretna, which are all perfect for summer weddings."
In preparation for the better weather, which MUST be just around the corner, Fraser says "We have lots of exciting work taking place at Gretna Hall and the Water Gardens at Greens at Gretna, with new flowers being planted this week. They will really add some colour and brightness to the gardens just in time for Summer."
We're looking forward to enjoying the fruits of Fraser's labour this Summer and hope you can come along to see his beautiful work too!
To find out more call the hotels direct on 01461 338 257 for Gretna Hall or 01461 337621 for Greens at Gretna.