Posted by Ami Brough - September 04, 2014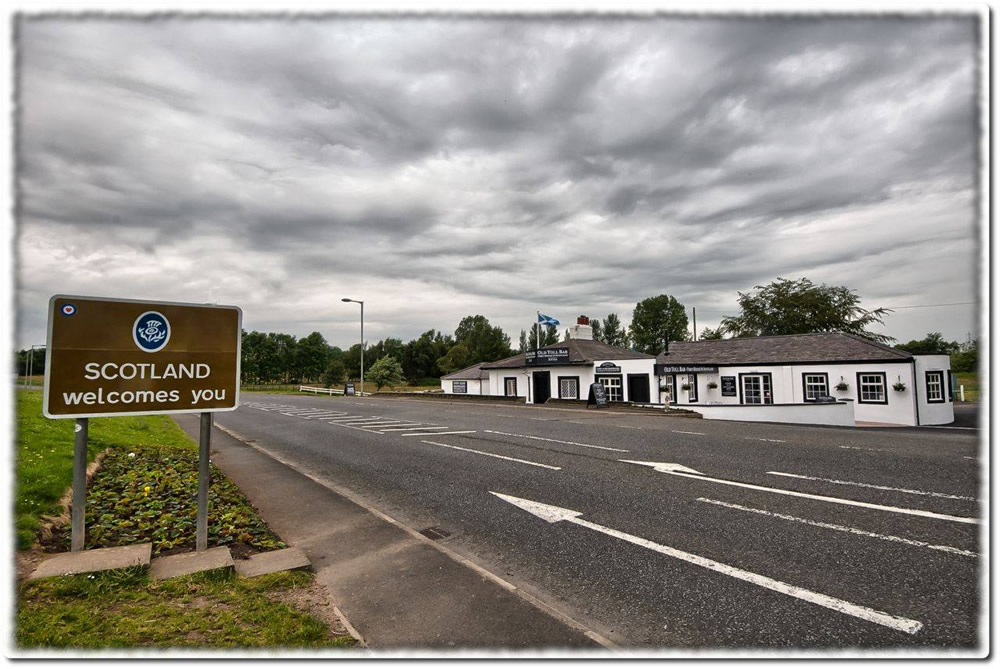 It would be difficult to have missed the many debates and campaign stops regarding the upcoming Scottish Referendum on the 18th September. Located, as Gretna Green is, we've had our fair share of visitors brought especially by this upcoming decision.
Like many of us, our chairman Alasdair, started to write down his thoughts about the upcoming Scottish Referendum - and we thought we'd share them here. Feel free to agree or disagree - as well as comment - just keep it respectful please.
"Well it's nearly here! The Referendum that could lead to Scotland divorcing from the UK. I am not a politician. I am a born and bred Scot living and working here and typing this on his phone from his bath. Sorry about the last bit.
Let's cut through the bullshit, the scaremongering (on both sides) and the dream selling. This is important. For our children's grandchildren and beyond.
All proud Scots want what is best for Scotland, so let's start by agreeing that on this we can agree.
Let's also agree that too many policies for too many years were 'made in London' and did not address Scotland's specific needs.
But we now have a Scottish Parliament and all parties agree that it will get more powers whatever the outcome. I believe that. Mr Salmond and SNP do deserve credit for getting Scotland's voice heard better than ever before in my lifetime. But the fact is that with our own parliament in place we can't keep blaming everything on Westminster. That's out of date. We already have many independent powers, with more to come. To move from a wish to secure these extra powers, to filing for full divorce, cannot be the right thing for Scotland.
We have a population about the size of Yorkshire's but over a much greater land mass to service with roads, small schools, hospitals etc. Our population is ageing faster than UK with a big pensions challenge ahead with a lot of gold plated public sector pensions in there. We have a relatively small tax base and we rely heavily on the public sector for employment and on one commodity.
Oil and gas is a valuable resource. The most optimistic forecast gives us 30 or 40 more years on the dipstick, the blink of an eye in the life of a nation. Yes, it may see today's politicians out, but they will not be around to deal with 'life after oil.' During that time the price may vary greatly. Up or down. We have no control.
Basing a 400 year decision on a 40 year resource of which we do not control the price does not make good sense. Short term-ism on a grand scale. It will take one hell of lot of wind and whisky to replace it.
The form of 'independence' that says 'We would like to share the pound in a formal union and the Bank of England can carry on setting the interest rates' defeats one of the main claimed benefits of independence..controlling one's own future. Interest rates would be set in a country made foreign by a yes vote, a country that no longer had any political or other motive for considering the interests of the 'independent' country north of the border no longer part of UK. This could really hurt us. This is the version of 'independence' that Mr Salmond claims to want for us. I just don't get it.
Talking of banks, if we were to divorce from UK, we would have no lender of last resort. We don't need long memories to sicken ourselves with the mess of the so called 'financial crisis'. I have another set of words for it: greed, lies, arrogance and more greed. But the fact is that our own Scottish institutions had their snouts in the trough along with the best of them and together they nearly brought the country to its knees. IF we had been independent at that time, Scotland Plc would have been bust. The Scottish taxpayer could not have underwritten the debt. We needed the financial strength of the Bank of England and the UK taxpayer to bail out RBS and others. It is a fool that believes that humans really learn from past mistakes... They go right out there and make all their own new ones. Would we like to go to Europe for our bail out if it were needed in the future. Greece is not having fun.
It strikes me as a peculiar form of 'independence' that wants to divorce from England, while at the same time get closer to Brussels. If one of the main complaints is feeling controlled by an unelected government, do we really want to swap London for Brussels? It seems to me that there is a hefty dose of 'anti English' being confused and dressed up as pro-independence. Pre- divorce proceedings are messy, and it saddens me that Scotland is going through its own version, whatever the outcome, with our three other partners in rest of UK.
I am a passionately proud Scot. Born here, schooled here. I've spent my life working here, investing in and promoting Scotland both in UK and abroad, and doing my best to provide good employment here. My children were born here and are schooling here. My point is, don't try and tell me that believing that being in a BETTER version of UK, which we can have, and staying part of the family with our Welsh, Irish and English friends somehow makes me un-patriotic or less Scottish. Please.
I know some, perhaps many will disagree with what I say. I respect your right to do so. But to those that do in turn I say respect my right and those that agree with me when I say with my heart and my head, let's stay together and work hard together to make Scotland an even greater part of Great Britain.
Over and out. Bath cold."