Posted by Administrator - June 05, 2019
Why Choose A Religious Wedding Ceremony at Gretna Green?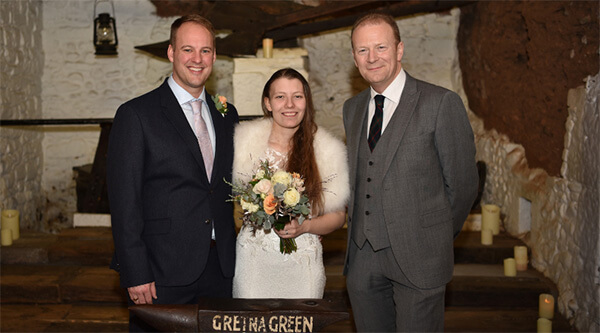 Religious ceremonies performed by a Minister are becoming increasingly popular at Gretna Green! And why might that be? Well, a religious service is similar to that of a church wedding but not as formal, and you're free to tailor your wedding so it's just right for you. A marriage conducted by a Minister can also lower the cost of your marriage fees, with the hiring of a Minister costing just $234.70! (Registrars now costing up to $649.60)
"Having a Religious Ceremony in Gretna Green is a very personal way to seal your marriage vows. Our ministers are all very approachable and caring and are happy to be contacted prior to the wedding day to discuss the ceremony. They are able to add personal touches into the ceremony and if you are having an intimate wedding can include readings and poems. They are also very knowledgeable about the history of Gretna Green and will ensure that when you look back on your day that you feel part of that." – Michelle Hall, our Wedding Sales Manager
But there may be another reason why religious marriages at Gretna Green are coming back in style…
---
Meet Minister Graeme Murray
With years of experience performing wonderful religious ceremonies and spreading joy to new couples, Graeme is guaranteed to make your special day extra memorable. Well-known to Gretna Green weddings for bringing a smile to every face, you'll be put right at ease by Graeme and fondly look back on your anvil ceremony for the rest of your lives. But don't just take our word for it! Here are just some of Graeme's fantastic reviews from couples who chose him as their Minister:
"From start to finish we couldn't have wished for more support/guidance/kindness. You definitely made our day truly special" – Lin & David
"First time we met Graeme, it was like we'd known him for ages. Such a warm and friendly man, and he likes football. Put us at ease before the ceremony, which enabled us to enjoy the experience immensely." – Jeannie & Gary
"We both loved it, the service was perfect and the readings were beautiful" – Arthur & Kate
"As an award winning Lake district based Photographer, I have worked with many ministers and celebrants. Graeme is both extremely professional, completely genuine and is a warm person who takes an interest in everyone. He doesn't rush but ensures that you are comfortable and engages with couples he hasn't even met in such a way they feel relaxed and at ease. If you want the best, then look no further, a really genuine and engaging human being with faith." – David Rucker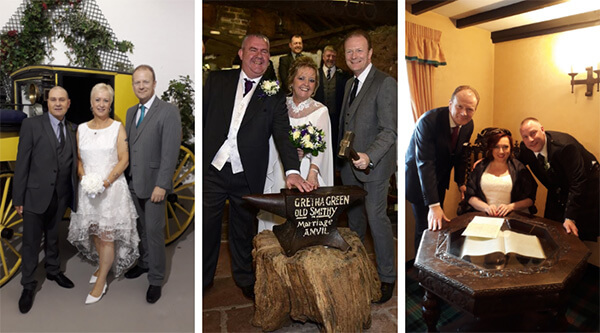 Religious ceremonies are available for any of our packages, special offers or venue-only ceremonies. Choose from one of our many offers or tailor make your own bespoke wedding with our 3 Step Wedding Planner online. Want to discover more about our luxury packages and exclusive offers?