Posted by Ami Brough - July 18, 2013
As we're busy writing this, we're all reminiscing in the office about the weddings we've been to over the years; including some of our very own! One thing that's always a talking point are the different wedding traditions often seen here in Scotland, especially in Gretna Green (which in itself is one of the longest wedding traditions in the world). We often see some of these traditions on a daily basis...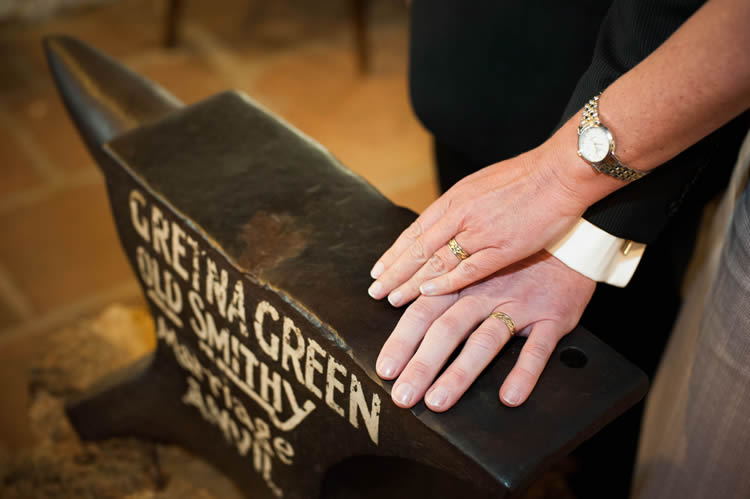 1. Passing of the Quaich
For this tradition we're going back as far as the 16th century to when King James VI of Scotland presented a Quaich to Anne of Denmark on their wedding. Quaichs are traditionally a silver or pewter cup which comes with two handles and is known as the 'loving cup' or the 'cup of friendship'. At a Scottish wedding, the tradition is to fill the Quaich with whisky and you will often find it used at the start of the ceremony, as a way to welcome friends and family! A couple would also drink from the Quaich as a symbol of trust and unity.
Nowadays you may find couples making slight changes to the tradition. Perhaps your guests aren't partial to a dram, some brides nowadays are exchanging whisky for gin or bubbly (we'd still recommend the whisky, traditions and all that!) but whatever takes your fancy!
2. Creeling
Creeling is an old tradition and you'll often hear the expression 'The couple were creeled at the wedding'. If you're going to a wedding in the North of Scotland and mentioned the word 'Creeling' you may be told a different story to that of a wedding in Gretna Green (though both make for interesting stories to tell the grandkids). For this blog we'll stick to this one.
"Two guests would hold a fishing basket at either side awaiting the couple as they came out of the church. The couple would then cut the ropes and the basket would fall to the ground".

Although this tradition may seem a little old-fashioned nowadays, you may see it at the odd Scots wedding and it is said to bring health and prosperity to the couple! We'll toast to that!
3. Sixpence in the bride's shoe
As the song goes:
Something borrowed
Something blue
Something old
Something new
And a sixpence in the bride's shoe
A well-known British tradition, the placing of a sixpence in the bride's shoe is said to bring good luck! Although, if you prefer a more comfortable wedding tradition, our Gretna Green brides often place a sprig of Heather in their bouquet which is also said to bring good luck!
4. The Wedding Scramble
Said to bring financial luck, the bride's father will throw coins to the eagerly awaiting children as the bride steps into the car. The children would then 'scramble' to pick up the pennies and normally it's off to the sweetie shop they go!
5. Scottish Piper
One of our favourite and cherished traditions here in Gretna Green, the Scottish Piper is often found in full dress at most weddings here in Scotland! For our Gretna Green couples, you can choose whether to be piped into the Famous Blacksmiths Shop and also piped into your reception over at Smiths Hotel. A lovely addition to your wedding day and it's even included in many of our Gretna Green & Smiths Hotel wedding packages!
6. Kilts
To kilt or not to kilt - now that is the question! Some people think only Scotsmen can wear kilts but that's certainly not the case... We cater for lots of kilt hire in Gretna Green and it's a fabulous sight to see all the wedding party in the full highland dress (Sgian Dugh, Sporrans etc.) and sometimes even with their own clan colours (if they have researched their clan history). Be sure to give us a call and we can talk you through all the kilt options available to hire.
7. Gretna Green
In itself, Gretna Green is one of the longest wedding traditions in Scotland and we're proud to be part of Scotland's history. Dating back to 1754, when Lord Hardwicke's marriage act meant that the marriage age in England and Wales remained at 18, the tradition of eloping to Gretna Green began with couples racing to our romantic village to get married. While the eloping tradition still continues today, some couples do prefer to bring friends and family members - so we can cater for all party sizes at Gretna Green!
So there we go, some Scottish & British traditions for you to consider when planning your Gretna Green wedding....
Maybe you have already experienced some of these traditions at a wedding? Or perhaps you have a different tradition to add? Let us know in the comments below or on our Facebook and Twitter page!