Posted by Ami Brough - April 01, 2014
Each year thousands of couples make the journey here to Gretna Green to get 'married over the anvil' and it's a tradition which is entrenched in history as far back as 1754 when English lords voted to change the marriage act. For couples in England this meant they had to be over 21 and gain their parents' permission to be married. Scotland however did not adopt this law and continued on its way with irregular marriages which in essence meant you could marry anywhere as a declaration in front of only 2 witnesses.
Still this does not really answer about the anvil question though, or does it...?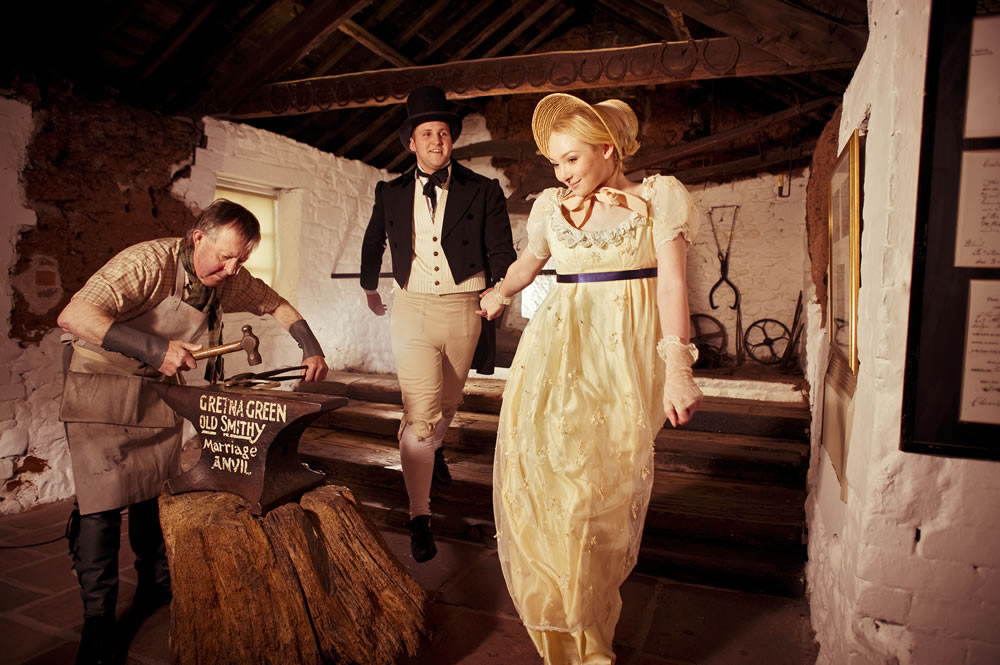 Looking back through history to 1754, Gretna Green was but a tiny hamlet. However it was the first settlement you reached when taking the west coast coach road to Scotland. Back then each hamlet, village and town had a working Blacksmiths Shop which in turn was, for many, the heart of the village. It would have been a hustling, bustling little hub (and not to mention hot little building full of heat, hammering and action!) - guaranteed to have someone around at all times. After all, horses were still the main mode of transport back in the day... and the forge could not be left alone to go out!
As one of the border towns, Gretna Green was a 'safe haven' - a settlement across the Scottish border where the English marriage laws no longer applied. Gretna Green was also at a junction of five coaching roads - with the Blacksmiths Shop the first building couples came to. Couples who began the original runaway tradition would simply have happened upon this lively little shop and through sheer convenience chose it as their marriage destination.
Those first couples were original romantics and they very much saw the symmetry of joining their love 'over the anvil' just as the blacksmith forged 2 pieces of metal together - they were in essence, bonded as one and stronger than ever. As a working smithy, the anvil would have taken centre stage in the blacksmith's daily activities around which these early couples would have found him. The ringing of the hammer against the anvil soon became infamous with much tradition placed upon that very sound, forever linking the anvil with Gretna Green.
To this day the anvil sits within the original room here at Famous Blacksmiths shop virtually untouched since the 1800s...every year we welcome thousands of couples making the very same journey that those runaway couples did all those years ago...with the anvil ringing through the shop as symbolic recognition of each new marriage.
There are many anvils in Gretna Green and Gretna but only the Famous Blacksmiths Shop has the original... Those who touch it are said to have 'Good Luck in the affairs of the heart', how romantic! Remember to touch it next time you're here...
Do you have any family stories involving our Famous Blacksmiths anvil? Share them with us....