Posted by Ami Brough - July 07, 2015
Getting married over the Anvil in our Famous Blacksmiths Shop? Love the romance and mystery of elopements and a Gretna Green wedding?
Let us tell you a wee tale of the traditions of Gretna Green....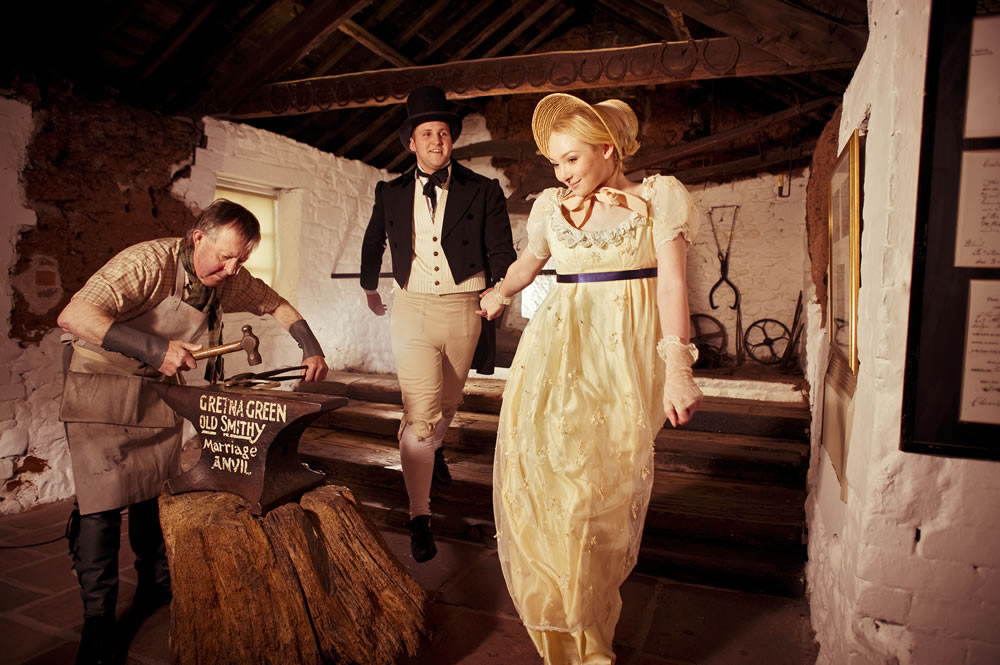 Tales of a blacksmith striking the anvil to seal a marriage dates from the very beginning of couples eloping to Gretna Green all the way back in 1754. Our familiar wee black and white building, the Famous Blacksmiths Shop, soon became recognised for these runaway weddings as, located at the top of the cross-roads in the village, it was the very first public building couples reached over the border in Scotland...
The blacksmith quickly became renowned as someone the couples could trust to swiftly arrange witnesses for their Gretna Green wedding (as well as protect the couple if they got word that family were soon to catch them up and stop their plans)! Once safe, the couple would make their declaration standing in the blacksmiths' workshop, in front of the anvil (just as they do today).
It was one of the first self-appointed 'Blacksmiths Priests', Joseph Paisley who began the tradition of striking the anvil with a hammer to seal the marriage....soon the anvil was a symbol of romance oft ringing with celebration of another wedding.....
Legend has it that if you touch the famous anvil, good fortune in the affairs of the heart will be yours....go on....give it a try!