Posted by Ami Brough - March 03, 2014
If you've swung by Gretna Green, you may have spotted a tall dark-haired woman scurrying around the shop.......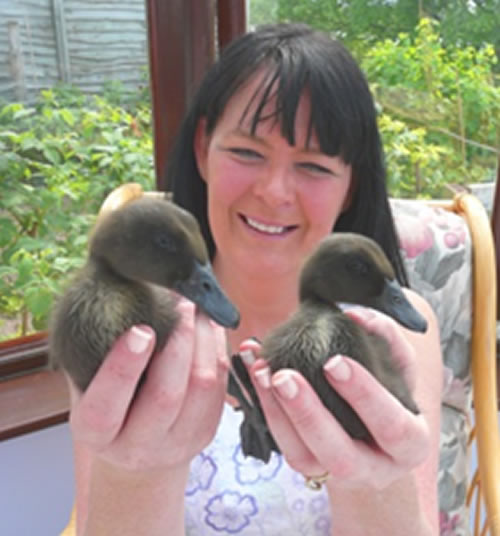 Meet Linda O'Brien, our retail manager here at Gretna Green Famous Blacksmiths Shop.
Our talented retail manager has a trick or three up her sleeve ..... beginning with her 'secret double life'. Hmmm - that sounds a bit odd, now doesn't it?? (What on earth do we mean?!?!)
During the day, while she's here with us at Gretna Green Famous Blacksmiths Shop, Linda is a busy, on-the-go, creative retail manager, responsible for choosing products, lines and sourcing new items which make up the unique items found within the shops. Once the day is done, Linda puts her second hat on......wellies replace high heels and horses, sheep, ducks, rabbits, cattle (well, pretty much anything cute, cuddly or that moves into Linda's sight!) take the place of her daytime customers.
It's also quite common for stories of the latest antics of one of Linda's 'children' or photos of the newest family member to make their appearance over lunch or a cup of tea! (Who could resist these ducklings ..... so cute!)
If you can catch Linda in the shop (which can be quite tricky -between meetings, visits to suppliers, trade shows and so on, she's got quite the Houdini act), you might be tempted to ask if it feels odd balancing glamour during the day and country living at night? Not at all according to Linda - she loves the difference between her two worlds. Who can blame her - we all wish we had such cute stress-relievers waiting at home!
Our, ermmm, hats (sorry - couldn't resist!) are off to Linda for being able to combine fashion, the environment and animals! That must take a trick or two! "I never know what each day is going to throw at me and I'm always looking ahead to the next season. But whenever work gets really stressful - and it's part of the job - I know I have always got my other life!"
Well.........there's one mystery of Gretna Green solved!