Posted by Ami Brough - December 15, 2017
Why you should visit Gretna Green Famous Blacksmiths Shop for a traditional 'Spontaneous Blessing'
A quick look at Handfasting history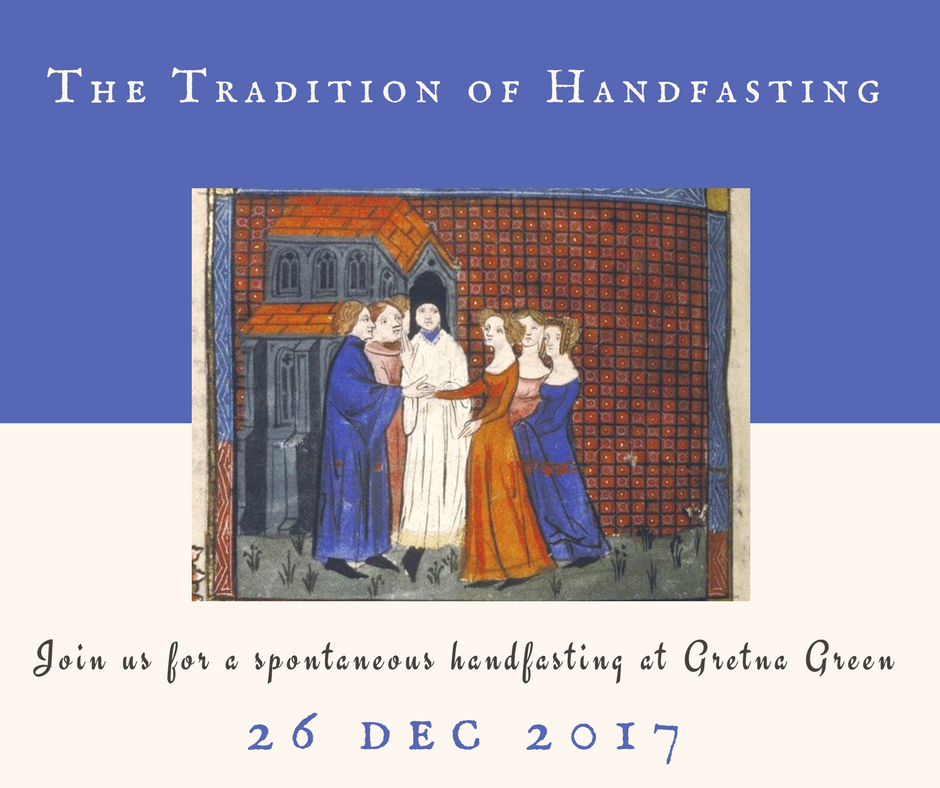 South of the border
The term 'handfasting' is both the historical term for a wedding, or 'betrothal' in Great Britain and Ireland, and also the word for a wedding in Neopaganism.
Throughout the middle ages, from the 12th to the 17th century, handfasting was commonly the term used in England to simply mean 'engaged to be married' and was a ceremony that was held, generally around a month prior to the official church wedding; to demonstrate the couple's commitment and a form of contract and as a declaration of their intention to marry. It was, however, still a legally binding marriage and considered valid; though many couples and their families still did not consider this the case until after the church ceremony. But, as with any church weddings, handfasting could only be distinguished by death.
The location of the handfasting wasn't particularly important either. It could be inside or outdoors and was even noted through history to take place in establishments such as taverns, orchards and on horseback; though the most common tradition, was that it usually took place in the bride's home.
Handfasting continued in England until the marriage act of 1754, which aimed to stop any 'clandestine marriages', by setting the common laws which eventually made Gretna Green famous!
North of the border
In Scotland, handfasting was a Celtic tradition, that was most often considered a probationary period of a marriage or a 'temporary marriage'; though by Scottish law, provided that the declaration of a couples love to each other was in the presence of two other adult witnesses, it was legally binding too; though many still chose a religious ceremony to 'confirm' their marriage.
In the Scottish Hebrides, handfasting would apparently last for 1 year prior to marriage, to ensure that the maid 'please him all the while', in which case he would marry her after the year. This of course raised some eyebrows and led to some abusing the custom; causing some discourse between neighbouring clans and families. Historic records refer to it as a "trial marriage"; as first referenced in Thomas Pennant's Tour in Scotland from 1790 – though others claim it to be a Hebridean myth!
So what is a handfasting?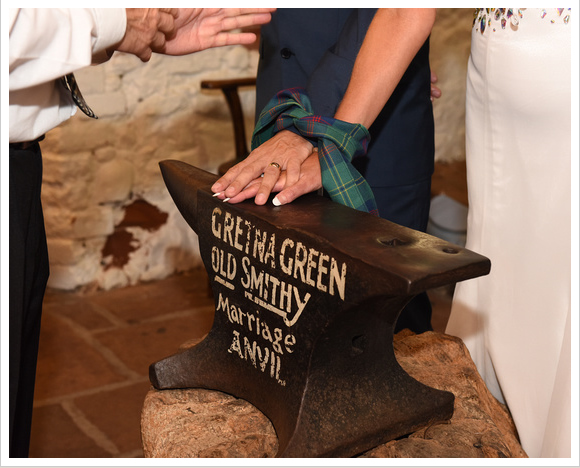 Traditionally a handfasting involved a couple, taking turns to hold each other's right hand and declare them as their wedded husband or wife; much in the same way as vows are made now. "I (name), hereby take (name) to be my…" adding "and thereto plight thee my troth"… thus the term 'betrothal'. The couple would then exchange a gift, most commonly rings or a gold coin, broken in half; a token of their love and commitment.
In Scotland, handfasting was often a much more literal practice, with the couple's hands being bound together, by one of the witnesses. Usually with a ribbon or piece of fabric such as tartan sash; or even twine. This is thought to be one of the early origins of the phrase 'tie the knot'; although the word 'knot' or 'cnotte' in Middle English, has been used since the 13th century to describe marriage or 'the bond of wedlock'; found in The Legend of St Katherine, circa 1225!
Famous Handfastings
William Shakespeare actually negotiated and then witnessed a handfasting ceremony in 1604 and was later called as a witness in a lawsuit regarding the dowry in 1612! Historians also speculate that his own marriage to Anne Hathaway was also a handfasting in 1582; as the practice was still considered common in Warwickshire at the time.
In television, a handfasting was recently referred to in the third season of Outlander and, main characters Jamie and Claire, also had their hands bound during their own wedding ceremony in season one.
Handfasting at Gretna Green
Following the Marriage (Scotland) Act in 1939, outlawing marriages that were not conducted by a registrar or a priest, couples could no longer 'officially' marry over the anvil; in a traditional handfasting, anvil blessing or 'marriage by declaration'. However, neither this nor the 21 days which couples had to ride-out, living here in the Borders to give the required legal notice, (until the 1977 Marriage Act), stopped the tradition. Couples would still flock to see the legendary Gretna Green blacksmiths anvil, kiss under the kissing gate and spend some time in Gretna Green.
You can now, once again, marry over the anvil at the Gretna Green Famous Blacksmiths Shop, with the help of a celebrant (registrar or priest) and you can also join us for a spontaneous handfasting too! The handfasting or 'spontaneous blessings', conducted by our Blacksmiths Guides are not a formal, legally-binding declaration of marriage, but are a truly historic and beautiful way of affirming your commitment and affection to the one you love.
They can't be booked in advance, but simply ask our Guides, when you come to visit us at The Blacksmiths Shop Museum and Exhibition and provided that the Original Marriage Room is not in use, you can enjoy a traditional handfasting, on the spot, for just $50.70*.
You can also incorporate the handfasting tradition into your Gretna Green wedding or vow renewal. Simply ask our wedding planning team for more information.
Enjoy a Gretna Green Handfasting this Christmas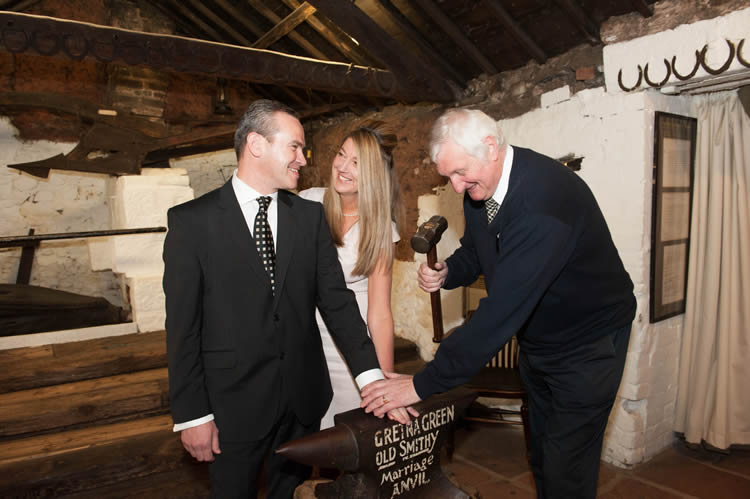 For the first time, in 2017, we will be opening the Blacksmiths Shop on Boxing Day (26
th
December) and are offering all of our visitors the opportunity to enjoy a
spontaneous handfasting
ceremony; throughout the day. We will be open from 11am to 3pm, all ceremonies will be on a first come, first served basis and as a Christmas special, any guests will receive FREE admission to the museum to join you! A truly wonderful and unique surprise for your other half this Christmas time! Although we don't generally offer pre-booking for Handfasting (thus the 'spontaneous'), please give us a call, on 01461 338224, if you plan to join us on Boxing Day; so that we can make sure to fit you in!
*Please note, price correct as of 18th December 2017. Any guests you bring with you will need to pay admission to the museum to join you. Adults - $4.80pp, Concessions - $3.80pp and Children under 12 - Free of charge.