Posted by Ami Brough - October 28, 2013
These days, walk around the centre of practically any city and you could be forgiven for thinking that you had suddenly been transported to Scotland! In fact, walking the city centre of Glasgow in the middle of last week, there was a bright, colourful, homely piece worn as the latest fashion by almost everyone! Any ideas what we're on about?
Yep, you've probably guessed it! We're talking about the appearance of the latest fashion must-have: TARTAN!
No longer something that your favourite lounge-around-it's-Sunday shirt is made from, these iconic patterns have become trendy, must-have fashions statements making it as far as Paris Fashion week selling for as much as $3,228.80!
Going mainstream over the summer in Los Angeles, the use of tartan was widespread in Scotland by the Middle Ages although the earliest known example dates back to the third century (we'll admit it- it's a well-aged fashion statement)! Originally, tartan was associated with the region, rather than clans.... and what most of us would identify as tartan was designed up by several couples of confidence men during the 19th century!
Here at Gretna Green, anything tartan, especially scarves, have been flying off the shelves ..... especially the bright, fun design of Royal Stewart which is one of the most popular tartans that we sell. As one of the personal tartans of Queen Elizabeth, it can truly be classed as a "Queen of Tartans"!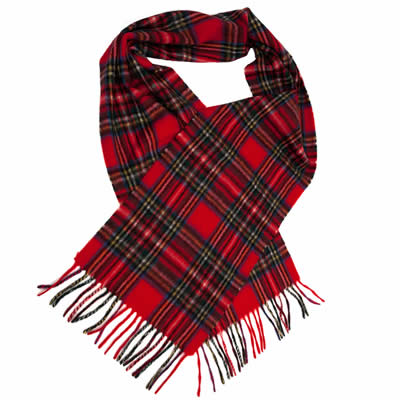 What if your clan heritage doesn't have a tartan? Tradition sets out that one without a tartan can wear Black Watch or the Hunting Stewart....although the popularity of tartan now seems to blur lines a bit!
It's not just those of Scottish descent desiring something to popular declare their clan linkage who are snapping up anything tartan! These lovely scarves are also highly popular items.....for concerts! Seriously.... anyone heading to a Rod Stewart concert these days is more likely than not to be in possession of a scarf in a bright red, very distinctive pattern!
We've been posting tartan scarves all over the world lately - have you got yours yet? We've got dozens of tartans in stock.......choose your favourite or your own! Don't feel limited to scarves either...we've got tights, ties, bow ties, trousers, caps, children's dresses, caps, blankets.. and even capes! Wearing tartan and being trendy.....who would've guessed!?