Posted by Administrator - October 02, 2019
Make Your Own Gretna Green Pumpkin Soup This October
Get in the spooky spirit this October with our delicious recipe for Pumpkin Soup, straight from our experienced kitchen team at the Famous Blacksmiths Shop Foodcourt. Easy to make, low in fat and scarily scrumptious, our Gretna Green Pumpkin Soup will be just the treat (no tricks!) to keep you warm this Autumn. PLUS, it can be made 100% vegetarian or vegan!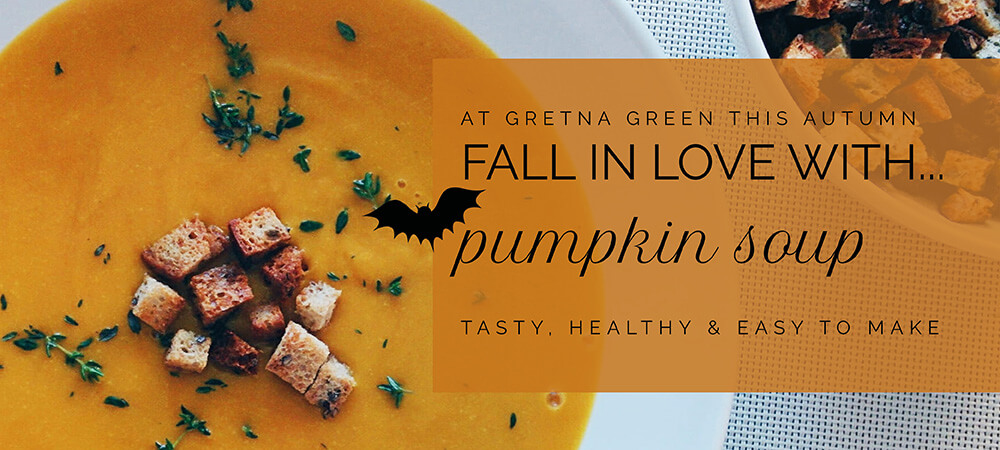 ---
Ingredients
Making our Gretna Green Pumpkin Soup is super simple! Here is everything you'll need to serve 6 ghoulish guests:
The Tools
Large sharp knife
Small sharp knife
A heavy-duty vegetable peeler (or a small, sharp knife, if you're careful)
Scales
Measuring spoons
Baking tray or roasting dish
Large saucepan
Stirring spoon
Food processor or liquidiser
The Ingredients
1 Sugar pumpkin*
2 Onions
2 Carrots
1 Large potato
2 1/2 Tablespoons vegetable oil
1 Litre water
2 Cubes chicken stock OR vegetable stock
250ml Double cream OR a dairy-free alternative of your choice (e.g. soya cream, coconut cream)
1/2 Tablespoon ground nutmeg
1 Teaspoon ground black pepper
A pinch of salt
*Sugar pumpkins are a little smaller with more prominent, sweeter flavouring. If you can't find one of these at your local supermarket, then you can use a butternut squash instead.
---
How to Make Our Pumpkin Soup
1. Preheat your oven to 220˚C or Gas Mark 7.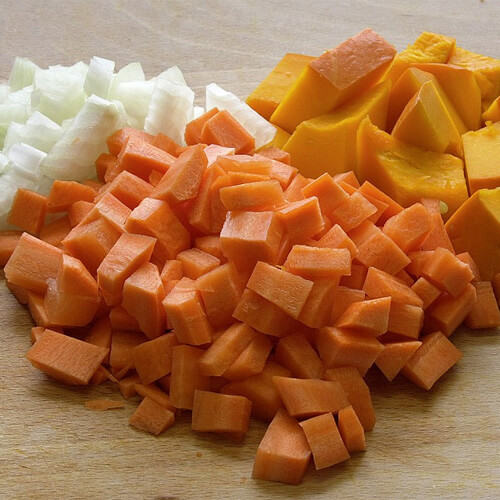 2. Wash and pat dry your sugar pumpkin, then use a large sharp knife to cut it into segments before removing the seeds. Peel the hard shell with your vegetable peeler or small sharp knife, and cut the pieces into 750 grams of cubes.
3. Chop up 2 carrots and slice 2 onions into wedges.
4. Place the pumpkin, carrot and onion pieces into a baking tray or roasting dish, drizzling the pieces with vegetable oil.
5. Bake these in the oven for 40 minutes, or until the vegetables are soft.
6. Chop 1 large potato into slices.
7. Fill a large saucepan with water and crumble in your chosen stock cubes as you bring it to the boil on medium heat.
8. Bring your water down to a simmer, and cook the potato slices in it for 20 minutes or until they are soft.
9. Once your roasted vegetables are ready, add them to the potato and water, and use your food processor or liquidiser to blend the mixture into a smooth puree. Then return the mixture to the stove on a low heat.
10. Stir in the cream of your choice, nutmeg, salt and pepper, and keep on the heat for a few minutes.
11. That's it! You've made your Pumpkin Soup! Now get a few bowls out ready while it's still hot.
12. To serve, pour your Pumpkin Soup into separate bowls, garnishing them as you'd like, and accompany with a slice of crusty bread or croutons.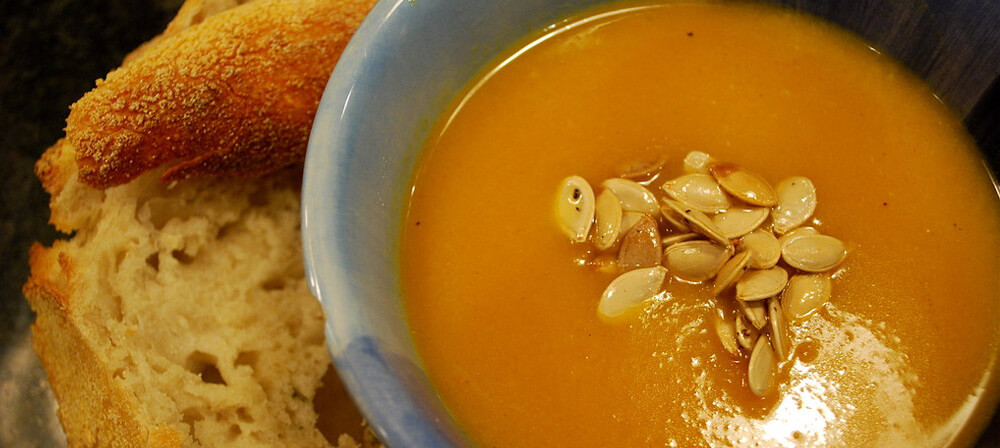 ---
So, now you know how to make our toasty and tasty Gretna Green Pumpkin Soup! Make sure you tag your delicious creation on our social media with the hashtag #GretnaGreenPumpkinSoup
@famousblacksmithsshop @gretnagreen1754
Pumpkin not quite to your liking? Check out our fabulous Autumn recipe for Gin & Tonic Cupcakes! A little less Halloween-y but just as fun to make.