Posted by Administrator - August 28, 2019
Bake Your Own Gin & Tonic Cupcakes at Home
Got Bake-Off fever? Get in the baking season spirit this Autumn with our brand-new Gin & Tonic Cupcakes recipe; lovingly chosen by our experienced pastry chef at Smiths Hotel, just for you, a loyal Gretna Green customer.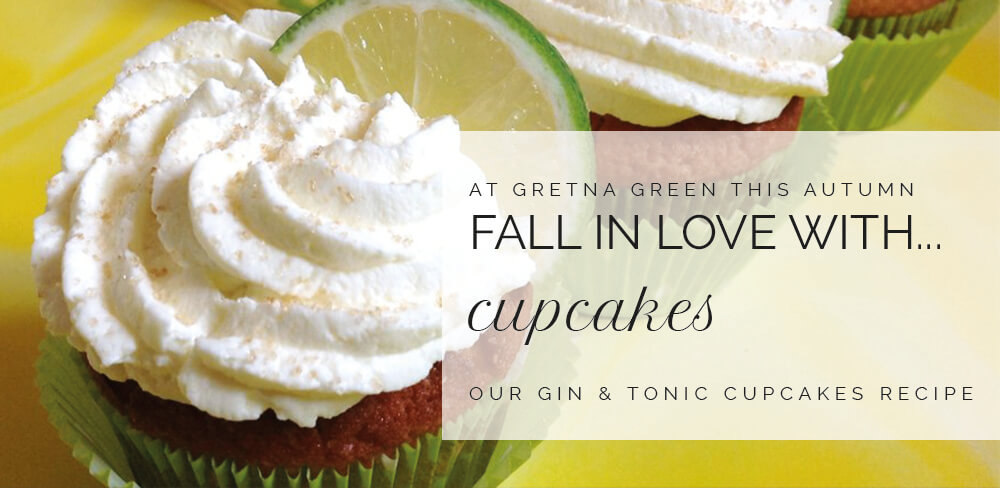 ---
Choosing Your Gin
Maybe you've already got a particular gin in mind, but, before you crack out the baking gear, why not take a look at our unique selection of Scottish and British gins? From fruity to floral and everything in-between, we have an enormous range of alcoholic tipples, including the brand-new flavours of Kinrana Hibiscus Gin, Old Curiosity Chamomile & Cornflower Gin, Edinburgh Gin Pomegranate & Rose Liqueur; available to buy online at GretnaGreen.com and on-site at the Foodhall at Gretna Green.

Once you've decided on the perfect gin, check out our full recipe and instructions for the ultimate Gin & Tonic Cupcakes, complete with gin and lime zest icing!
---
Ingredients & Equipment
Equipment:
Electric stand mixer or handheld mixer
Mixing bowl (if you're using a handheld mixer)
Scales
Measuring spoons
Sieve
Zester
Pastry brush
Cupcake cases
Baking tray
Cake Ingredients:
6oz (170g) Soft butter
6oz (170g) Castor sugar
6oz (170g) Self-raising flour
3 Whole eggs
1 Teaspoon baking powder
1 Lime zest and juice
3 Tablespoons tonic water
2 Tablespoons gin (plus just enough to brush over cakes)
Frosting Ingredients:
2oz (57g) Soft butter
4oz (113g) Icing sugar
2 Tablespoon gin
1 Lime - zest only
This recipe will make approximately 8 to 10 delicious cupcakes.
---
How to Bake our Gretna Green Gin & Tonic Cupcakes
Making the cupcakes:
1. Preheat the oven to 150˚c.
2. Put the butter and castor sugar into your stand mixer, with the paddle attachment, and mix until light and fluffy. If you don't have a stand mixer, put your ingredients into a mixing bowl and blend with your handheld mixer instead.
3. One the mixture is the perfect consistency, add the eggs one at a time, allowing them to mix in fully before adding the next one.
4. Using your sieve, carefully sift the flour and baking powder into the bowl, and continue mixing.
5. Once the flour and baking powder have blended in, add the tonic water and mix again.
6. Place the cupcake cases onto a baking tray, and pour the cake mixture into each case.
7. Bake at 150˚c for 12-15 minutes or until golden on top. Be sure to wash your bowl and mixer at this point for later use.
Smiths' Pastry Chef's Top Tip:
"To check if your cupcakes are ready, stick a cocktail stick into one. If the stick comes out clean, they're ready; if not, they need a little longer."
8. Once your cupcakes are cooked, allow them to cool for a couple minutes. Then, take some gin and a pastry brush, and brush the gin over the top of the warm cake and allow it to soak in. You can do this a couple of times. After it has soaked, transfer the cakes to a cooling rack or heatproof surface.
---
Frosting & Decorating your Cupcakes:
1. While your cake is cooling, start making your frosting. Place the butter and icing sugar into the bowl of the stand mixer with the paddle attachment (or use your hand mixer and mixing bowl). Carefully mix together until pale.
2. Once pale, add 2 tablespoons of gin (or as much as you'd like) to the frosting and mix together.
3. Your frosting is now ready, and, once your cupcakes are completely cooled, you can decorate them however you want! Then add the finishing touches with some fresh lime zest.
---
And there you have it! The perfect Gin & Tonic Cupcakes, sure to go down a treat with all your friends and family this Autumn.
Whether you're a whizz in the kitchen or not, we'd love to see how your cupcakes turn out! Snap a photo of your gin-inspired home-baking, and upload it to social media with the hashtag #GretnaGreenCupcakes or even share our recipe on Facebook!
@famousblacksmithsshop @gretnagreen1754
In case you missed it before, discover our full range of Scottish and British gin online at Gretna Green.